Some men just want to watch the world burn.
Police in Akron, Ohio are desperately searching for a serial poopetrator who has been terrorizing residents by pooping on -- and sometimes even in -- unsuspecting victims' cars.
Since 2012, Akron police have received at least 19 reports of feces appearing on the hoods and handles of residents' cars, Lt. Rick Edwards told the Huffington Post. Those unlucky enough to have unlocked doors receive an even worse surprise.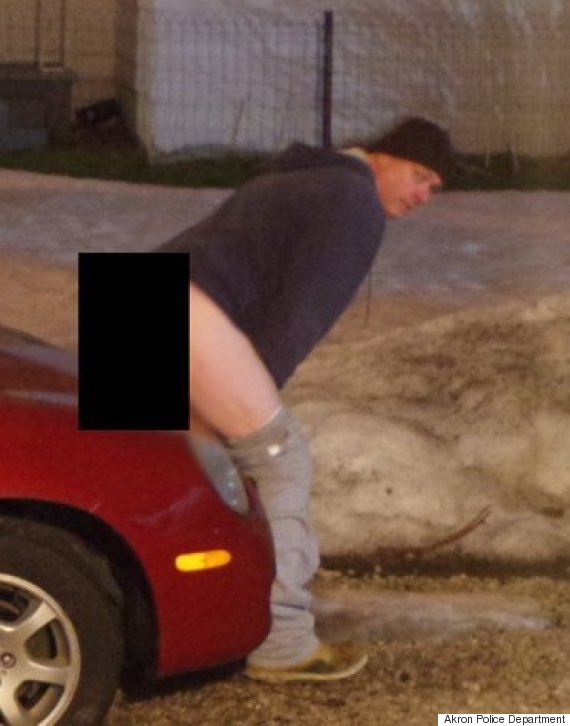 One brave hero has had enough, and set up a camera to flush out the suspect.
"He messed with the wrong guy," the unidentified man told Cleveland.com on Wednesday. Since last October, his daughter's car has been defecated on six times, prompting the man to set up a camera that took photos every 12 seconds for two weeks.
Finally, around 4 a.m. on Tuesday, the diligent investigator captured a photo of a man with a deer-in-the-headlights look, pants halfway down, marking his territory.
Edwards said that crime analysts went through department databases to see if others had complained about the pooper, only to find a trove of complaints dating back at least two years. Records obtained by the Huffington Post detail some of those calls:
In May of 2012, an "unknown suspect defecated on the passenger side door and quarter panel. The excrement did not cause any damage but it did cause a big mess. The victim stated this is the second time this has occurred but she didn't report it the first time."
In October of 2013, a "victim said that an unknown suspect put feces onto the hood of her vehicle. This is the third time this has happened."
Just three months later: "Reporter states that an unknown suspect defecated on her daughter's car. She states this is the third time this has happened."
In 2014, a victim said that an unknown suspect "defecated on the hood of his car and then smeared it all over the hood and door handle. This is the sixth time this has happened."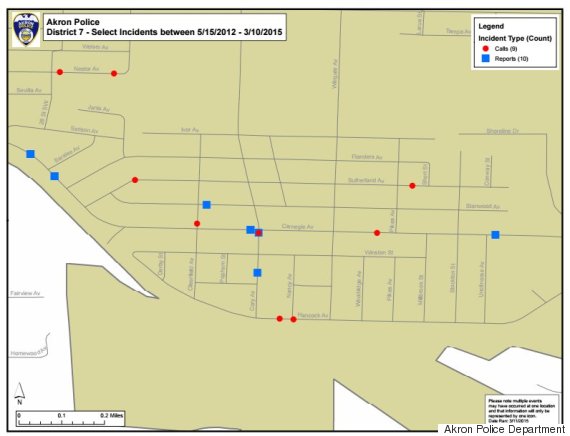 Police are now mapping each place the serial pooper strikes
With the already alarming number of cases, Edwards said there could be even more that never went reported.
"We're saying there are 19 cases, but even the most recent victim said this has been done to him seven or eight times," Edwards said. "So how many other people have fallen victim to this guy and just wash the car and go on about their business, and how many people haven't reported it?"
Still, officers are determined to catch their suspect brown-handed. Edwards said if the public and police can't identify the man based on the new photo, the APD is willing to get a DNA sample of the feces to solve this mystery.
"Hello neighbors! As many of you probably know, we have a serial 'pooper' in the neighborhood that defecates on people's cars, children's toys, etc.," a post on the page reads. "Someone finally got a picture of him in the act. Please let us know if you know who this guy is."
Anyone with information is urged to contact police at 330-996-3580. Together, we can put an end to this madness.
Like Us On Facebook |

Follow Us On Twitter |

Contact The Author
Related
Popular in the Community