In 1929 Lee Miller approached Man Ray, an artist 17 years her senior, asking him to be her mentor. The elder artist reluctantly agreed, and they began their surreal love affair. Four years after SF MOMA's exhibition focusing on Miller, Legion of Honor presents 115 works made during their four-year affair and artistic collaboration.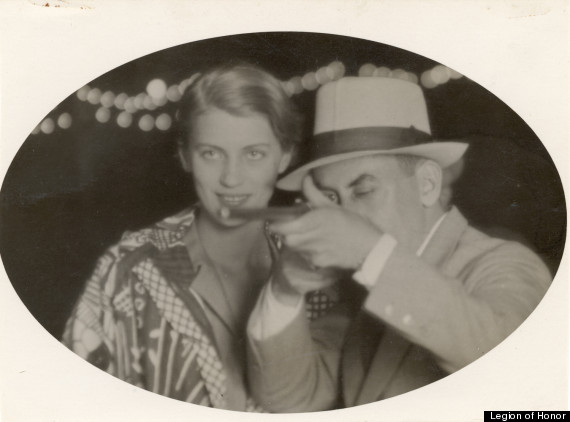 Man Ray, born Emmanuel Radnitzky, became enmeshed in New York's Dada scene through his friendship with Marcel Duchamp. Lee Miller was serving as a model for photographer Edward Steichen when he recommended she seek Ray out as a teacher. Ray was involved with cabaret singer Alice Prin (aka Kiki de Montparnasse) at the time, but it was not long before Ray and Miller fell in love. While Miller's physical beauty entranced Ray as both a subject and a lover, her feminism and creative drive drove her to work behind the camera as well as in front of it. The exhibition's main argument rebuts the fable that Miller was merely Ray's muse, offering up instead a mutual collaboration in which both artists influence and help advance each other's visions.
The exhibition is composed of 115 paintings, drawings and manuscripts from the surrealist giants, as well as works by their contemporaries and friends, including Pablo Picasso, Max Ernst and Alexander Calder. It depicts the accidental discovery of solarization, a photography technique in which a dark aura surrounds a negative that has been exposed to a flash of light. In 1975 Miller recounted the fortuitous stumble in an interview:
"Something crawled across my foot in the darkroom and I let out a yell and turned on the light. I never did find out what it was, a mouse or what. Then I quickly realized that the film was totally exposed: there in the development tanks, ready to be taken out, were a dozen practically fully developed negatives of a nude against a black background... When [Ray] looked at them, the unexposed parts of the negative, which had been the black background, had been exposed by this sharp light that had been turned on and they had developed, and came right up to the edge of the white, nude body. But the background and the image couldn't heal together, so there was a line left which he called a 'solarization.'"
The story has been contested, but like most of Miller's artworks, the veracity is secondary to the effect. The resulting images combine a translucent, ghostly light with grating dark edges, yielding a supernatural effect that floats between heavenly and monstrous. Aside from the tempestuous relationship between light and shadow, the exhibition also contrasts Ray's representation of Miller with her images of herself. The Surrealists, although renowned for their experimental thinking, were notoriously misogynist, aligning man with mind and woman with matter. Their appreciation for femininity was, for the most part, related to their physical form and mystical air. Until the recent "In Wonderland" exhibition at the Los Angeles County Museum of Art the movement was primarily a boy's club.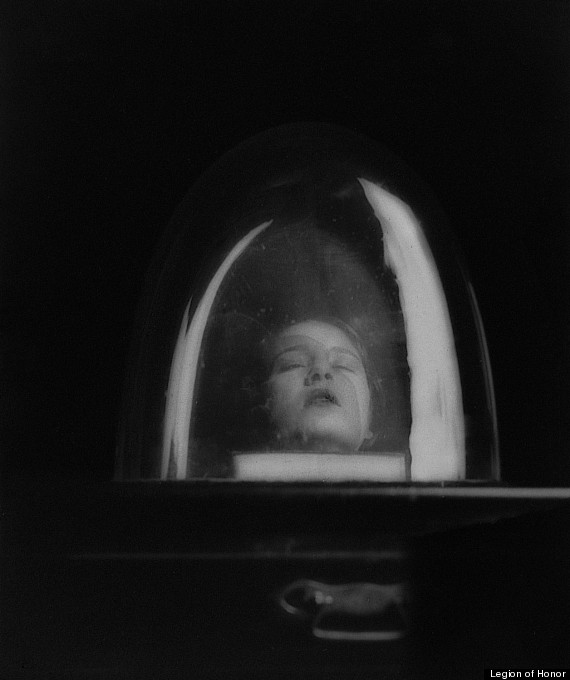 While Ray and Miller are exceptions to the rule, Ray's depictions of Miller present her as beautiful, ethereal -- almost made of air. Miller's view of herself is much more substantial, presenting her features sharp and defined as a Greek marble statue's. Eventually Ray's traditional (read: misogynist) views of gender relations drove Miller to leave him and pursue a career as a photojournalist. He continued to place symbols honoring her beauty in his works, repeating her floating eyes and lips.
The multi-dimensional representations of Miller place her among the next generation female photographers starring in summer exhibitions this year. The most clear extension of Miller's project is Francesca Woodman's retrospective which showed earlier this summer at the Guggenheim. Like Miller, Woodman captured her own image somewhere between reality and shadow, twisting the male gaze ever so slightly to yield unsettling self-portraits. At the Museum of Modern Art, Cindy Sherman's photographs depict a contemporary surrealism, where costumes and roleplaying replace darkroom experimentation. Finally, Yayoi Kusama's newly opened retrospective at the Whitney depicts her dual citizenship in reality and nightmare, self-representation and self-obliteration. All of these artists, like Miller, play both model and artist to depict the complex expectations and possibilities of the female body and mind.
The exhibition, somewhere between historical narrative and hypnotic dream-sequence, gives a stunning glimpse of a collaboration that forever changed the history of art and the possibilities of seeing. While we often hear a lot of talk about real love, this show makes surreal love look enticing enough to try.
"Man Ray | Lee Miller: Partners in Surrealism" will show at the Legion of Honor in San Francisco until October 14, 2012.
See a slideshow of the work below. Note that some of the slides contain images of nudes, so they are NSFW:
PHOTO GALLERY
Lee Miller and Man Ray
Calling all HuffPost superfans!
Sign up for membership to become a founding member and help shape HuffPost's next chapter
BEFORE YOU GO