In a real-life Superman moment, a New York City man lifted another man off the subway train tracks barely a minute before the train was due to arrive.
The cell phone video capturing Saturday's daring rescue shows 29-year-old Jonathan Kulig walking across the tracks and carrying the fallen man out of harm's way.
"You see someone who needs help, you do it," Kulig told Fox 5 News on Tuesday morning.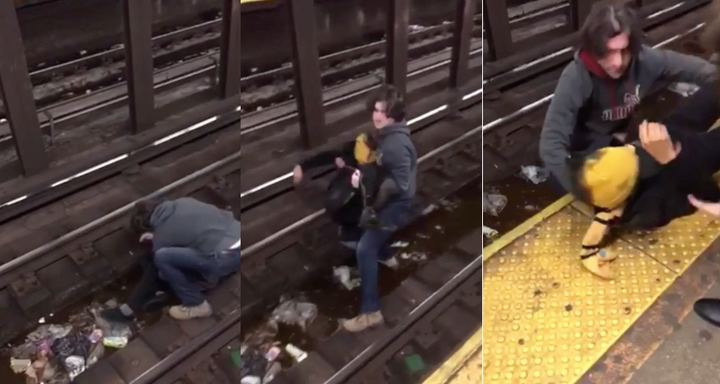 Kulig, whom Con Edison has identified as an engineering supervisor for the electric company, said he had just exited a Manhattan-bound L train when he saw something fall onto the tracks on the opposite side of the Third Avenue station.
When he looked more closely, he said he realized there was a person down there. Kulig jumped into action — after checking to make sure a train wasn't bearing down on him.
"Once I looked and saw that a train wasn't coming, I sort of had a path of where to go," he told Fox News.
He knew a little about where to step because he'd recently taken a track-safety training program provided by the city's Metropolitan Transportation Authority, Kulig told the New York Post.
"I'm not an expert, but I knew enough to keep myself safe," he said.
As Kulig was picking the man up, an audio recording announced that a train was entering the station on the Brooklyn-bound tracks. Although he didn't know it at the time, he had about a minute before the train would arrive.
Kulig lifted the man onto the platform and then hauled himself up in time. The man was later taken to a nearby hospital for non-critical injuries, the Post reported citing the city's fire department.
Asked by Fox News if he blamed others for not jumping onto the tracks as well, Kulig answered no. He figured they were likely scared and unsure of what to do, whereas he at least had some training.
Asked if he would do it again, he replied, "Yeah, I think I would."
He also shared that yes, he is single.
Calling all HuffPost superfans!
Sign up for membership to become a founding member and help shape HuffPost's next chapter
BEFORE YOU GO