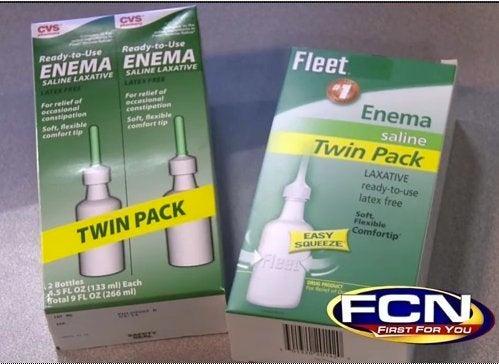 A Florida man found his choice of rectal-cleaning product pretty crappy, cops said.
Sheriffs launched an investigation after personnel from a CVS in Jacksonville alleged that a man was repeatedly returning used enema saline laxatives to the store, according to a Jacksonville Sheriff's Office news release.
The suspect returned the six-pack containers of enemas between April and June, according to the release. CVS employees told police they had initially re-shelved the items during this period, not realizing they had been used.
Eventually, in early June, employee Dustin McDonald found it bizarre that the man -- whom he recognized from previous visits -- was again bringing back the same item, and decided to investigate, the Smoking Gun reported. He opened the box of enema bottles to find they were all filled with fluid. The box had apparently been re-glued to make it look like it hadn't been opened.
The curious employee then poked into other six-pack enema boxes on the shelf and discovered that ""all the enemas in each of the 3 boxes were previously used," according to the Smoking Gun. Each of these containers was similarly re-glued shut.
Despite this unsettling discovery, McDonald reportedly did not alert authorities until the dissatisfied enema customer attempted to strike again, the release said. This time, McDonald informed the suspect that he could not accept the used items and contacted the Jacksonville Sheriff's Office.
The suspect has been identified, the news release said, and has been arrested by deputies for an unrelated outstanding warrant. However, the individual's name and the nature of that charge is still being withheld, a representative from the sheriff's office told The Huffington Post, as the matter is under ongoing investigation by the Federal Food and Drug Administration.
On CVS' part, according to a statement made to WOKV-TV, the pharmacy, "out of an abundance of caution," is "proactively contacting" twenty-one individuals they confirmed bought enemas during the suspect's alleged returning spree. The store encourages other potential purchasers of the used product to come forward.
Related
Popular in the Community