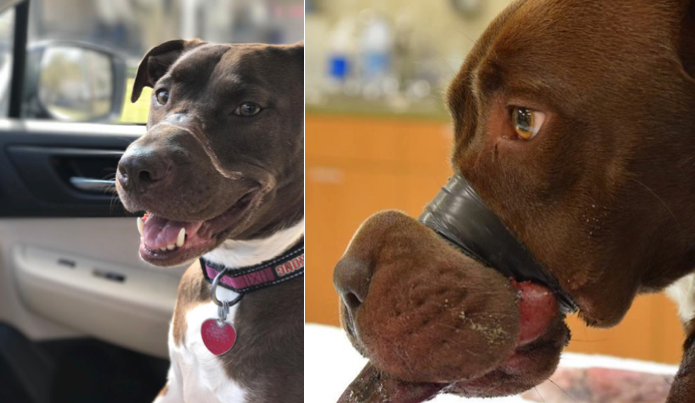 A South Carolina man has been sentenced to five years in prison for binding a dog's mouth shut with tape, causing it to swell and require surgery in what a judge reportedly described as a "hell on Earth."
William Leonard Dodson, 42, was handed down his sentence on Friday, one day after he was sentenced to 15 years in prison for an unrelated federal gun charge. He will serve both sentences concurrently, The Associated Press reported.
Circuit Judge Markley Dennis, in sentencing Dodson to the state's maximum punishment for animal cruelty, said he wished the penalty could have been harder.
"I'm not trying to be mean," Dennis told Dodson, according to Charleston's Post and Courier, "but I wish I could give you more."
The then 15-month-old Staffordshire mix named Caitlyn underwent reconstructive surgery after she was discovered in May 2015 with her swollen muzzle tightly bound with electrical tape. Her tongue, which was seen sticking out of her mouth, had turned black from a lack of blood circulation.
Aldwin Roman, anti-cruelty and outreach director for the Charleston Animal Society, called Friday's sentence "as good as we could expect."
"At the end of the day he's going to serve 15 years in prison," he told reporters outside the courthouse.
"Today was all about sending a message to our community and really across the country and across the globe that we're not going to tolerate animal cruelty anymore. We're going to do everything that we can within the law to get justice for victims of animal abuse," he said while holding Caitlyn in his arms.
Popular in the Community