A disturbing video circulating on social media appears to show a Florida man shooting a hammerhead shark from a boat, prompting accusations against an MTV reality star who was peripherally connected to another recent video of violent shark abuse.
The more recent video shows a man reeling in a fishing line with a shark on it. Another man, in a red baseball cap and sunglasses, shoots the shark twice and appears to laugh.
Russ Rector, an animal activist, told The Bradenton Herald that he was given the footage by the person who shot it. He was told that it was filmed off of Siesta Key, Florida, where MTV's new reality show "Siesta Key" is based, and where hammerheads are protected.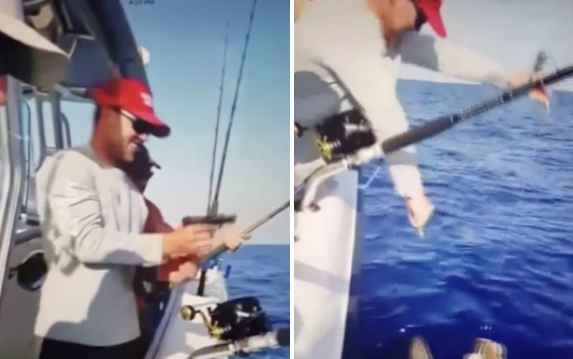 "There are images of me and I feel horrible," he told People. "I am embarrassed and it won't happen again."
Kompothecras did not immediately respond to HuffPost's request for comment.
Kompothecras was previously criticized after being linked to several men who are suspected of violently dragging a shark behind a speedboat, the Miami Herald reported last week. Kompothecras said that he was friends with one of the men in that video but did not "agree with what he did." MTV subsequently canceled a "Siesta Key" screening party after protesters threatened to demonstrate outside.
An MTV spokesperson told HuffPost that Kompothecras was not involved in the shark-dragging video, but declined to comment on the shark-shooting video and Kompothecras' suspected involvement.
The spokesperson expressed hope that threats being "unfairly made" against Kompothecras, as well as the other "Siesta Key" cast members, stop.
A spokesman for the Florida FWCC told HuffPost that the agency is investigating the shark-shooting video, along with other reported instances of abuse ― including the shark-dragging incident and a video of a man funneling beer through a hammerhead shark's gills and into a person's mouth.
The spokesman added that shooting or using explosives or chemicals to kill or harvest marine life is illegal in state waters.
REAL LIFE. REAL NEWS. REAL VOICES.
Help us tell more of the stories that matter from voices that too often remain unheard.
BEFORE YOU GO