You're the man, Stan Pannaman!
The 72-year-old Vietnam veteran suffered a gunshot wound to his buttocks Friday night while defending a sea turtle nest from a man who inexplicably appeared to hate sea turtles, according to the Sun Sentinel, a South Florida newspaper.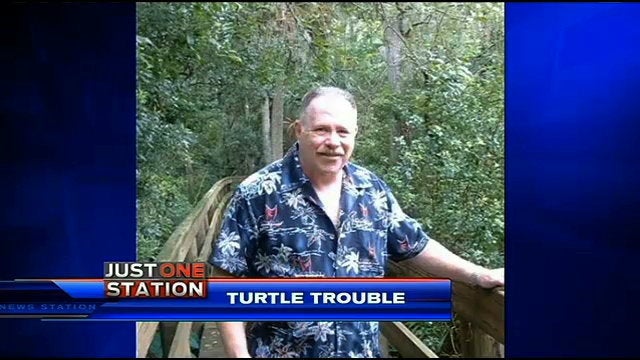 Pannaman and his friend and fellow volunteer, Doug Young, were out checking on sea turtle nests on a beach in Lauderdale-by-the-Sea, Florida, at around 11 p.m. Friday, according to WSVN. Pannaman and Young were planning to wait for the turtles to hatch so they could help the baby animals get safely to the water. But a third individual reportedly had other ideas.
Pannaman told the Sentinel that an apparently intoxicated man approached them and began threatening the pair, saying: "I hate sea turtle people. You're all f---ing crazy."
Young, president of the South Florida Audubon Society, told WPLG that the man, later identified as 38-year-old Michael McAuliffe, "got more aggressive" and started pulling up the wooden stakes that volunteers had placed around the nesting area to protect the turtles from passersby.
McAuliffe allegedly started coming at Pannaman, who served as a Marine and now uses a cane to walk. "That's when I pulled a handgun from the pocket of my shorts," Pannaman told the Sentinel.
Pannman said he never pointed the gun at McAuliffe, but merely pulled it out so the aggressor would know he was armed. A struggle ensued, and McAuliffe got hold of the pistol. Both Young and Pannaman told media outlets that McAuliffe claimed he didn't believe the weapon was a real gun. The former Marine told the Sentinel that as McAuliffe fired the weapon, Pannaman "spun to get out of the way" and a bullet hit him in the left hip and became lodged in his buttocks.
The bullet is still there, but will be removed by doctors in the next few weeks, according to WPLG.
McAuliffe is facing two charges of aggravated battery with a deadly weapon, possession of a weapon by a convicted felon and battery on a person 65 or older. His previous felony conviction stems from pleading "no contest" last year to battery on a person older than 65.
PHOTO GALLERY
Radical Sea Turtles
Calling all HuffPost superfans!
Sign up for membership to become a founding member and help shape HuffPost's next chapter