One Florida man has proven he has stacks on stacks of compassion.
Greg Smith recently shared a story on Facebook about having lunch with Amy Joe, a homeless woman he befriended, every Tuesday in downtown Orlando. But their routine changed when she shared further information with him.
"Amy Joe kind of dropped a bomb on me," Smith, who is 25 and works downtown, explained in his post. "She began to tell me any money that she can collect she uses to rent books that help with learning to read instead of buying FOOD."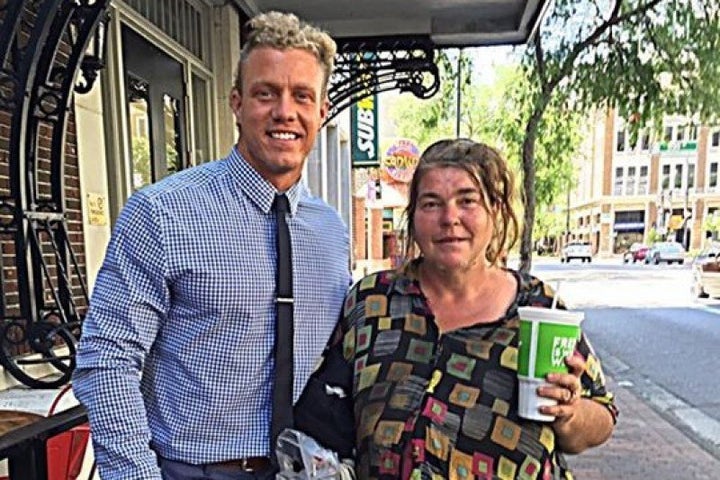 Since then, he's been not only helping her to read, but he's also started a GoFundMe page to create the Amy Joe Foundation. Through the group, he hopes to help others in need.
"I want to be able to help anybody, whether it be giving them some food or clothes," Smith told ABC News. "I don't want to just narrow it down to helping people read because there's so many other people that need more help."
On Tuesdays, Smith reads a book from the library with Amy Joe. The woman uses the rest of the week to brush up on her reading skills. 
The 25-year-old mentioned in his Facebook post that he's been having lunch with Amy Joe every Tuesday for a few weeks now, and during their time together, he's felt charmed by her attitude. 
"For 30 minutes to an hour, I get to hear how positive she is even though she really has nothing."
When Amy Joe told Smith about her will to read, and how her lack of reading skills has made it difficult to find a job, Smith felt emotional.
"This crushed me!!! She would rather learn to read to maybe find a job then eat!!!" he explained in the post. "I have been blessed with two amazing parents and a family that has always had resources to provide me with anything I wanted to do. Amy Joe has not."
Though Smith has been helping Amy Joe with reading since that conversation, he stresses that there are other individuals who also need a helping hand -- which is why he started work on the foundation. According to ABC News, he has reached out to a lawyer to get the organization off the ground and has decided to make the group's slogan "one person at a time." 
Calling all HuffPost superfans!
Sign up for membership to become a founding member and help shape HuffPost's next chapter