A Texas man made national headlines earlier this month when he claimed anti-police vandals spray-painted "Black Lives Matter" on his truck and slashed his seats.
But now police say Scott Lattin vandalized his own truck for attention and insurance money. Lattin was arrested Friday on charges of making a false police report, the Whitney Police Department reported in a press release.
The story began innocently enough. Lattin told Fox 4 he was the victim of vandalism on Sept. 8 because his family supports police. The Lattins had displayed blue and white ribbons on their picket fence at home, as well as the saying, "Police lives matter" on the back of their truck, in honor of fallen Deputy Darren Goforth, who was gunned down in Houston last month.
Lattin said he found his vehicle torn to shreds, with $5,000 worth of damage done to it. But his downfall may have been his interview with Fox 4. In it, he told reporters that someone had ripped out his glove box and slashed his seats, damage that police didn't see when Lattin initially filed a police report.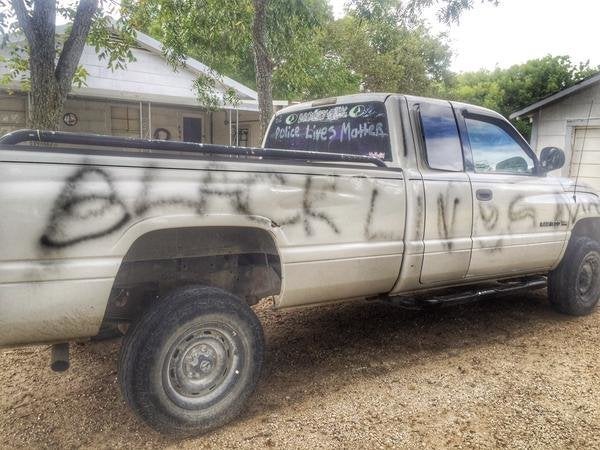 "We had initial video when the officers took the report and then when we saw your story on Channel 4," Whitney Police Chief Chris Bentley told the station. "When we looked at those two videos, there were some differences in those and that led us to take the investigation into a different direction."
The chief also called the incident "very disturbing," and asked supporters to stop sending the Lattin family money. Lattin had set up a GoFundMe account that reportedly reached nearly $6,000 in donations, though it appears the page has been taken down.
Fox 4 cameras recorded Lattin's arrest, and the suspect denied the allegations.
"Absolutely not true!" he said.
But according to an arrest affidavit, Lattin admitted to vandalizing his own truck for insurance purposes. Whitney police said additional charges are pending.
Popular in the Community