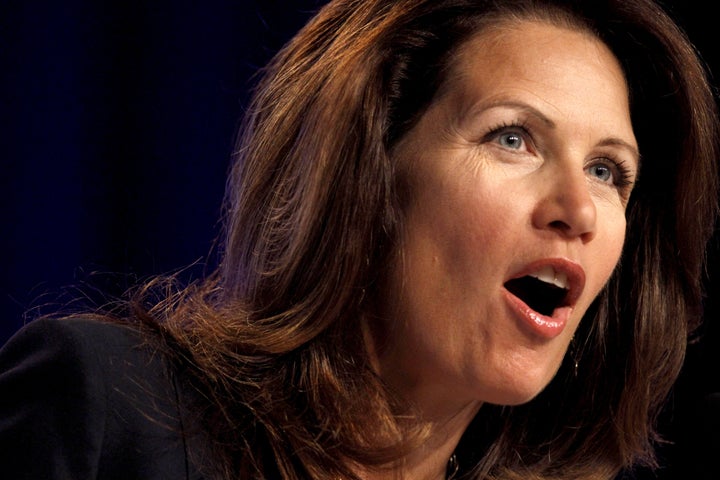 "Man up" seems to be the catch phrase du jour within female campaigns over the past couple of months. While I may be a little late to the party, with the elections finishing up at the polling stations tomorrow, that doesn't prevent me from expressing my extreme nausea at this recurring phrase. Bandied about the airwaves, commentators from Diane Sawyer to Jon Stewart has covered this recurring theme.
Everyone's favorite witch, Christine O'Donnell, sparked the catchphrase back in September telling her opponent, Mike Castle , "this is not a bake-off, get your man-pants on." Alaska's grizzly mama herself, Sarah Palin, followed suit telling the men out there to repeatedly "Man Up" in various stump speeches, while Nevada's Sharron Angle entered it into her live debate against a shocked Harry Reid, saying, "Man up, Harry Reid." Many other female candidates are following suit, endorsing not only the catch phrase, but the concept that men would be better politicians if they acted more like, well, men.
Colorado's Jane Norton deployed the M-bomb against Ken Buck, accusing him of not being "man enough" to run attack ads against her instead of allowing special interest groups to do it for him. Further lowering the tone, Buck hit back with, "vote for me, I don't wear high heels". Tit for tat spiraling the gender argument into the gutter. Or a 3rd grade playground fight.
Guess what? I don't need to see Tarzan-like chest pounding from any candidate, male or female, to decide my vote. I need substance. Don't think your male counterpart followed his moral compass, or stood up for what he said he believed in? Fine. Use your big words. Don't resort to childish rhetoric a la playground talking points. If I wanted to hear a 5-year-old's discourse, I'd listen to my kindergartner.
It sickens me enough to see politics played out on television like a badly written, poorly acted, daytime soap opera. Don't debase it further by immunizing the strength of solid women entering the political arena around the world with mama-grizzly one-offs. We are better than that.
Women's empowerment does not stem from telling men they are flaccid, weak individuals in order to appear tough enough to run against them. Nor does it come from going for the cheap hit under the belt for audience applause. My inner feminist would be appalled to see a man debate a female candidate's performance based on the length of her skirt, and I'd feel exactly the same if 'my team' pitches the first lo-ball.
All of this 'manning up' flies in the face of several key campaigns erupting around the country focused on women as the change makers. The California-based Women's Conference just wrapped up its annual conference, focusing on empowering women as the architects of change. While innovative campaigns like The Girl Effect have sparked the global agenda by rethinking the role of girls as the solutions to third world poverty.
Not because they are "man enough" to do the job. But precisely because they are women, with their own unique attributes and qualities. Women have fought to have a place in the debate, to represent themselves in government, and in global policy, and the world's leaders are now listening. We don't need to "Man Up" to remain here.
UNIFEM'S 2010 Open Days on Women, Peace and Security celebrated the ten year anniversary of resolution 1325, with meetings in conflict areas designed to "enable direct dialogue between women's peacebuilding organizations and women community leaders, and senior UN representation at the country level. The purpose was to seek women's views on means of improving implementation of resolution 1325. These open and inclusive forums for women peacebuilders and activists also provided the opportunity to deepen local ownership of the resolution."
I see these campaigns and conferences as major rethinks of the female role in society. Girls looked upon as solutions to poverty, rather than the victims. Women as part of the process of peace and security, rather than sitting on the sidelines waiting for it to come to them. Not because we needed to alienate men from the table, but because we deserved to sit there with them.
Man Up? No thanks. I can be a strong, empowered woman without the trousers.
REAL LIFE. REAL NEWS. REAL VOICES.
Help us tell more of the stories that matter from voices that too often remain unheard.