According to Google Maps, it should have taken Zach Anner 28 minutes to get from his hotel in Manhattan to The Bagel Store in Williamsburg, Brooklyn. He wanted to try the swirly internet phenomenon that is a rainbow bagel:
Instead, it took him more than five hours.
But Anner didn't even have to leave the building to make his point: It took him an hour just to get to the lobby of his hotel due to packed elevators that couldn't accommodate his chair.
From there, Anner roamed around the unfamiliar streets of Manhattan just trying to find a subway station with a wheelchair accessible entrance. Along the way, he had to ask strangers for help.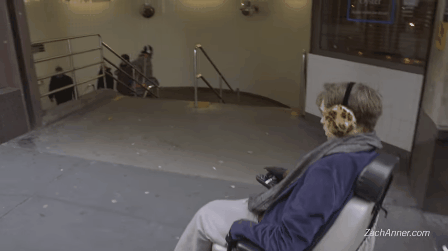 Once Anner and his film crew finally made it on to the train, they realized they'd have to get off. Williamsburg, their destination, doesn't have a single wheelchair-friendly station in the neighborhood.
Instead, they take the East River Ferry into Williamsburg.
Once Anner finally makes it to The Bagel Store he has one last rude awakening: He can't get inside the shop.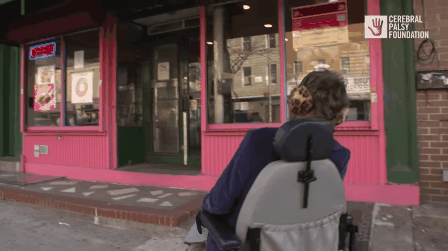 Fortunately, this doesn't deter Anner's great sense of humor. When a bagel shop employee comes out to take his order, Anner has the perfect response: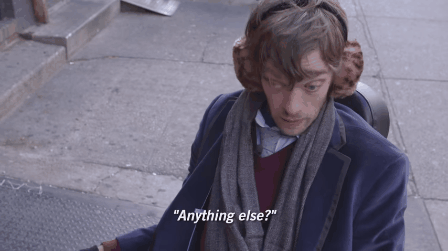 And of the 469 subway stations in the New York subway system, only about 100 are accessible, which means lots of off people like Anner are blocked off from all the colorful attractions the city and its surrounded boroughs have to offer.
Inaccessibility is not just a problem in New York City. Many communities have accessibility issues. Hopefully Anner's video — which has been viewed by 12 million people on Facebook alone — will help the issue receive more attention. And, maybe, just maybe, the problem will eventually be resolved.
But until that day comes most places are a lot like New York, "the city that never stops fucking with you," as Anner so eloquently puts it in the video.
Popular in the Community