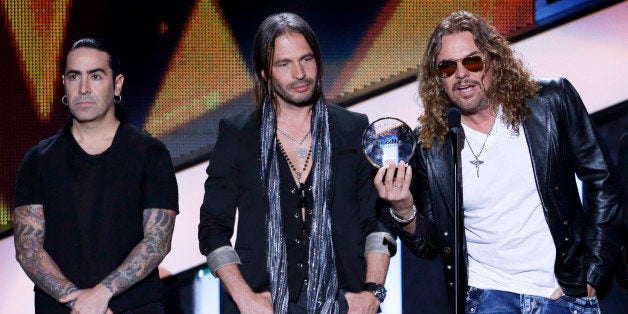 NEW YORK -- Maná may be one of the biggest rock bands you've never heard of -- or maybe the one responsible for the soundtrack of your youth.
Despite a nearly 30-year career, the Mexican group made its first appearance at the historic Apollo Theater on Friday with a private concert hosted by whiskey-maker Chivas Regal. Before taking the stage, Maná members spoke to reporters about their recent single with Shakira and what they hope fans will do to combat corruption in Latin America.
The group is preparing to release its ninth studio album, "Cama Incendiada," which has already had its first massive hit, "Mi Verdad." The single, a duet with Colombian singer Shakira, debuted at No. 1 on the Billboard Hot Latin Songs in February, ending Enrique Iglesias' 41-week streak at the top with "Bailando."
Over the years, Maná has been known to make appearances in the political sphere, particularly when it comes to protecting the environment. Maná publicly endorsed President Barack Obama's re-election in 2012.
The Huffington Post asked group members about their thoughts on recent events in Mexico. The country continues to deal with a lack of transparency in the case of 43 students who disappeared in September. More recently, President Enrique Peña Nieto's administration has been accused of censoring and backing the firing of one of the country most prominent journalists, Carmen Aristegui.
"In Latin America, we're drowning in corruption," lead vocalist Fher Olvera told HuffPost. "It makes us very sad. We're Mexican, but first and foremost we're Latin Americans. We have the same language, the same dreams, the same story.
"We're very saddened, for example, by what is happening in Venezuela," Olvera added. The South American country has recently faced national food shortages amid political unrest. "In 'Mi Verdad,' I don't know if you've heard, but it mentions lies and clearly talks about the lies of dictators and leaders that deceive us. And we are worried about it, we normally try not to be too political, but sometimes it's inevitable and unavoidable."
Drummer Alex González asked fans to use social media as a tool against corruption and human rights abuses.
"We are just very concerned [about] the situation not only in Mexico, but all over Latin America," González told reporters. "Corruption is the cancer of Latin America. We're having a lot of issues in our country, in Mexico, but I think the important thing is that people have a voice and social media is very important to denounce all those violations, human rights or anything that they see towards the environment.
"All we can do as a band is just tell people, 'Go out there and protest,'" González added. "We have to denounce anything that we see that's happening here in the United States, Latin America, and all over the world. We all live in the same planet and that planet is like a boat, if that boat sinks, we all sink. It doesn't matter if you're rich or poor, it doesn't matter your religion, sex, nothing."
Olvera said the band continues to help preserve the environment through its Selva Negra Foundation in Mexico. The group plants 80,000 trees every year in the foundation's greenhouse in Ahuisculco, he said.
During the New York concert, attended by hundreds of fans, the group performed some of its biggest hits, including "Oye Mi Amor," "Labios Compartidos," and "En El Muelle de San Blas." Midway through, two fans were invited to sit with Olvera on a couch on stage as he dedicated "Te Lloré Todo Un Río" to the environment.
The young girls, from Ecuador and Colombia, requested that the band sing "Mi Verdad." But after teasing the audience with a couple of verses, Olvera said the group would leave the song for its upcoming tour.
Maná soon will announce a massive world tour sponsored by Chivas Regal that is likely to begin this year in the United States. The group may release a DVD or documentary of the tour, González said.
Backstage, group members spoke at greater length about "Mi Verdad" and their collaboration with Shakira.
"We've always had good chemistry," Olvera said of the Colombian singer. " When we invited her, she said she loved the idea because she's been a fan of Maná since she was little. I think she did a great job singing 'Mi Verdad' from the heart. It's a song about babies. I wrote it for my son," Dalí.
"And Shakira was pregnant when she sang it," Olvera added with a laugh. "She was about seven months. She was about pop."
The duet with Shakira was the first time Maná had collaborated with a female artist. In the past, the group has recorded with artists Juan Luis Guerra and Santana.
"I mean, today there is no bigger female artist than Shakira," González said "So it was great to have that opportunity to have a woman singing with us. I think the combination of the voices of Shakira and Fher is very beautiful."
REAL LIFE. REAL NEWS. REAL VOICES.
Help us tell more of the stories that matter from voices that too often remain unheard.
BEFORE YOU GO