At a time when the rhetoric surrounding Israel and Iran has become particularly hawkish and inundated with fears of nuclear weapons and threats of preemptive air strikes, "hope" can seem like a four-letter word.
But a political cartoon by an expatriate Iranian graphic artist has stuck a chord with communities of people across the Internet. The message? A desire for peace that transcends nationalism and subverts political leadership.
SCROLL DOWN TO SEE THE CARTOON
The cartoon, which first appeared on the official Facebook fan page of the artist Mana Neyestani on March 23, depicts pairs of outstretched hands exchanging roses from under a set of opposing podiums bearing the flags of Israel and Iran. From atop their podiums, angry pundits engage in a shouting match represented by empty word bubbles shaped like bombs.
At time of writing, the illustration had garnered more than 6,800 Facebook "likes" and 2,100 shares from the artist's page, where many commenters wrote supportive messages in Persian, English and Spanish. It also receive more than 3,000 separate likes and shares through at least one other English-language repost.
Turkey will host diplomatic talks between Iran and a group of world powers -- the U.S., France, Britain, China, Russia, and Germany -- beginning on April 13.
Born in 1973, Neyestani began his career as an editorial cartoonist in 1990. He was arrested in 2006 and spent two months in prison following riots sparked by a cartoon he drew that appeared in a state-run Iranian newspaper. He lived in Malaysia from 2007 to 2011, and now lives in Paris.
The Huffington Post contacted Neyestani via e-mail for comment, but had not received a response by time of publication.
UPDATE: Shortly after post time, Neyestani responded to The Huffington Post's request for comment, adding that he was inspired to draw the cartoon after encountering a campaign by Israeli and Iranian pacifists on Facebook.
"I liked the concept that the pacifists try to separate themselves from the governments and encourage each other. I drew this cartoon [last] week to support the campaign and the pacifists of two countries," Neyestani wrote in an e-mail.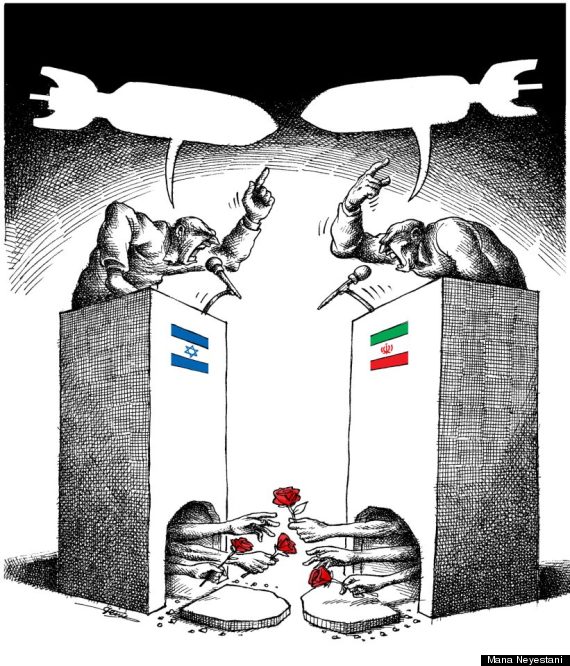 CORRECTION: A previous version of this article stated that Neyestani was now living in Malaysia. He recently moved to Paris.
Related
Popular in the Community