WASHINGTON – President Donald Trump discussed pardoning former campaign chairman Paul Manafort during a White House meeting in early June, Trump lawyer Rudy Giuliani said Thursday ― contradicting White House statements a day earlier denying that any such discussions had taken place.
Giuliani said he initiated the meeting after Trump issued a string of pardons this spring to Scooter Libby, Dinesh D'Souza, and Alice Marie Johnson, whose life sentence for a nonviolent drug conviction was brought to Trump's attention by Kim Kardashian. Giuliani said those pardons raised questions about whether Trump was sending a signal to his allies caught up in special counsel Robert Mueller's investigation into Russian assistance to Trump during the 2016 election.
"I decided: Let's go get an answer," Giuliani said in a phone interview with HuffPost during his Scotland golfing vacation.
At the time, more questions were coming to Giuliani from the media about potential pardons for Trump's former national security adviser Michael Flynn and personal lawyer Michael Cohen than about Manafort, but those individuals and others were discussed at the meeting, Giuliani said.
"We both agreed that it made sense not to pardon anybody during the pendency of the investigation," Giuliani said. "It was kind of a quick meeting."
He said Trump had every right to pardon anyone he wanted, and could well consider pardoning Manafort and others after Mueller's probe is wrapped up. Giuliani said he would not speculate regarding a hypothetical scenario in which Mueller recommends impeachment and Manafort is a key witness.
He also said he had not discussed pardons with Manafort's lawyer or anyone who has been convicted or indicted in the Mueller probe. "I won't entertain those conversations," he said.
One important consideration: Mueller is looking at Trump's previous pardon offers as potential evidence of obstruction of justice. Mueller had wanted to question the president about previous discussions of pardons for Manafort and Flynn, who is now cooperating with Mueller's team. 
Giuliani's confirmation of the pardon discussion comes only a day after White House press secretary Sarah Huckabee Sanders told reporters that there had not been one.
"That's not something that has been up for discussion," she said. "There have been no discussions at the White House on that matter."
Huckabee Sanders did not respond to a HuffPost query about her Wednesday statement. But The Washington Post reported Thursday that she provided a new statement saying: "This pardon is not something being discussed in the White House and the president has not made a decision on pardoning Paul Manafort or anyone else."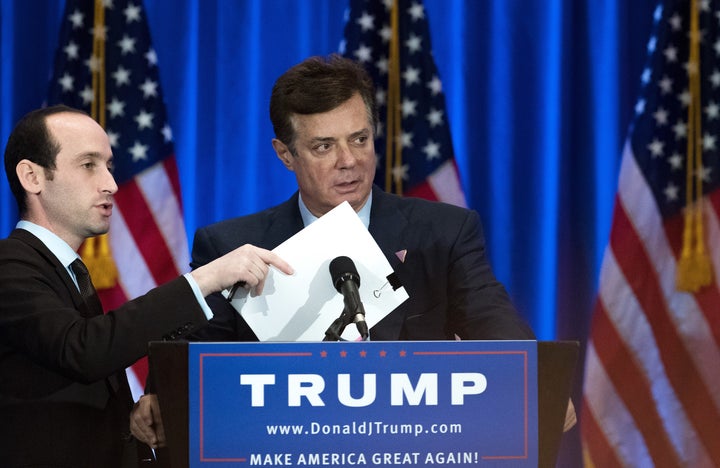 Flynn had already pleaded guilty in Mueller's investigation for lying to the FBI by time of the June meeting. Cohen, whose office and home had been raided earlier in the year, had not been charged with anything at the time, but this week pleaded guilty to a number of charges, including violating campaign finance laws by making payments to silence a porn star and a Playboy model who were ready to go public about affairs they say they've had with Trump.
Trump has made it clear in recent days that he believes his former campaign chairman was mistreated and praised Manafort for being "brave" and refusing to "break" despite all of the charges he faced. Last week, while the jury was still deliberating, Trump brushed off a question about whether he'd pardon Manafort but called the situation "very sad."
Manafort, 69, was convicted in a Virginia federal court Tuesday on eight tax and bank fraud charges. A single juror prevented his conviction on 10 other counts, according to a Trump supporter who sat on the jury. Manafort will face yet another trial in Washington, D.C., next month on separate charges, including one involving a rarely enforced law requiring foreign agents to register with the Justice Department.
Giuliani claimed Thursday that Manafort could not have any information useful to Mueller against Trump. "The guy has nothing to cooperate on," he said.
That assertion notwithstanding, legal experts believe that despite his convictions, Manafort still likely holds information that would be valuable to Mueller's team.
"This is not an ordinary case, and if the witness tells you, 'I can give you the president of the United States,' if your purpose is to investigate whether there was collusion at the top levels of the campaign, how could you say no?" Harry Sandick, a former federal prosecutor, told HuffPost.
So it would make sense for Trump and his legal team to send Manafort a message that he has nothing to worry about in the long run and that he'll be pardoned down the line, Sandick said.
But neither Manafort nor Trump can let on that pardoning Manafort is about protecting the president, his son Donald Trump Jr. or his son-in-law Jared Kushner, he added.
"You'd say these crimes are old, the jury didn't convict on every count, most people aren't prosecuted for tax fraud, he was selectively prosecuted," Sandick said. "Not like, by the way, he's going to send your son to jail if you don't pardon him."
Trump Jr. and Kushner both attended a June 2016 meeting at Trump Tower with a Russian lawyer who had offered "dirt" on Democratic presidential nominee Hillary Clinton.
Ryan Reilly is HuffPost's senior justice reporter covering the Justice Department, federal law enforcement, criminal justice and legal affairs. Have a tip? Reach him at ryan.reilly@huffpost.com or on Signal at 202-527-9261.
Calling all HuffPost superfans!
Sign up for membership to become a founding member and help shape HuffPost's next chapter