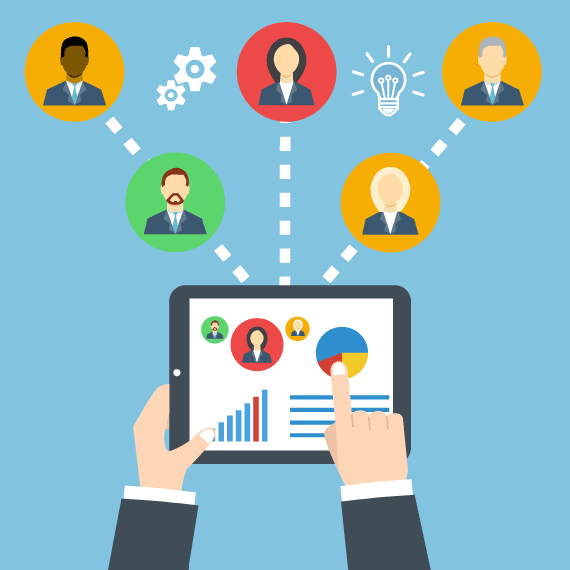 Manufacturers have made a science out of managing capacity. By calculating the output necessary to meet customer demand, it's possible to calculate how many lines, shifts and people you need to keep it all going. Production managers know how to calculate for downtime too, figuring in maintenance and unscheduled repairs.
But we don't apply the same discipline to managing people. Few leaders do the same math when determining capacity for their people organization. What's more, after tackling the recession, economic uncertainty and (now) labor shortages, most companies haven't returned to pre-recession hiring levels. We are running our people into the ground.
Weekly Capacity Calls
At Life Meets Work, we start each week with a capacity call. Our team gets on a conference call and reviews our capacity planner (a heat map tool we developed internally). One by one we highlight accomplishments from the previous week, give shout-outs and atta-boys to team members who rocked it and give ourselves an individual letter grade for how we managed our work and life.
Any given week, a low grade doesn't merit much scrutiny—we all have weeks that are out of balance. But we look for trends among team members and hold each other accountable for raising the grade. That may mean taking on a task or two to free them up, or reminding them to delegate, renegotiate deadlines or reprioritize.
Risks and Codes
Next, we look at the coming week and predict our capacity using red, yellow or green. We review our top priorities and challenge each other when something makes the list that doesn't really need to be high priority. We offer to take on tasks they didn't think to delegate, and we rally around members who are in the red to see what we might outsource or shift.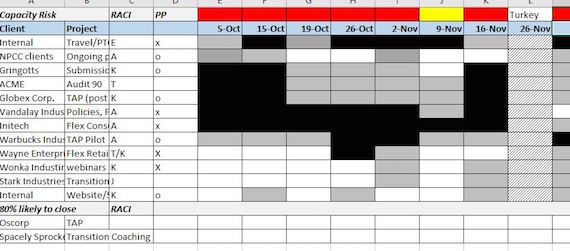 As part of this same discussion, we each declare our main risk for the week. This might be travel, lack of information, resisting a key deliverable, or possible family concerns. (Someone might say, "My babysitter's kids have the flu, so mine are probably next." Or, "My dad's having surgery." Or even an honest, "I've been pushing that project to the backburner.") We are transparent about the challenges to our capacity, productivity and work-life management.
Setting Limits
Finally, we discuss our team's capacity and the key decisions we need to make to manage that capacity. And here's where you might bristle—we make decisions to limit the number of new clients we take on at any given time, scheduling new work to start when our heat map turns yellow.
Where other companies would keep heaping on the work, we are realistic about our people hours, and we are committed to making decisions that keep our stress and productivity levels steady.
We may decide as a team to push beyond what we have capacity for during a reasonable amount of hours/week, and if we do, we create a financial incentive for every team member on that project, to make it worth their while to sacrifice personal time.
We've been managing our workload this way for about a year now and are more profitable than ever. We've had our best year on record and are poised to grow even more. We are all engaged and energized, knowing that we're making capacity decisions together, respecting each other's work rhythms and honoring our need to be humans, not superheroes.
This may not sound new for professionals in billable hour environments where annual billing hour minimums necessitate the ongoing capacity tracking. But we also add the human element, with flexibility in when and where we work, unlimited PTO and encouragement to unplug on vacation—and that is new for many in those fields.
Do It Yourself
1. Do a basic calculation with the people hour capacity you have if you were to calculate it based on 8- (or 9- or 10-) hour days. Then, do a second capacity calculation based on the number of hours people are actually working (10-, 12-, 14-hour days). Take the difference and calculate how many FTE headcounts you're actually missing from your workforce. Then make a commitment to close the gap.
2. Hold team members accountable for the life they are leading outside of work. Set and monitor work-life goals, look for downward trend lines and renegotiate workloads to get them trending upward.
3. Make it safe and natural for team members to talk about risks to their productivity, without questioning their commitment. Encourage letting go of low value tasks, delegating and saying "no."
Then watch productivity increase while burnout, overwork and employee exits stop. You owe it to yourself and your team to try.
As a principal of Life Meets Work, Teresa Hopke plays a lead role in the company's strategic direction and consulting projects. She specializes in helping organizations close the leadership skills gap, manage through change and develop custom coaching solutions that help people thrive in both the workplace and their personal lives. Learn more about Teresa and the team, and connect with her on LinkedIn.
REAL LIFE. REAL NEWS. REAL VOICES.
Help us tell more of the stories that matter from voices that too often remain unheard.