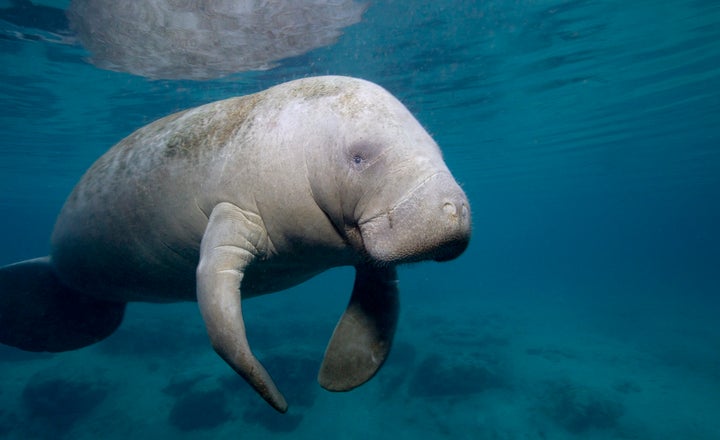 Years of effort to protect manatees may be paying off, with the latest annual survey showing a record 6,250 of the beloved "sea cows" swimming in Florida waters.
The new tally, which was announced by state officials on Feb. 25, is about 200 higher than last year's and roughly twice as high as seen in a similar aerial survey conducted a decade ago.
"The count only means more manatees will be in jeopardy due to the U.S. Fish and Wildlife Service's lack of planning for the future," Dr. Katie Tripp, director of science and conservation for the Maitland, Florida-based nonprofit Save The Manatee Club, told The Huffington Post.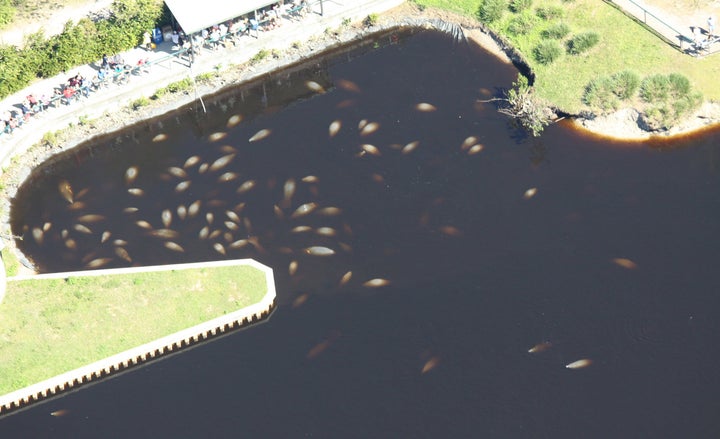 Tripp said she worries that the new survey will be used to advance the argument for reclassification, which she believes would inevitably make it easier to circumvent existing rules and laws aimed at protecting manatees. These include speed limits that help keep boats from colliding with the slow-moving animals.
She's not the only conservationist who's concerned.
And Pat Rose, executive director of Save the Manatee Club, told the Miami Herald that the computer model federal wildlife officials have been relying on had failed to take into account the most recent projections for growth and development in Florida.
"The model assumes that threats and risks from human population growth and development in Florida is going to stay the same," he said. "That's the one thing we can count on that won't be the case."
Manatee injuries and deaths caused by collisions with watercraft are likely to rise as a result of an improving economy and lower gasoline prices, the group says in a post on its website. The posting also lists other continuing threats to manatees, including climate change and the loss of vegetation as well as new building developments that fragment the animals' habitat.
The closing of coastal power plants represents another dire threat to manatees, which in cooler weather have come to depend on warm water released by the plants. Once these aging facilities shut down, manatees will have to find another source of warmth.
Given the continuing threats, Tripp says the wildlife service should "put away their party hats and streamers" and double-down on conservation efforts, such as updating their manatee recovery plan.
"Instead of trying to claim some artificial victory for manatees, the agency should get busy on doing what is actually needed to safeguard the future for manatees so that a legitimate downlisting could be feasible in a few years," she says in the post. "Citizens have invested too much in this species over the years to see recovery unraveled by a misguided push to look the other way and pretend things are rosy."
Calling all HuffPost superfans!
Sign up for membership to become a founding member and help shape HuffPost's next chapter
BEFORE YOU GO
PHOTO GALLERY
Marvelous Manatees