The humble manatee has staged one hell of a comeback.
Where once only a few hundred of the marine mammals lumbered about, the Department of Fish and Wildlife announced Thursday enough now live in Florida's waters to officially downlist the creatures from "endangered" to "vulnerable" on the U.S. Endangered Species Act list.
The downlisting comes after the Florida Fish and Wildlife Commission found some 6,620 now live in the state's waters during its annual manatee survey, completed last month ― the third year in a row that more than 6,000 have been counted. The numbers represent a sharp increase from those seen in 1973, when the creatures were first listed under the ESA.
"Today we both recognize the significant progress we have made in conserving manatee populations while reaffirming our commitment to continuing this species' recovery and success throughout its range, said Jim Kurth, acting director of the FWS, in a statement Thursday.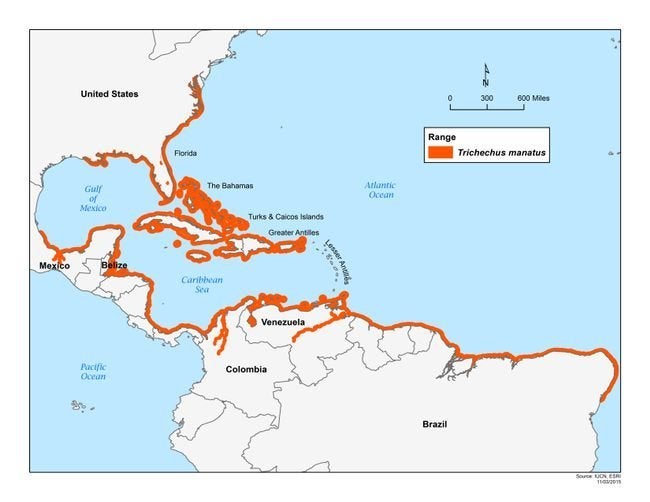 However, while some have celebrated the manatees' recovery, environmentalists fear such downlisting will only further imperil the creatures.
"We believe this is a devastating blow to manatees," said Patrick Rose, executive director of the Save the Manatee Club, in a statement. "A federal reclassification at this time will seriously undermine the chances of securing the manatee's long-term survival. With the new federal administration threatening to cut 75 [percent] of regulations, including those that protect our wildlife and air and water quality, the move to downlist manatees can only be seen as a political one."
The group said the decision failed to include data from the past six years that found manatee deaths to be increasing alongside population gains. A record 828 deaths were recorded in 2013 and 520 were reported dead in 2016.
The Center for Biological Diversity echoed those fears, warning that ongoing threats from boat traffic and loss of habitat still threatened the creatures. A report the group released in 2014 found at least 668 manatees had been killed due to boat collisions between 2008 and 2014 ― a number that reflects more than 10 percent of the current population.
"Thanks to the safety net of the Endangered Species Act, broad public support and conservation efforts by the state, manatee numbers have improved over the past few decades,"said Jaclyn Lopez, Florida director at the Center for Biological Diversity, in a statement. "But manatees are still in danger. With ongoing threats posed by boat strikes and habitat loss, we don't support reducing protections through downlisting yet."
The FWS said the manatee would still fall under the Marine Mammal Protection Act and be entitled to ESA protection despite the reclassification, and the agency said the downlisting would "not diminish any existing federal protections that will continue to play a vital role in the recovery of the species."
REAL LIFE. REAL NEWS. REAL VOICES.
Help us tell more of the stories that matter from voices that too often remain unheard.
BEFORE YOU GO
PHOTO GALLERY
Climate Visuals For The Climate Change Denier In Your Life