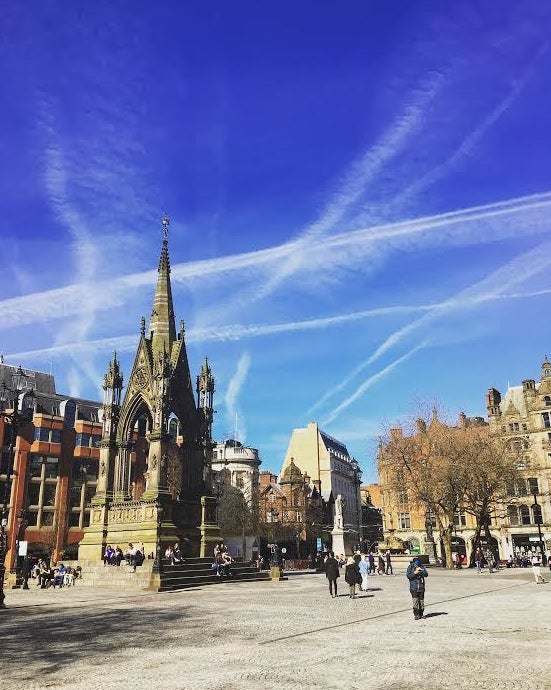 Last year, while reeling from a breakup, I decided to travel solo to Iceland in mid-January. The prospect of 24-hour midnight and $11 beers did not deter me; I was already alone so traveling by myself wouldn't be a problem, and I wanted to see the Northern Lights. To be more specific, I wanted to hear the Northern Lights, because I had it in my head that they made a sound like the shushing back-and-forth of a theatre curtain.
But I never got to go to Iceland. Just after New Year's, I ended up in the emergency room and was diagnosed with a watermelon-sized abdominal mass that required surgery to remove it and a few internal organs. Not exactly the adventure I'd been seeking, but a story that turned out to be just as grotesquely fascinating as, say, eating Iceland's famous fermented shark might have been. By the time I recovered, I'd cancelled my Iceland trip and reconciled with my boyfriend. A bittersweet deal, and one I intended to make fully sweet as soon as I could find a cheap flight to Europe for another attempt at traveling on my own.
By the time autumn rolled around, I found $500 roundtrip flights to two places. One was Reykjavik. The other was Manchester, UK. I still wanted to see the Northern Lights, but I also knew that that Iceland's otherworldly wilderness was something my boyfriend and I could enjoy together. As for Manchester…did you ever just know that a city you'd seen in photos or read about was right for you? That it was the kind of place you'd fit, and that maybe, if you went there, you'd know that you'd found a home? It's an odd thing to explain without sounding like one of those idiots who says "y'know, I could live here!" no matter where they go on vacation, but in my case, I've always looked to Manchester as somewhere I'd end up someday. I've dreamed about it at night. When the opportunity to visit presented itself, I grabbed it.
Founded by the Romans and developed by the Victorians, Manchester is a landlocked city cradled by the Rivers Mersey and Irwell, fed by the Manchester Ship Canal and split by railways. Manchester is situated on the cusp of the North — a large, vague area so named both for its geographical location in respect to the rest of England, as well as to differentiate it from London, which often seems to be the only part of the island most people feel is worth mentioning. If I had to compare in really broad terms, I'd say the North of England is the Midwest of America, and that if London is New York, then Manchester is Chicago. Historic, industrial, vibrant on its own but not reliant on such desperately blind ambition to be always bigger, richer, louder, better. Manchester allows London to have the attention it so craves because Manchester knows what it already has. It's just waiting for everyone else to figure it out, too.
Choosing Manchester was easy for me, a lot easier than the prospect of traveling there on my own as the date approached. I started traveling in the post-9/11 days, when claiming to be a Canadian was considered a necessary strategy for not getting an earful about how detrimental your nation was to humanity. Because of that, I'm always hesitant to identify myself as an American, so I mumble and am excessively polite and only admit when asked. Despite knowing that most people in the North don't harbor major resentment towards Americans (not after Brexit, anyway, because sometimes deep shame needs to be shared across international lines), I winced at the thought of my Americanness being made obvious. I'd already experienced it once after Trump was elected, and I was not eager to repeat it.
I shouldn't have bothered. The Mancunians I met seemed thrilled that someone was coming to their city in the first place — like most really great places, it's entirely underrated, with major tourist spots such as London all too happy to deride the perceived backwardness of the city and its people. Me flying specifically to Manchester as a destination confirmed what they knew in their bones but have been trained not to admit, at least not too loudly; Manchester is fucking cool.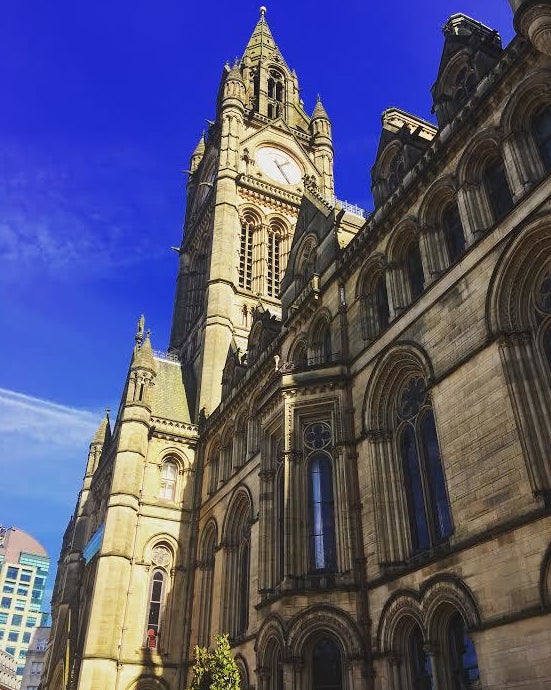 Being willing to fly across a continent and an ocean to see Manchester made me welcome, but my main reason for picking Manchester made me a curiosity. You see, I came for the libraries. Manchester is home to some of the most beautiful libraries in the world. Didn't know? Of course you didn't, they're underrated. One, Chetham's Library, is the oldest free public library in the English-speaking world. Its official founder, Humphrey Chetham, stated that the library should "require nothing of any man that cometh," which, along with similar inscriptions declaring an institution dedicated to the public good, never fails to make me misty-eyed.
While the exact dates of construction for all of its buildings are unknown, the foundations were poured around 1080, making it the second-oldest building I'd ever stood inside (if you count a Pueblo pit dwelling at Mesa Verde to be a building, which I do, because I live in the modern world with technology and I can't even build a lean-to on flat earth, let alone a tool-less structure tucked into a canyon wall). Chetham's is also the place where Karl Marx and Friedrich Engels performed research for their Communist Manifesto, and because it's a working library, you can sit at the same table in the same room where this occurred. The tour guides — volunteers who are all too happy to recognize the nerd in someone else— will take you downstairs to see the chapel, where the Norman stone plinth still sits beneath a wooden dais, and the fireplace was not filmed for a Harry Potter movie, no matter what anyone says. At Chetham's, the smell of centuries of books and wood will take your head clean off. In a good way.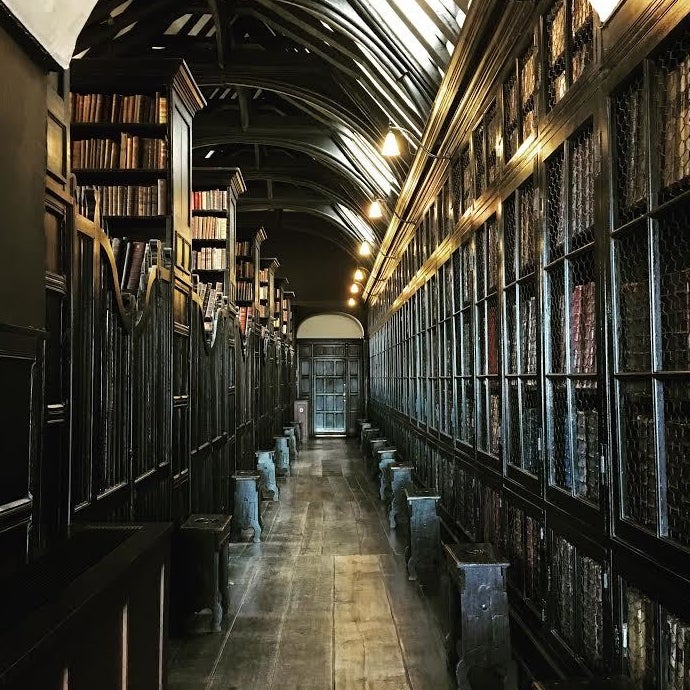 Another Manchester institution, the John Rylands Library, is breathtaking in a Hogwart's sort of way, and that's even if you never read Harry Potter (I didn't). Named for John Rylands but actually founded by his wife, Cuban immigrant Enriqueta Rylands as sort of a Taj Mahal memorial to her husband, it's the kind of place where you never stop looking up, even when you manage to score an alcove in the soaring Reading Room for yourself, which I did, and then internally squee'd my way through the copy of Neil Gaiman's "Norse Mythology," which I'd pre-ordered months in advance and painstakingly waited to read until that very moment.
Verdict? Totally worth it.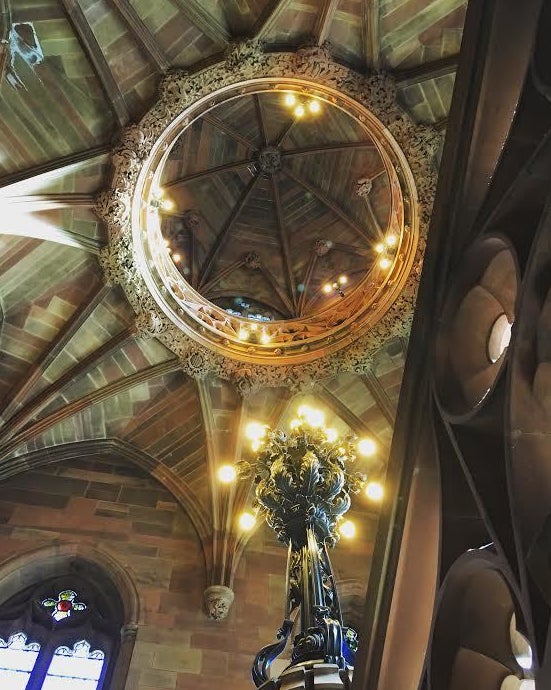 The Manchester Central Library should be considered one of the grand old buildings of Europe. Circular in design, it stands resolutely between the Midland Hotel (where Misters Rolls and Royce developed a car) and Manchester Town Hall. The galleries and exhibit halls flank the outside of the structure. During my visit, I wandered through Oasis DNA, a photography exhibit celebrating some of Manchester's favorite-but-not-only sons. Just downriver from the slightly more musically-famous Liverpool, other offspring of Manchester's illustrious musical history include Morrissey, Joy Division and the Stone Roses. Exiting this exhibit, I entered the central Reading Room, enormous, airy, somehow both elegant and a little creaky, and illuminated by a great oculus. Outside the library is a Portland stone walk, mathematical in its perfection and waiting to be photographed by a line of people clutching their phones.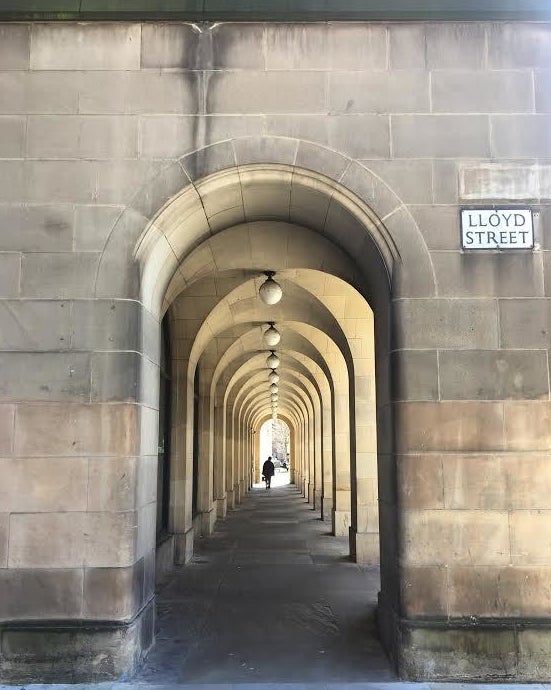 In pubs, complete strangers said hello, asked me if I'd REALLY come to see libraries, and did I REALLY come to see Manchester, and how did I find out about this place, anyway, and then they just referred to me as "the library girl." I dunno about you, but I've been called worse.
As beautiful and breathtaking as the libraries are, the greatest thing about Manchester is its people. Mancunians are warm, funny and hard-drinking. They have the ability to make friends of foreigners, rolling out a welcome that feels easy and right. Basically, they're Midwesterners with better politics who probably won't pester you about Jesus.
Personalities aside, the Manchester accent is utterly charming. Unlike the whispery mumbles of the South or the clipped BBC-ness of "official" England, in Manchester, people speak openly and with impish teasing question marks, making their good-natured insults completely beguiling instead of typically British and aloof. I nearly swooned when someone greeted me with the catch-all Mancunian "alright?" which doesn't actually mean "are you all right," but rather "hello, nice to see you," which I knew in advance but still couldn't answer correctly because I was too smitten to reply in a coherent manner.
If you're going to Manchester, you're going to have to go to a pub, and if you're going to a pub, you should be prepared to have a conversation. Many conversations, actually, with some of the most friendly and engaging people you'll ever meet (and if I may suggest such a pub, I recommend starting at The Brink, a tiny basement bar in Deansgate serving ales brewed within 25 miles of Manchester, and my own rock-solid introduction to the city itself). After the Brink, search out some of Manchester's breweries, where people are once again leaning on centuries of some of the most storied brewing traditions in the world in defiance of what drinking in most of England has become — Foster's, light beer, and "I just want a lager." Runaway, Blackjack, Cloudwater and Alphabet Brewing are just some of the places doing it right.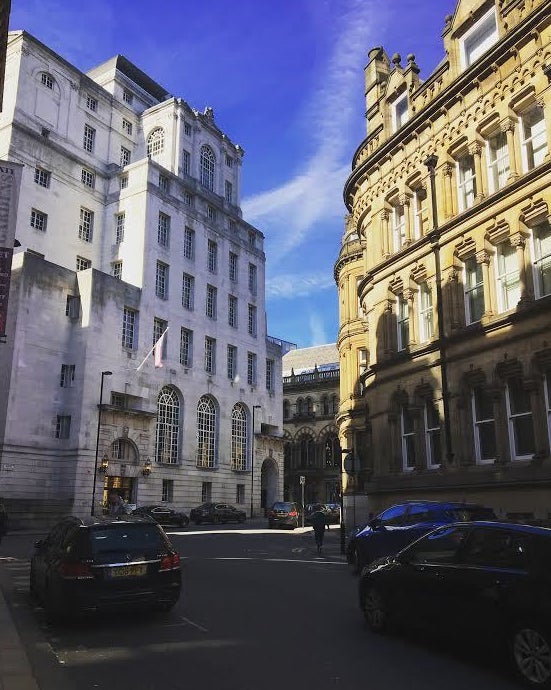 If you want the traditional English experience of castles, tourist buses and people too socially stunted to look at or speak to a stranger, stick to London. Despite all its faults, it really is beautiful, and everyone should go at least once. But if you want the kind of city that makes you feel at home, if you want to make friends who either don't know or don't care how cool you're not in your own country, if you want to stroll amidst gorgeous architecture and good books and better music — visit Manchester. You'll be the only person you know who did.