25 games unbeaten (but 12 draws) is an impressive record. It would have been more impressive had some of those draws, particularly the draws at Old Trafford, had been converted to wins and United were higher up the table in third or fourth, but regardless, that unbeaten streak was ended at the Emirates last night as Arsenal beat a weakened and unmotivated United side who never looked up for the task.
Say what you will about the fixture congestion, injuries and scheduling, but United should be in the top four at the very least. Having thrown away points all season, it could be argued that fault lies squarely with the players for not killing matches and for not finishing enough of the many chances to score. Sitting in fifth in the table with the possibility of ending up in sixth if United fail to get a result at Spurs and even against Southampton and Crystal Palace would be disastrous, even if United win the Europa League and qualify for the Champions League through that route. Louis van Gaal managed to get a fourth position finish in his first season at United and even though the following Champions League campaign was disappointing, it was still Champions League football. In his second season, Manchester United were level on points with Man City, who only were in fourth on goal difference.
Louis van Gaal's Manchester United also did better against the "big clubs" domestically. United beat Spurs, Liverpool (twice), Arsenal, Everton (twice) and Manchester City. United also drew Chelsea twice, albeit a very different Chelsea from this season. This is not to say that Mourinho hasn't made improvements to the side. Signing Bailly, Pogba, Mkhitaryan and Ibrahimovic has clearly benefitted the club. However, the results are just not positive enough. Perhaps Mourinho needs to make even more signings but if United fail to win the Europa League, that could become difficult. Onto this past week's results.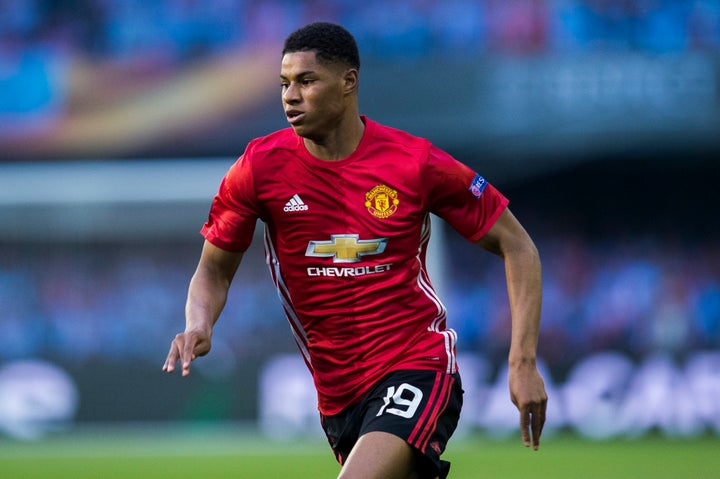 United were victorious in their Europa League semi-final first round match against Celta Vigo in Spain. Despite Celta's 11th place position in the La Liga table, they are a tough side and have beaten both Barcelona and Real Madrid this season. Celta's best players were rested in the Liga match against Athletic Bilbao mid-week whilst United had Manchester City and Swansea to contend with, drawing both. The other good news from this match was that Phil Jones, Chris Smalling, Eric Bailly and Juan Mata were all deemed fit to play. Pogba came back, too and Fellaini was able to participate since his red-card ban only applies to domestic matches.
As predicted, it was a tough match with United and Celta trading opportunities at either end and both goalkeepers making crucial saves to keep their teams in the tie. The deadlock was broken with a brilliant Marcus Rashford free-kick from about 25-yards, which Mourinho says the youngster stays behind after training sessions to practice weekly. An away-goal is certainly an advantage, and unlike the quarter-final, Celta were not able to equalise, but the tie is certainly not over. In order to get to the final in Stockholm, Mourinho's side will need to kill the tie by scoring goals at Old Trafford on Thursday night.
In order to do that, Mourinho rested players for the trip to Arsenal Sunday afternoon. Paul Pogba was benched, Antonio Valencia, Eric Bailly, Daley Blind, Matteo Darmian and Marcus Rashford were rested as well, with the latter coming on as a substitute later in the second half. The priority was clearly the Europa League in Mourinho's mind, as other senior players were left out of the 18 man squad and Reserve youngsters Axel Tuanzebe and Scott McTominay were given a seat on the bench.
The first half went well for United as the sids seemed in control of the match as both sides swapped chances with Petr Cech forced into some brave saves. In the second half, however, things did not start well. Granit Xhaka's long-range effort took a deflection off of Ander Herrera, who attempted to block the shot, and caught De Gea diving the wrong way. Only a few minutes later, former United star and Academy player Danny Welbeck latched onto a cross from Alex Oxlade-Chamberlain to double the hosts' lead. Mourinho tried making some changes, bringing in Lingard, Rashford and McTominay to replace Mkhitaryan, Herrera and Mata. Unfortunately, United were not able to answer Arsenal's goals. The loss now sees United slip to four points off of fourth, still with a game in hand but Liverpool's draw to Southampton keeps a top four chance somewhat possible, but not likely.
With such a reality, Jose Mourinho has said that he will prioritise the Europa League over top four. United face Spurs at the weekend and then Southampton and Crystal Palace to round out the Premier League season. The Europa League final will be only three days after the Palace game, and Jose has seriously considered fielding less-experienced sides against the Saints and Eagles. This has rattled some commentators, but it makes sense. This is not to say that the likes of Mata, Herrera, Mkhitaryan and Pogba won't play, but some youngsters may feature more consistently. Manchester United will need to strengthen the squad this summer in order to avoid having to prioritise competitions next season. Still, big summer signings, two domestic trophies, and a European title with Champions League qualification is not a bad first season for Mourinho. Let's see how it ends.
Calling all HuffPost superfans!
Sign up for membership to become a founding member and help shape HuffPost's next chapter