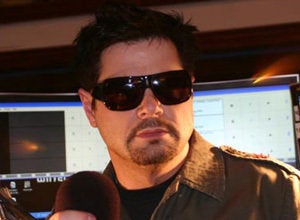 Popular Chicago radio personality Mancow Muller was fired from his job as midday personality on news and conservative talk station WLS-AM Wednesday after only 16 months, a move Muller said had "no rhyme or reason."
Muller, along with co-host and radio veteran Pat Cassidy, had the 9 a.m. to 11 a.m. slot at WLS, but were fired following their Wednesday show. WBEZ's Robert Feder reports that the duo will be replaced with Cisco Cotto.
Cotto has been co-hosting Roe Conn's afternoon show on WLS since last month and "Conn and Cotto did not mesh particularly well on the air," Feder writes.
As for Muller, he was pretty shocked about the news:
"There's no rhyme or reason to this business," Muller said. "I've stopped trying to figure it out. I thought we were doing a great show. I think it had a lot of interesting elements, and I'm proud of the show we did."
The station, which also features Rush Limbaugh's syndicated show, is working to "restore credibility to conservative talk," WLS President and General Manager Michael Damsky told Feder. No word on what restoring the station's "credibility" means for Limbaugh.

"Mancow has been an outstanding talent and an ideal employee in every respect. Unfortunately, he does not fit the needs of the radio station as we try to fulfill a very clear vision of what listeners expect," Damsky said.
Muller has had a long and tumultuous career in Chicago. He was fired from Q101 in 2006, and then filed a lawsuit over the firing. The libertarian Muller continues to host a nationally syndicated morning show for the Talk Radio Network.
Related
Popular in the Community