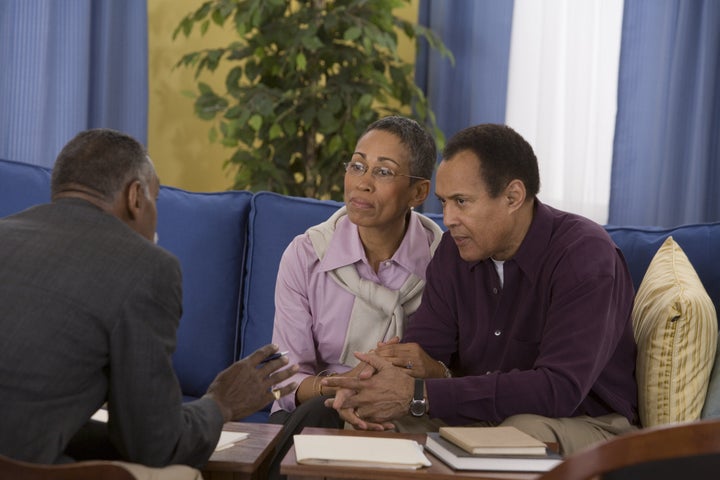 Earlier this month, Nebraska State Senator Tony Fulton (R) introduced a bill that would give judges the option to send married couples with minor children to marriage counseling before granting a divorce and require marriage counseling in divorce actions where no minor children are involved and where one spouse believes the marriage should be saved.
And in Wyoming, incoming House Speaker Ed Buchanan (R) introduced a bill requiring any couple who wanted to marry to attend three hours of premarital counseling. If couples fail to get the required counseling, they must wait a full year to get a marriage license. Additionally, the Wyoming bill requires couples seeking a divorce to attend three hours of counseling or wait a full year to file. Notably, the bill requires that couples pay for the counseling themselves.
Both politicians have stated that the purpose of the proposed bills is to lower divorce rates. According to the Census Bureau, Wyoming has the fifth highest per capita divorce rate. Nebraska is in the middle of the pack.*
Interestingly, even accounting for lower marriage rates per capita, Wyoming has lowered its divorce rate over the past decade and Nebraska's has remained statistically the same. Given this fact, why the sudden attempt by these states to mandate pre-divorce counseling?
Recent attempts to do so have failed. In 2009, Texas rejected a bill proposed by Rep. Warren Chisum (R) that would have required every person with a minor child who files for divorce to complete 10 hours of mandatory divorce counseling. Likewise, in 2008, Oklahoma rejected a bill proposed by the Rep. Mark McCullough (R) that would have required couples to visit a therapist or a faith-based counselor before seeking to end their marriage and another to eliminate incompatibility as grounds for divorce if the couple has children or has been married 10 years or more.
In 2010, Rep. McCullough also proposed a bill that was ultimately rejected that would have in part required pre-divorce counseling for troubled marriages and created "covenant marriages" with stricter standards for divorce, similar to those existing in Louisiana, Arkansas and Alabama**.

The recent flurry of proposed legislation raises many questions. First, why now? The marriage to divorce per capita rate has not increased over the past decade. Not that the current divorce rate is anything to brag about, it has significantly decreased since the 1980s and 1990s. Perhaps a better use of our legislators' time is to examine the reason(s) for this development to see what has helped to lower the rates over the past decades before trying to push through any bills.
Second, why have legislators chosen to usurp decision-making traditionally handled by state court judges? Pre-divorce counseling is often ordered by individual judges within their discretion prior to dissolving a marriage. Arguably, judges handling specific matters are better suited to determine whether a couple may benefit from therapy, irrespective of whether it is focused on trying to save a viable marriage or ease the path for a more peaceful dissolution. Likewise, family courts and staff are in a better position to advise the parties of available resources.
Similarly, therapists are skeptical about the mandates as proposed. Rebecca Alexander, a New York City-based therapist, believes that counseling could be very beneficial. But if couples are intending or encouraged to stay together, a few hours of therapy is simply not enough time to make effective progress. She also points out that many fee-for-service therapists set specific amounts of time that they are going to work with people when the work is goal-oriented (e.g., saving a marriage).
Third, who will pay for this therapy? Ms. Alexander also expresses concern regarding insurance coverage and the fact that only the wealthy may be able to seek their therapists who are able to sign off on the mandated counseling.
Fourth, is this even constitutional? Critics point out that the proposed bills impede on individual constitutional rights by creating obstacles to ending a marriage. For example, so far, Wyoming proposes that the couples pay. However, forty years ago the Supreme Court struck down a state law that mandated divorce filing fees because indigent people could not afford it***. Given this well-established precedence, even today's more conservative Supreme Court would be hard pressed to rule the current proposed language constitutional.
And even if Wyoming and Nebraska amend their bills to pass with state-supported counseling, where will they find the funds? Both states have suffered from the economic downturn in recent years, and both have had to cut spending, and their newly elected legislative bodies have promised to continue the trend.
Which leads to the last question- why are Republicans, who claim to want less government spending and interference, trying to increase both? Nebraska's Sen. Fulton recently stated that he "identifies" with the principles of the Tea Party movement, including "limited government and individual responsibility."**** And Wyoming's Speaker Buchanan has expressed satisfaction over the large Tea Party movement in his State, which now has the most lopsided one-party domination of any Legislature in the country- a 26-4 Republican to Democrat ratio in its Senate and a 50-10 one in its House.*****
Instead of forcing couples to go through pre-divorce counseling, why not look into why less people are getting married? Why not focus on how to make married people happier as opposed to divorce harder?
Recent studies have shown that marriage is becoming an option more and more only for the wealthy. The well-reviewed Fall, 2010 Pew Center Research study examined the matter and found that the marriage gap and socioeconomic gap may be "feeding off of each other."
It's indisputable that financial strains harm relationships. Therefore, perhaps these legislators should spend more time trying to figure out how to stimulate the economy and our overall wealth so that married couples are not so stressed out rather than trying to micro-manage our personal choices and limit our fundamental rights in complete contradiction to their stated philosophy.
*Most recent available data is 2008.
**Covenant marriage bills have been introduced but not passed in California, Florida, Georgia, Indiana, Iowa, Kansas, Maryland, Minnesota, Mississippi, Missouri, Nebraska, New Mexico, Oklahoma, South Carolina, Oregon, Tennessee, Texas, Utah, Virginia, Washington, and West Virginia. In the three States that do have such marriages, very few couples opt for them. Those that do typically tend to be highly religiously observant and therefore unlikely to seek divorces in the first instance.
***Boddie v. Conn., 401 U.S. 371 (1971).
****Lincoln Journal Star, Jan. 13, 2001.
*****Casper Star Tribune, Dec. 3, 2010.
Related