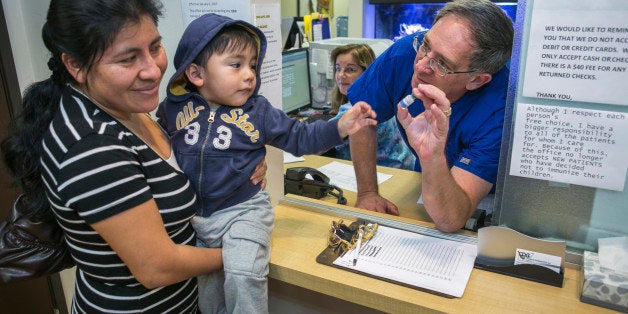 But some experts say that the time for earnest public health appeals is long past. Instead, they argue, vaccines should be given the same nonnegotiable status as car seats for young children and the minimum drinking age. In other words, it's time for a law on the books.
"We have seat belt laws," Patsy Stinchfield, director of Pediatric Infectious Disease Services at Children's Hospitals and Clinics of Minnesota, told The Huffington Post. "We would never think to just lay that newborn baby down in the front seat and say, 'I don't really believe in car seats,' or 'I don't really want to buckle my child up.' ... We should have the same kind of vigor when it comes to protecting children from vaccine-preventable diseases.'"
The vaccination issue has emerged as an early litmus test in the 2016 presidential race. Gov. Chris Christie (R-N.J.) made waves on Monday when he told a reporter that "parents need to have some measure of choice" in the matter of vaccines. (His office later issued a statement saying that Christie "believes vaccines are an important public health protection and with a disease like measles there is no question kids should be vaccinated.") Similarly, Sen. Rand Paul (R-Ky.), who is a physician as well as a senator, said this week that vaccines are "a good thing" but should not be made mandatory.
It's not clear whether a push to standardize national vaccination practices would actually have any chance of succeeding. While recent polling suggests that a majority of Americans are in favor of mandatory childhood vaccines, a significant share of people -- 30 percent of Americans according to Pew Research, 32 percent according to YouGov -- say it should be left to parents to decide.
And in general, it can be difficult to implement policies that directly affect an individual's freedom of choice, according to Arthur Caplan, a medical ethicist at NYU Medical Center. Historically, Caplan told HuffPost, it's taken either a serious outbreak of disease or a national tragedy to inspire legislation around personal-choice issues like car seats and seat belts.
"You usually have to have an epidemic or a disaster or some demonstration of harm before you take away individual choice," said Caplan, who called himself a longtime proponent of vaccination. "That cultural stance is not unique to vaccines. Freedom has come before public health, every single time."
In 2014, the U.S. recorded 644 cases of measles, the highest number of any year since 1994. Now, with 102 cases of measles across 14 states in January alone, the country is on track to exceed last year's figures. Because of this, Caplan says that encouraging parents to "choose" vaccines is no longer enough to protect the health of the nation. As seen in the Disneyland outbreak this past December, which led to at least 59 cases of measles, even small pockets of under-immunization can set the stage for contagion.
"I think we're starting to realize that vaccines are not an individual choice," said Caplan. "Vaccination has public consequences, and if you decide against it, it can make others sick or kill them."
Research supports the idea that vaccination is as much an issue of public health as it is personal health. States with stricter school and day care entry laws that mandate vaccinations (barring a medical exemption) have higher immunization rates and lower measles infection rates than states where it's easy to opt out. During a recent press call, Assistant Surgeon General Dr. Anne Schuchat noted that 79 percent of measles patients in 2014 had skipped vaccinations because of "personal belief exemptions."
The first map below shows the breakdown of vaccination rates by state during the 2013-2014 school year. The second map shows the proliferation of measles cases by state between 2009 and 2014.
Dr. Heidi Larson, an anthropologist at the London School of Hygiene & Tropical Medicine who studies public sentiment about vaccines, told HuffPost that stronger vaccination laws would help, as would laws that make it harder to qualify for exemptions. She said the need for such policies goes hand-in-hand with the need for health practitioners to engage with parents who are anxious about vaccines. The best thing clinicians can do to get a child vaccinated, said Larson, is to take parents' concerns seriously, instead of shaming parents or shutting them down.
"I've had numerous interviews with parents who said they were very open to vaccination and that it was a normal thing, but when they started asking questions, they felt resistance [from health workers]," Larson told HuffPost. "And the more they felt resistance, the more they got suspicious and anxious."
The answer, said Larson, is for pediatricians' offices to build in time to engage with parents and respond to their concerns, talking to them about what they're reading or whom they're listening to. Whether it's a health worker who can answer questions generally in a waiting room, or even the nurse or doctor, time and resources have to be set aside to allow for this kind of dialogue.
"The face-to-face interaction with health providers is still one of the most highly influential decision points for a parent, and if they feel as if they're being brushed off, or looked at as if they're silly for asking questions -- it just starts to shut the doors down," said Larson.
Still, Larson acknowledged that even the most patient, nonjudgmental health worker in the world wouldn't necessarily be able to convince every parent to vaccinate their children.
"There are some people for whom it will take some major epidemics to wake up the need for shifting gears," she said. "Although some of the interviews I've heard with some people, even in the face of the outbreaks, are standing firm."
Graphics by Alissa Scheller for The Huffington Post.
This article has been updated to note Larson's affiliation with the London School of Hygiene & Tropical Medicine.
Support HuffPost
A No-B.S. Guide To Life
Related
Before You Go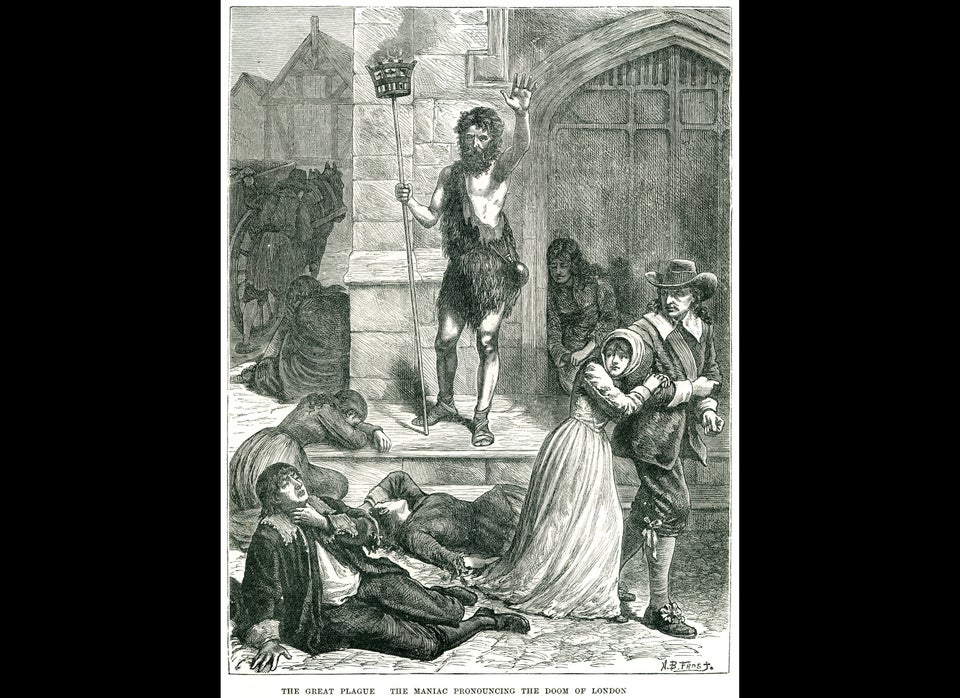 Old-Time Diseases
Popular in the Community