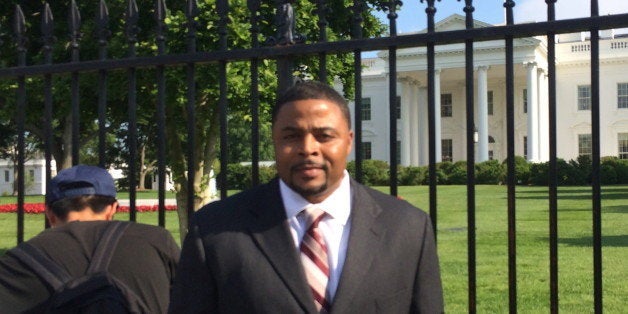 WASHINGTON -- Reynolds Wintersmith wasn't supposed to be here. Not in front of the White House, or in the halls of the Justice Department, or meeting with reporters and congressional staffers in a crowded room of an office building on Capitol Hill.
More than two decades ago, when he was still a teenager, Wintersmith was arrested for selling crack. Although it was his first conviction, he was sentenced to spend the rest of his life in prison.
But his sentence was commuted by President Barack Obama in December. And this week he and several other former inmates were in the nation's capital to convince lawmakers to do away with the harsh sentencing laws that put them away for so long.
On Tuesday morning, at the congressional briefing sponsored by the organizations Families Against Mandatory Minimums and the American Civil Liberties Union, they took turns recounting what it felt like to learn that their sentences had been commuted.
"I was cool, I was calm," said Wintersmith, who has been a free man for barely a month, "but I was jumping up and down on the inside."
"It was surreal," said Serena Nunn, who received a 16-year federal sentence for her involvement in a drug conspiracy. She was pardoned by President Bill Clinton in 2000, after spending 11 years in prison.
"I can't even begin to describe the indescribable," said Peter Ninemire, who served 10 years of a prison sentence of more than 24 years for growing marijuana before Clinton pardoned him in 2001. "I still today can't believe I'm living the dream that I was afraid to dream."
Ninemire, Nunn and Wintersmith are among a tiny group of prisoners whose dreams of receiving clemency from a president have come true. Clinton granted commutations to just 61 of the 5,488 inmates who requested it. President George W. Bush received more than 8,000 commutation requests and granted only 11. And Obama has commuted just 10 sentences, despite receiving more than 11,000 requests.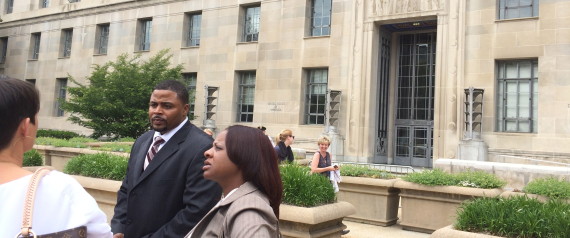 Wintersmith and Stephanie George outside of the Justice Department.
Things are poised to change. There's a new head of the Office of the Pardon Attorney, which makes recommendations to the president about which sentences to commute. And the Justice Department has announced new criteria for considering commutations, raising the possibility that Obama may soon commute the sentences of hundreds of people convicted of drug offenses.
In a statement last month, Attorney General Eric Holder spoke of Wintersmith and the seven other prisoners who received commutations from Obama last winter as examples of "the vital role that the clemency process can play in America's justice system."
But even if Obama releases thousands of inmates convicted of nonviolent drug crimes, thousands more will still be serving time. With more than 2 million people in its prisons and jails, the U.S. incarcerates more people than any other country in the world. About half of the people in its federal prisons are there because of drug convictions.
When Wintersmith was growing up, nearly everyone he knew used or sold drugs. At age 11, he and his 9-year-old sister, Rashonda, found their mother dead of a heroin overdose. Their grandmother, who took them in, was arrested for drug dealing five years later.
Wintersmith moved in with relatives who belonged to a street gang. For more than a year, he sold crack with them, according to prosecutors. Although he was never charged with a violent crime, the government's rigid sentencing guidelines compelled the judge to sentence him to life.
On Tuesday, Wintersmith said he sold drugs to support Rashonda and his two younger brothers. He questioned whether the members of Congress who passed the government's tough mandatory minimum sentencing laws could have comprehended this. "How many people that put together or voted on a law had to take care of a household at 15 years old?" he asked.
In prison, Wintersmith tutored his fellow inmates in reading, writing and math, and counseled inmates who were preparing to be released. Although he himself had only an infinitesimal chance of gaining his freedom, he says he never gave up hope. "It was impossible for me to imagine dying in prison," he said Tuesday. "I always believed that I would get out of prison one day."
Since leaving the Federal Prison in Greenville, Illinois, in January, Wintersmith has lived a halfway house and, for the last month, his own apartment in Chicago. He got a job working for a woman who runs a fashion company after she spoke at a Black History Month event at the halfway house. He says he relishes the opportunity to drive the company's delivery truck, something that's difficult for his colleagues to understand.
He's also adjusting to all the technological innovations that have taken place since the early 1990s. As he and Stephanie George, another former prisoner whose sentence was commuted by Obama, rode in a cab across D.C., George told Wintersmith that she had set up five different Facebook pages since she got out of prison last month, not realizing she was creating a new account instead of logging in.
Wintersmith himself used a new Android smartphone to snap photos outside the White House and the Martin Luther King Jr. Memorial. But he was amazed to see so many people staring at their cell phones as they walked down the street.
"You know how much you missing?" he remarked.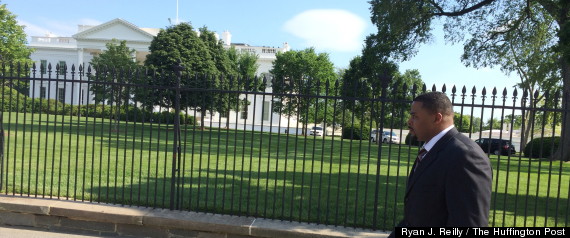 Wintersmith walks past the White House.
Before You Go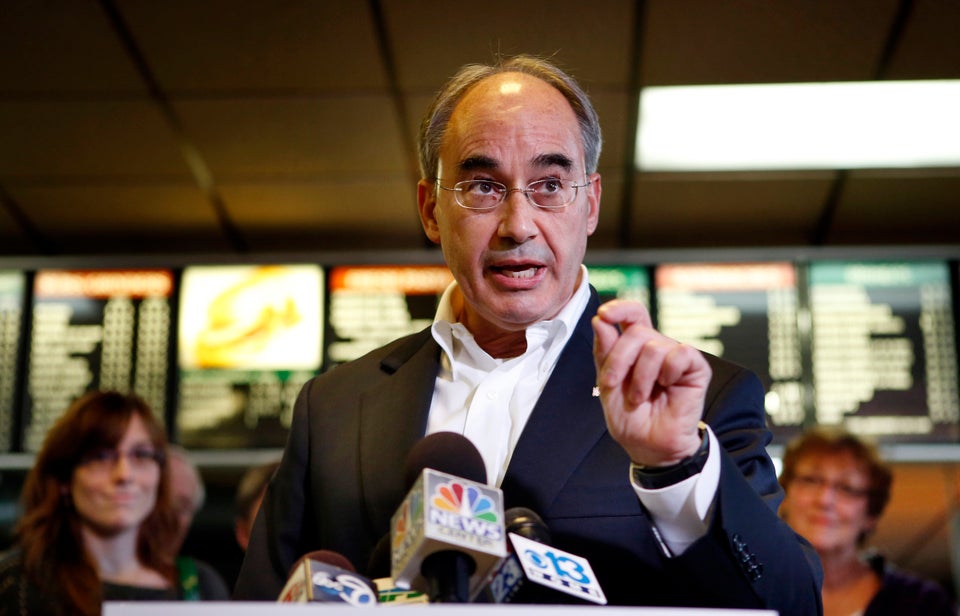 Great Political Names
Popular in the Community