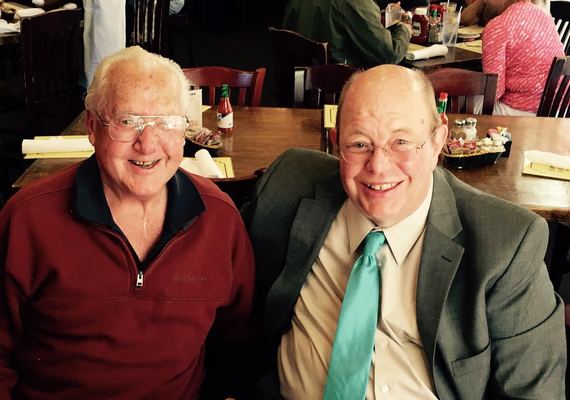 "A bottle of red, a bottle of white
It all depends on your appetite
I'll meet you any time you want
In our Italian restaurant"
-Billy Joel
Mandina's on Canal Street in New Orleans seems like a throwback to my past. It reminds me of Pompilios in Newport, Kentucky, where my family dined on a regular basis in my youth.
As Yogi Berra would say, it's déjà vu all over again.
Both restaurants have been around for a long time. They focus on terrific, homemade Italian food, but everything on the menu is great. And inexpensive. I've eaten at both restaurants for less than I would pay to eat at McDonald's. A large bar dominates each restaurant and most of the patrons will have a glass. Wine in New Orleans and beer in the Cincinnati area.
The clientele skews older from the nearby neighborhoods, and the crowd covers the entire economic scale. At lunch, attorneys in business suits will be sitting next to working class people in t-shirts. Dinner time is dominated by families and married couples. The servers have often worked at the restaurants there for decades and know all the regulars well.
Once I take a friend to either place, they come back often on their own. I've never met the owner of either restaurant, but both ought to put me on the payroll.
Pompilos had a great moment of fame when a scene from the movie Rain Man was filmed in the restaurant. A famous scene, where the waitress drops a jar of toothpicks and Dustin Hoffman's Oscar award-winning character counts them. If you've ever seen the movie, you remember that part.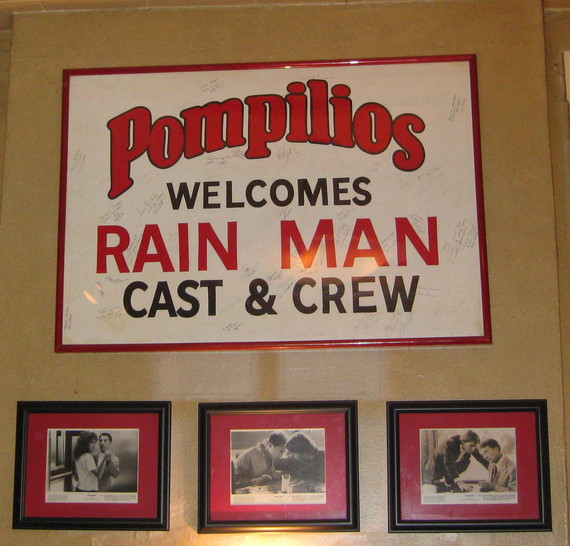 I don't know if any movie stars have been to Mandina's. For me, there was a more important reason to be dining there.
I was meeting Moon Landrieu for lunch.
"Drop a dime in the box
Play the song about New Orleans
Cold beer, hot lights
My sweet romantic teenage nights"
-Billy Joel
At age 84, Moon Landrieu can look back on a fascinating life.
There are cities, like New York City and Chicago, where Mayor is arguably a better position than being Governor of the state. New Orleans would fall into that category. New Orleans is a hard city to run well and an easy city to run poorly. You can contact former Mayor Ray Nagin, who is currently residing at a federal correctional institution, for insights on how things can go badly.
Moon was mayor of New Orleans twice and his son Mitch is in his second term as mayor now. Moon has been married to Verna for about 60 years. His daughter Mary was a United States Senator for 18 years. Moon went to Loyola University on a baseball scholarship and received his law degree before serving three years in the army.
With nine children, 37 grandchildren and a career that includes time as a Court of Appeals Judge, City Council, the Louisiana Legislature and a member of Jimmy Carter's cabinet, the son of a corner grocery store owner has come a long way from his humble beginnings.
Actually, Moon never got too far from those working class roots. He and Verna still live in the same house in the working class Broadmoor neighborhood where they raised their family. Moon's car is from an indeterminable year in the distant past. He maintains the energy and work ethic that allowed him to climb the political ladder in a very tough political city, plays tennis on a regular basis and seems in terrific health. A hearing aid is the only sign that Moon is not actually a decade younger than he is.
Our friendship had a unique genesis. His wife Verna, a bright, personable woman who has terrific political skill sets on her own, attended Ursuline Academy in Uptown New Orleans, Founded in 1727, it is the oldest all girls school and oldest Catholic school in the United States. Along with Verna, her daughters, granddaughters and a plethora of family members have attended Ursuline.
In 2012, Verna was on the search committee to select a new president for Ursuline. They selected my wife, Karen Thomas McNay, who moved from Lexington, Kentucky. (I still live in Lexington and visit New Orleans as often as I can.) As part of her introduction to the city, Moon took Karen on a private tour and gave her a history lesson that few newcomers (or natives) would ever get to experience.
I knew from Karen's description of the day that I would love to have the same tour.
Moon Landrieu was someone I really wanted to meet. More than any other person in Louisiana, including any of his children who were in powerful elected positions.
A disclaimer: I donated $500 to Mitch Landrieu's successful re-election campaign, but he does not remember me the few times he has met me. Several times, I've talked to former Senator Mary Landrieu (who had my name and profession nailed down immediately), but I did not participate in her campaign.
Moon is a historic figure and I suspected, correctly, that he would share some of his insights with me. He understood that I was someone who was dying to hear his stories and get him to answer my questions about the past and future.
My fascination with Moon Landrieu started when I was in college at Eastern Kentucky University in the late 1970s. Jimmy Carter was President and Moon was Secretary of Housing and Urban Development under President Carter. The Superdome was built and opened during Landrieu's two terms as Mayor. My college roommate, Mike Behler, was an expert in urban development and sold me on Moon.
Moon had an impact far beyond New Orleans or his role as Cabinet Secretary. Like in the Big Apple.
On October 29, 1975 following a speech by President Gerald Ford, the New York Daily News ran a huge headline: "Ford To City: Drop Dead." The headline probably cost Ford the presidency (he lost New York state and the election by a small margin) and he did not actually say "drop dead," but the indication was clear that Ford was going to let the city, which was in a serious financial crisis, go into bankruptcy.
Moon was President of the United States Conference of Mayors in 1975 and 1976 and played an important role in having Congress allocate money to New York City and save the city from disaster.
Now, New York City is king of the hill, top of the heap. And they can thank Moon Landrieu for being there when the city needed some help.
We liked that Landrieu had an unusual name (he legally changed his name to Moon somewhere along the way) and that he was a symbol of the fight against segregation. Moon just seemed like a cool guy.
I finally got my chance to meet Moon in 2013 at LaFete, a black tie fundraiser for Ursuline Academy. It was my first event as Ursuline's first spouse (and I have been trying unsuccessfully to get the pictures of the event ever since). When Moon and Verna came through the receiving line, I introduced myself and called him as "Mr. Secretary" as that was his highest title. Verna gave me a hug since in New Orleans Landrieu is known usually as a former Mayor and his influence at the national level can get overlooked.
People resign from the United States Senate, or as big city Mayors, or as Governors, to become presidential cabinet secretaries. It's a truly important gig. No one has ever jumped from Mayor to become President of the United States. Several cabinet members have.
We later invited the Landrieu's to dinner at our house and after the dinner, and after he read my book Son of a Son of a Gambler (Moon has read most of my books), Moon invited me for my first trip to Mandina's.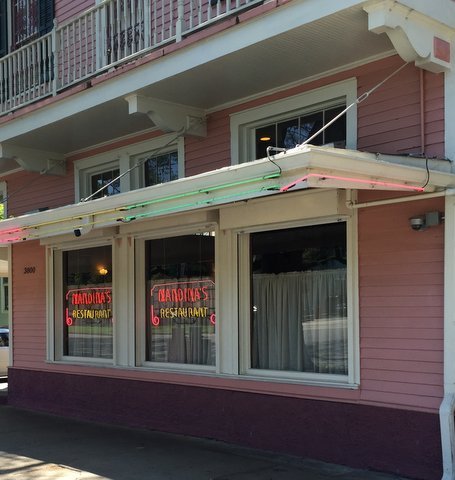 Moon the Coon (and other not so flattering titles)
"I been in the right place
But it must have been the wrong time"
-Dr. John
"The colors of the rainbow, so pretty in the sky
Are also on the faces of people going by
I see friends shaking hands, sayin', 'How do you do?'
They're really sayin', 'I love you'"
-Louis Armstrong
Moon Landrieu goes against every stereotype of a political leader in the Big Easy. In a town where a noon meeting might actually start about three p.m., Moon is 15 minutes early for everything.
In a state and city where some elected officials line their pockets and then spend a few years in the big house, Moon is proud of the fact that he never cashed in on his years in public life. He reminds me of the mindset of Harry Truman, who refused to do the things like go on a speaking tour or set up a private foundation to enrich himself, as most modern politicians do.
In a state where some people are known for their complicated personal lives and their ability to stretch the truth to far extremes, the man with nine children and 37 grandchildren (he will rattle off the names of all 46 at the drop of a hat) is extremely blunt and to the point.
My first trip to Mandina's is basically off the record. I didn't get his permission to quote him and he never ducked a question. He also spent several hours taking me around the city, including my first trip to the Ninth Ward. It was a day I will never forget, but probably never write about.
Thus, when we went back to Mandina's during this year's Jazz Fest, I asked him upfront if I could get some information on the record.
My first question was, "How can a man with your blunt and straightforward personality be elected to anything in a city like New Orleans?"
Moon laughed and never answered the question completely. He did say enough to let me know that his election came at a time when the civil rights movement was sweeping the nation.
I stumbled upon a 2011 Master's Thesis submitted to the University of New Orleans by Frank Straughan, Jr. titled, "Phases of a Man Called 'Moon': Mayor Landrieu and Race Relations in New Orleans, 1960-1974."
Straughan noted that Landrieu was elected as Mayor in 1969 by splitting the white vote, but receiving 88.4 percent of the African American vote in the Democratic primary and then winning 98 percent of the African American vote against a strong Republican opponent.
Landrieu was elected by appealing to a group that had been disenfranchised by previous administrations and was the first New Orleans Mayor to appoint African Americans to key positions.
Not everybody was crazy about Moon's progressive ideas, but Landrieu had the grit and determination to stand up for what he believed.
Quoting Straughan, "His critics called him 'Moon the Coon' and 'n_____ lover' for his vigorous fight for civil rights and full social, political and business participation for blacks. 'You're right, I am,' the young white upstart responded cheerfully. 'I flat am, without shame or apologies.'
Straughan said: "Early in his career, Landrieu had the guts and courage to stand up to the segregationists. Blacks saw hope and a future with Landrieu. As he strove to improve the political atmosphere, while repairing the city's streets and managing the budget, he remained committed to race relations."
Unlike the character in the Dr. John song, Moon was the right person at the right time.
My friend Gary Rivlin, who covered Hurricane Katrina for the New York Times, is releasing a book called Katrina: After the Flood in August as the 10th anniversary of Hurricane Katrina comes due. It will be interesting to see how Gary's take on modern, post-Katrina New Orleans compares to the vision that Moon Landrieu had during his time as Mayor.
Six Degrees of Moon Landrieu
There is a game called, "Six Degrees of Kevin Bacon" where people try to gauge how far a person is from connecting back to Kevin Bacon.
Moon Landrieu would blow Kevin Bacon out of the water. He seems connected to more people than anyone on the planet.
Moon has a big edge by serving in a presidential cabinet and in a city where everyone, including the Pope, eventually makes a stop in town. It would be hard to find a famous person he does not have a connection to. He knew Earl Long, which means he was one step from Huey Long and the most dominant figure in Louisiana history. Well known people in every profession were born in New Orleans. Two of my favorite writers, Michael Lewis and Walter Issacson, have connections to Landrieu. Moon told me that he knows Lewis' parents well and Issacson covered Landrieu as a local reporter.
Landrieu is a man who knows everyone and has seen everything.
Moon made a long trip from a working class background to the highest positions of power and influence. He did it with hard work, character and intellect. The American Dream became a reality in the Bayou state from a Mayor and presidential cabinet secretary with an unusual name.
I started life as the son of a bookie in Northern Kentucky and 56 years later, I got the opportunity to be friends with a truly historic man who I greatly admire.
It was the answer to an American dream for me, too.
I have an open invitation to Moon: I'll meet you anytime you want, in our Italian restaurant.
Don McNay is a best-selling author, financial consultant and book publisher based in Lexington, Kentucky. His wife Karen is the president of the Ursuline Academy in New Orleans and has absolutely no idea that he wrote this column. You can learn more about Don McNay at www.donmcnay.com
Calling all HuffPost superfans!
Sign up for membership to become a founding member and help shape HuffPost's next chapter