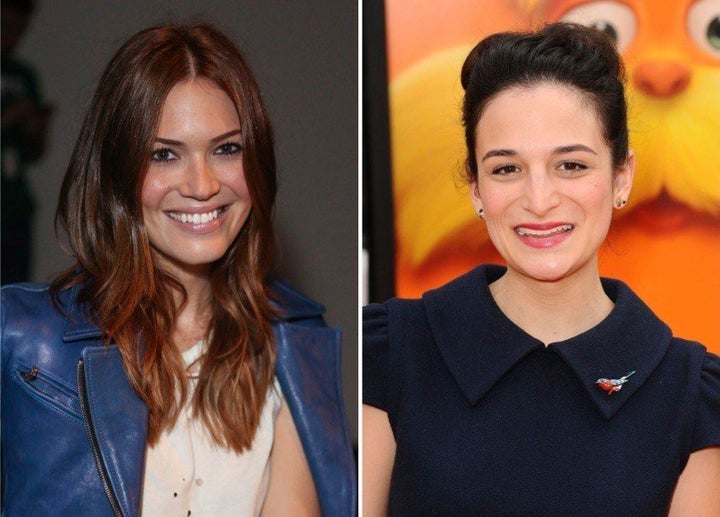 TV Guide reports that the pop star turned singer has exited the ABC comedy pilot from "Bad Teacher" producers Lee Eisenberg and Gene Stupnitsky. Moore had signed on to play Louise, a woman desperate to walk down the aisle, in "Pulling," which follows three dysfunctional women in their 30s.
Moore was the first actress to sign on to the pilot, but the project wasn't working out the way it was originally presented to her. "Mandy is a pro, and has been very patient and accommodating with us," "Pulling" producers told TV Guide. "As we moved closer to production, it was clear we needed to go in a different direction for the character."
"Many things change quickly as a pilot moves into production," Moore told the site. "Lee and Gene moved the character in a different direction, it was clear this wasn't right for me. Rather than jeopardize the show, I asked to step aside. They and ABC were very accommodating, and wish them all the best in the fall."
In other "Pulling" news, "SNL" alumna Jenny Slate has joined the pilot to play Karen, "who may be a prim and proper professional during working hours, but once she's off the clock, look out," Deadline reports. June Diane Raphael plays the leader of the trio, Donna and Louise is obviously still up for grabs.
Chris D'Elia is "Undateable." The "Whitney" star has his next gig lined up with Bill Lawrence's NBC pilot, which is described as a "bromantic comedy about two very different guys who are bonded by their common inability to attract women." [The Hollywood Reporter]
Mercedes Masohn exits her pilot, too. The actress is leaving ABC's comedy pilot "Mixology," which is set in the world of a sexy Manhattan bar and follows five single guys and five single girls. "Masohn is an incredible talent with comedy chops and has been very accommodating and understanding with us, and we plan to be working with her again soon," the "Mixology" producers said in a statement. [Deadline]
Michael Rapaport has joined Greg Garcia's untitled comedy pilot. Rapaport will play Adam in the pilot, which centers on the recently divorced Jack (Will Arnett). Adam struggles to make a living as a mattress salesman and is married to Jack's sister (Mary Elizabeth Ellis). [The Hollywood Reporter]
"Big Thunder" has found its lead. "EastEnders" actor Ed MacLiam will star in the ABC drama pilot based on Disney's famous roller coaster ride. The pilot centers on Dr. Grant Carson (MacLiam), a late 19th century New York doctor who's given a once-in-a-lifetime opportunity to relocate with his family to a frontier mining town run by a powerful but mysterious tycoon. But "not everything in Big Thunder is as it seems." [Deadline]
PHOTO GALLERY
2013 Renewal Index: Canceled, Renewed & On The Bubble Shows
BEFORE YOU GO