"I'll do lip balm," she told HuffPost. "Maybe a little eyebrow gel."
Moore might not be wedded to an intricate beauty routine, but she does care about how beauty products affect the environment. She has teamed up with Garnier on its "Rinse, Recycle, Repeat" campaign, which encourages college students to collect and recycle their used beauty-product containers.
According to Garnier's website, the program, which launched Thursday, is "the world's first-ever beauty recycling program which facilitates the collection and recycling of beauty empties that otherwise cannot be recycled for free."
"When you think that actually only half of Americans recycle their personal care products and that accounts for a gigantic, significant amount of our landfill waste, I was completely unaware of that statistic," Moore told HuffPost. "I really want young people to see the impact beauty products and consumption can have on this planet, and just get the next generation buzzing about how they can find resourceful ways to go green."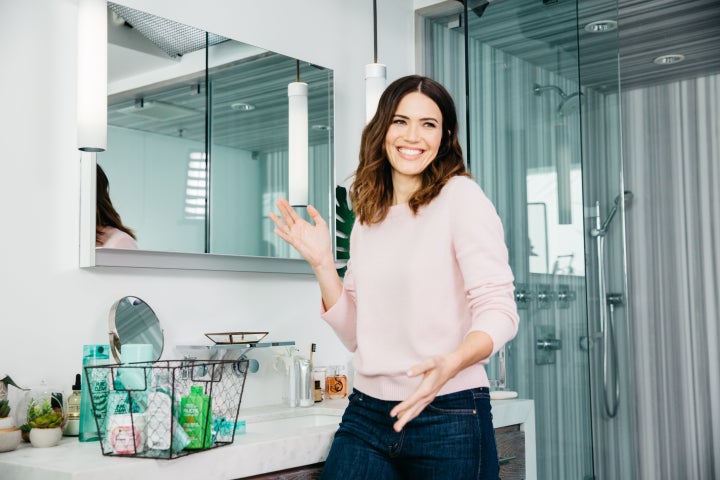 The actress' platform to reach those young people is as big as it's ever been, thanks to her work on "This Is Us." (Her performances in the two most recent episodes have had fans campaigning for an Emmy nomination.)
The intensely emotional show has a reputation for moving viewers to tears during every episode. Moore says those tear-jerking scenes are "pretty easy to shake off" once she's shot them ― but she admits they've affected her in ways she doesn't always realize right away.
"I feel like it's taken a toll on me this year," she said. "Emotionally, it's a lot. I feel like it's manifested itself in other ways. Like I had a terrible stomachache out of the blue a couple of weeks ago, just out of nowhere, and I think it was the stress of moving and all of the emotional work I've been doing."
"I racked my brain," she went on. "I was like, 'What did I eat? What did I do?' And nothing out of the ordinary had changed. So yeah, I think it definitely finds a way to sneak up on you."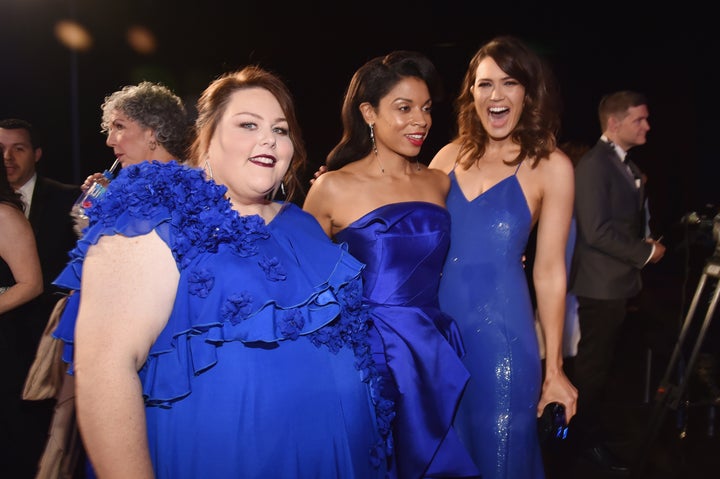 Part of the magic of "This Is Us" comes from the chemistry among the cast. It's palpable on screen as well as off, as we've seen during awards season. There was the case of Moore and co-stars Chrissy Metz and Susan Kelechi Watson showing up to the Screen Actors Guild Awards in January in matching blue dresses, which Moore told HuffPost was "pure coincidence" but "spoke to, I don't know, how connected we all are."
There's also a group text, flooded with engagement news, book developments and, of course, talk about the show. Moore says she and Milo Ventimiglia, who plays her husband on "This Is Us," have made a habit of watching together.
"I try to watch the episodes with Milo," she said. "We have watched every episode except one together for the entire history of the show. Yesterday I worked early in the day, he didn't work at all, and we were both running around doing other things, but then we met up back at the studio and watched the episode that aired last night right before it aired in ['This Is Us' creator] Dan [Fogelman]'s office. It's like our little tradition."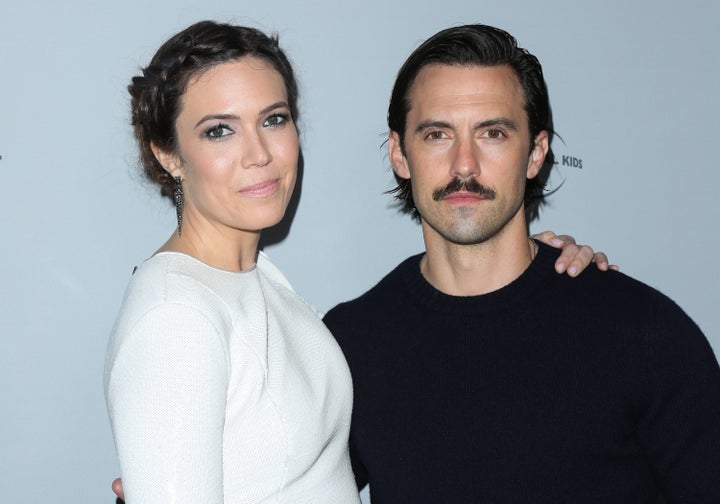 As if you needed any further reason to love this woman, this show, and this cast.
Popular in the Community