If you've been paying attention, you've probably noticed an influx of shiny copper mugs at your favorite watering holes and restaurants. The mystery inside? A Moscow Mule, a delicious cocktail made with vodka, ginger beer and lime. John G. Martin and Jack Morgan (who happened to be the owner of a company that produced ginger beer) invented the classic back in 1941.
The cocktail's recent resurgence stirred up some excitement in my kitchen, so I immediately started thinking about incorporating ingredients--such as my favorite fruit--that would add a unique twist. That's how the Mango Mule was born.
A couple of tips, from my kitchen to yours:
1. It's said that the original version, created in New York but popularized in Los Angeles, contained lemon juice instead of the now popular lime juice version. After much experimentation in making this cocktail with both, I also prefer lime juice.
2. One of the tricks is to use a real ginger beer, which gives this cocktail a nice spicy edge. When paired with the subtle sweetness and floral notes of the mango, the combination is really smooth and refreshing.
NOTE: The signature copper mug was initially used as a marketing tool to set this drink apart. It's likely this has something to do with the rise in popularity today--everyone is checking out those shiny metal mugs, and while they do add a nice touch, they are not essential to recreating this cocktail.
Ingredients:
A copper mug
Mixing tin and pint glass
1 ½ ounces of your favorite vodka
½ fresh squeezed lime
¼ cup fresh diced mangos
3 ounces ginger beer
fresh sliced lime wheel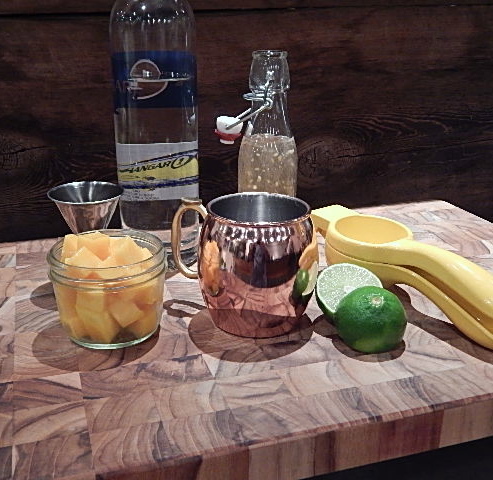 Fill a pint glass with ice; pour vodka over ice
Squeeze lime juice over ice
Add mango pieces
Cap glass with a mixing tin and shake vigorously
Pour mixture into your copper mug and top with ginger beer
Garnish with the lime wheel and enjoy!