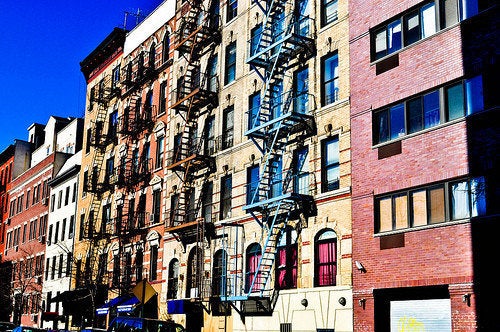 If you're thinking about apartment hunting in Manhattan right now, my first suggestion would be: don't. My second suggestion would be: if you must move, know that the market is significantly different from what it was a year ago.
My own apartment luck over the years has been enviable. I've lived in five different Manhattan apartments and only one of them involved a broker's fee (back in 2004). Before last month, I hadn't even been on a lease since 2007. I'd somehow managed to be a month-to-month tenant subletting from friends of friends for reasonable rents in some of the city's most desirable locations for almost three years.
In February, my luck ran out and I entered a dark period most New Yorkers are familiar with -- having to apartment hunt when the market is strong.
"In the market that we've seen for the last nine months, there has been very little change in the face rent...[so] if you look at the overall rental numbers, it makes it seem like the market is relatively flat. But if you factor in the concessions, rents have gone up significantly," said Jonathan Miller, president of the real estate appraisal firm Miller Samuel.
Rents have effectively gone up by 7.4 percent since last year, according to a first quarter 2011 report by Prudential Douglas Elliman and Miller Samuel. Concessions like several months free rent or a waived broker's fee, which were at one point common, have nearly evaporated.
According to Miller, it's still too early to say that conditions are back to where they were pre-recession, but there's no doubt they've gotten better for landlords.
Several statistics are discouraging for renters. There's been a 25.6 percent decline in vacancies over the last year, and the average number of days an apartment remains on the market fell to 40 in the first quarter of 2011, down from 86 during the same period last year. And Gary Malin, president of Citi-Habitats, said that only 14 percent of the rental deals his firm conducted in March involved concessions, down from a peak of 59 percent in December 2009.
On top of that, May 1st marks the start of what's considered the industry's busiest season.
"The fact that it's so tight before we're entering the busy season is a sign of how much the market has rebounded," Malin said.
So, with peak rental season approaching and a market that's already tightening, where can you save time and money and where can you not? Based on my own intensive search -- okay, it bordered on obsessive -- here's what I learned:
They Won't Negotiate the Rent -- What About Apartment Upgrades?
One apartment I looked at hadn't been renovated recently. I asked if the management company would get me a new stove and a new medicine cabinet. They agreed immediately, without any change to the rent. If you find an apartment you like but there a few areas where you see room for improvement, now is a good time to ask.
Malin pointed out that every owner or landlord is different, but many of them are well aware that their apartments will need these upgrades at some point in the future anyway.
"If no one asks, they won't, and if someone asks, they will," Malin said.
Make A List Of Need vs. Want
One way to save money in this market is by reevaluating what you need. If you were hoping for a doorman elevator building but don't absolutely have to have one, it might be time to consider an elevator building with no doorman.
The April 2011 monthly rental report by The Real Estate Group New York found non-doorman studio prices were down by as much as 2.84 percent across Manhattan, while doorman units increased by .80 percent. Non-doorman studios on the Lower East Side showed the greatest price decrease since March -- 8.19 percent.
This same report comes out each month and lists what's happened to rent prices in specific neighborhoods, so it's worth keeping an eye on.
Community review sites can be useful for a lot more than just finding a good restaurant. Yelp has 17 million reviews worldwide, and 8 percent of them fall within the category of "Home and Local Services." The site contains many reviews on Manhattan brokers.
When I saw listings online, I googled agents and several of them showed up in Yelp results. I read what others had to say about their experiences and knew immediately whether or not the agents were worth contacting. No show on an appointment? Bait and switch? If that's the case, then as Emily in The Devil Wears Prada put it, "No, shan't."
Andrew Barrocas, CEO of The Real Estate Group New York, argued that there is value to working with brokers because they're knowledgeable about specific neighborhoods and the quality of the landlords in them. Furthermore, some landlords want their tenants pre-screened, so they won't work with tenants directly and insist on going through brokers.
This is all well and good (especially for people who are new to the city) but if you're a New Yorker who knows your way around and exactly what you want, there's no reason not to give it a try on your own. If you're going that route, bear the following in mind:
Social Networking Websites Are Invaluable
You're apartment hunting? Tweet it. Make it your Facebook status. Write it underneath your name on Gchat. Whatever your networking tool of choice is: use it. This is the perfect time to put your 700 Facebook friends to work (especially the 60 percent of them you don't know why you accepted in the first place).
Next, think of people who know whose living situations might be changing. Is someone you know getting married? Having a baby? Switching to an industry where the pay is significantly different? If so, they might be looking to upgrade or downsize.
The Old Fashioned Way Still Works
Walking around a neighborhood in and out of buildings can be time consuming and seem like an apartment hunting tool of the past, but it can be worthwhile. Take notes on addresses you visited and peek into buildings to jot down the management company phone numbers. Often times, they're posted right there.
Next, make supers and doormen your friends. When there's turnover, they're often among the first to know. In several buildings, I buzzed the super's apartment or called their cell phone numbers (often listed in the vestibules of walk-ups). Some were willing to show me vacant apartments on the spot.
In co-ops and condos, doormen told me about owners who were looking to sublet their apartments. Ask to leave your name and contact number, and odds are a doorman will pass it along.
In a market that's improving, you also need to be wary of an underground market that's improving. In one building, a super pulled me into a back office and told me he'd call me about available apartments in exchange for one month's rent. He argued that it was a good deal, considering a broker would charge me 15 percent.
"That's certainly not uncommon," Miller said. "Those things reappear once the market tightens up."
Craigslist "By Owner" Is The Devil (With Exceptions)
If you're committed to going without a broker, you'd think the "By Owner" section of Craigslist would be a good place to start. But of all the biggest time sucks out there, I found this to be number one. I became convinced that almost every "By Owner" apartment was actually being listed by a broker. This can drive someone (me) to the brink of insanity and I was tempted to make flagging these people my full-time job.
I recently did a more official test to see how much truth there was to my theory. Of the 20 people who responded to inquiries I made, only three of them were verifiably with management companies. Five of them admitted that they were brokers (some, charging fees).
The other twelve fell into the category I deemed "too shady to waste time on." Some refused to tell me who they worked for. I'm a pint-sized female, there's an actual killer out there who's been named after this site, and you want me to come meet you immediately but you won't tell me who you work for. Really? Anyone who works for a management company should be willing to give you a legitimate name and office number.
One area where Craigslist is still worthwhile is if you want to find people looking to get out of their leases. The key is to use a strategic search. When going through listings, add terms like "break" or "take over" plus the word "lease" to the search box. You'll find real tenants who are in a bind and need to move quickly.
If it is possible to develop a crush on a website, then I have one on StreetEasy. I logged in hours on this site because it archives floorplans and photos for buildings. If you know an address, you can get an idea of what an apartment will look like before going to view it so it's a big time saver.
StreetEasy aims to only list exclusives rather than open listings, so you're not likely to see the same apartment listed by 20 different agents. I had a couple of brokers I contacted through the site tell me they'd lower their standard fees of 15 percent to 12 percent if I agreed to not bring another broker into the equation.
Though much of StreetEasy is made up of broker listings, listings in their "For Rent By Owner" section is up by 10 percent this April compared to last, according to Sofia Song, the company's Vice President of Research. Song said a team of people reviews new postings every morning to screen for scams, and a system is in place that flags listings that are older than 45 days. Plus, the site suspends brokers who don't play by the rules.
NY Bits and Urban Edge are two other great sources. They list management company phone numbers and available apartments. You don't have to pay to access listings and they're frequently updated.
Though my search was maddening, it finally ended. I found apartment without a fee and without a broker. Like many who opt to live in Manhattan, I settled on what some might consider an overpriced shoebox. But it's my shoebox. And I love it.
Related
Popular in the Community