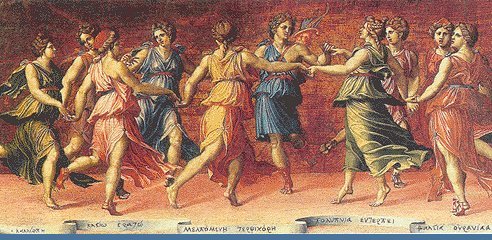 Deities of inspiration, the Greek muses are ethereal young women who guide the creativity of artists and writers. New York City photographer Harvey Stein sees the city itself as his creative muse. Stein has photographed the Big Apple for nearly half a century, publishing views of its people and streets in a series of widely-acclaimed books. Briefly Seen New York Street Life, is Stein's latest visual love letter to his muse. And it's clear that Stein has been thoroughly seduced by his muse and what he calls the "rough, raw, charged and even magical energy of New York City street life."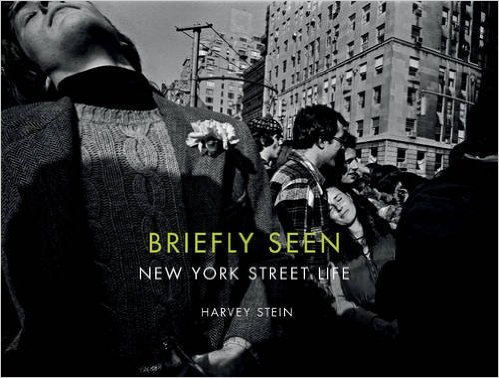 Stein calls himself "a walker of the city." He and his two camera companions, both 1970s Leicas, one with a 21 millimeter lens, the other with a 35 mm lens, team up by engaging in an activity Stein describes as "getting in people's faces." How close is close for Stein? The cover photo of his book shows a St. Patrick's Day reveler with Stein's shadow falling across the front of his subject's Irish fisherman sweater and tweed jacket.
Briefly Seen is a play on words referring to photographs that are briefly seen slivers of time captured when the shutter opens and closes to produce a record of instants never to be seen again. The book contains 172 photos taken by Stein from 1974-2014, shot exclusively with black-and-white film. The photos record brief moments in the ongoing parade of humanity or inhumanity that is New York.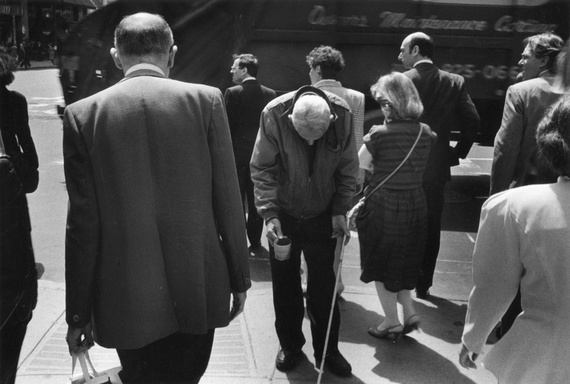 Indeed, parades (and photographers themselves) are featured prominently in the book. Stein shoots women with hats strolling in the Fifth Avenue Easter Parade, the faithful adoring holy images during the procession of San Gennaro, St. Patrick's Day revelers, rallies in Chinatown, and the 1990 Ticker Tape Parade honoring Nelson Mandela.
Recording the everyday parades of the city, Stein photos of a cortege of New Yorkers lining up for morning coffee in front of a street cart , a lunchtime march past department store windows and the crush of rush hour show New Yorkers on the stage that is the city.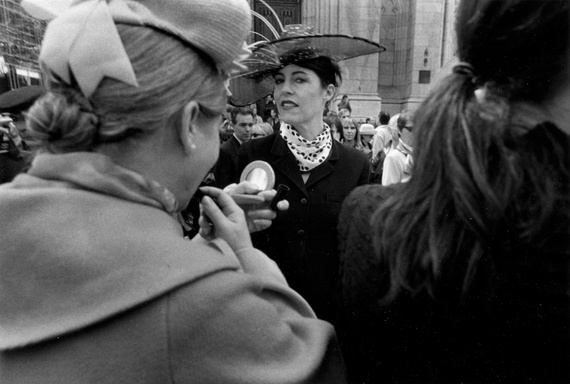 Briefly Seen New York Street Life completes Stein's trilogy of books on New York City published by Schiffer Publishing. First in the series, Coney Island 40 Years, documents Stein's initial and ongoing love affair with New York City and photography itself. In 1970, Stein took the D train out to Brooklyn at the suggestion of his photography teacher, Ben Fernandez, tasked with documenting the beach community and America's first amusement park. That same year, Life magazine bought the first photograph Stein ever sold--Man Wearing a Bow Tie, a picture of a very skinny man sitting on the pier reading a book. Harlem Street Portraits, the second book in the trilogy, is a collection of more formal photos taken on the street of Manhattan's major African American business, cultural and residential section.
In Briefly Seen New York Street Life, Stein photographs some of the most densely populated areas of the city - midtown and downtown Manhattan - where he enters the pulsing rhythm of the borough. The streets of midtown thronged with office workers and the crowds of downtown fill its pages. Says Stein: "My aim is to capture the soul of the city by using my camera to connect people and environment." Stein captures this symbiosis between the city streets and its residents by employing blur, motion, grain, skewed perspectives, tight cropping, double exposure and low-angle flash. His photos are often chaotic with no center focus, as unbalanced as the city he loves and loves to shoot. And feeling slightly off-balance is something Stein cultivates, proposing that being anxious makes his pictures better. Stein describes his New York street photos as "experiential rather than presentative."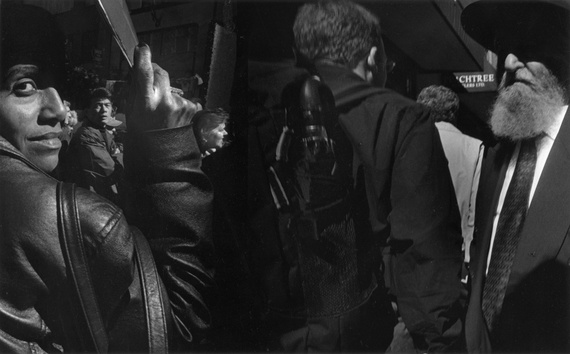 The book includes essays by Tracy Xavia Karner, a visual sociologist at University of Houston and Marilyn Kushner, Curator and Head of the Department of Prints, Photographs and Architectural Collection at the New-York Historical Society. Kushner traces Stein's place in the lineage of New York City street photographers, beginning with the earliest known photograph of New York City, a 1839 daguerrotype of the Unitarian Church in downtown Manhattan shot by Samuel Morse and John Draper.
The long exposure times of early photography precluded recording the candid interaction of New Yorkers with their city. Stein himself cites the influence of Bronx-born street photographer Garry Winogrand, who photographed the visual cacophony of New York during the 1960s and 70s. He sees the city as a social landscape serving as a stage on which the lives of New Yorkers are played out. Of his 8.4 million fellow New Yorkers Stein says: "We are the city, we belong and are beholden to the city, our identity is expressed through and of the city...We can say that we are New York."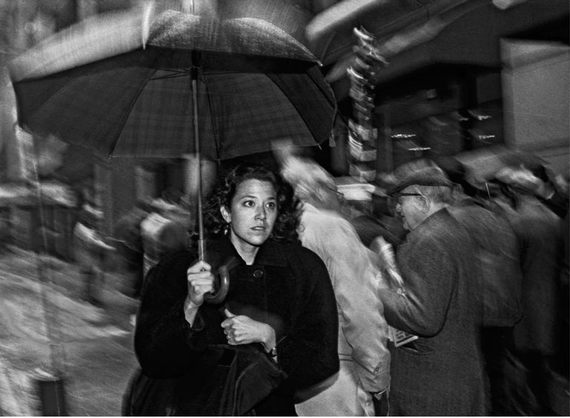 Asked about his next project, Stein confesses he has over 200 rolls of undeveloped film waiting at home. At the same time, he's ready to find a new area of New York City he doesn't know well, that may turn into the next chapter in his photographic love affair with the city. Says Stein: "The streets of New York are my studio, my muse and my subject."
Support HuffPost
The Stakes Have Never Been Higher
Related
Popular in the Community