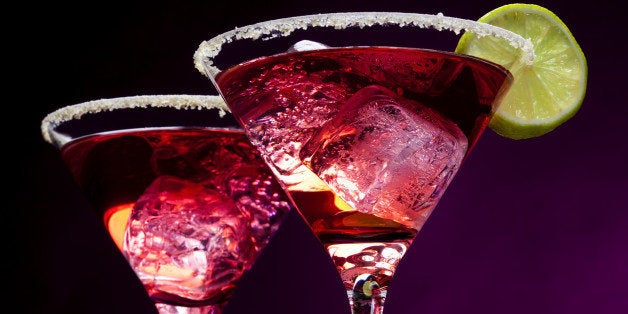 I started the evening at coat check, where greetings from industry insiders continued. I took the elevator to the 3rd floor, bypassing probably a million stairs, and stumbled upon a coconut water station! The handsome lads from Coco Jack have invented a stainless steel tool that one whacks with a plastic mallet to open a fresh thai coconut, machete free! Genius! After a few good whacks I too was able to open the coconut and enjoy its milk and it's hangover preventing electrolytes.
Onward to the New York Spirits room, supported by the "I Love New York" tourism campaign, which had double the funding ($2M) and thereby double the brands this year. New York distillers are making some insanely delicious products, and luckily for us, also some insanely delicious cocktails. A boozy lap of the New York Spirits room included seeing some of the friendly and hardworking people behind brands such as Owney's Rum, Barrow's Intense Ginger, Tuthilltown, Hillrock, Dutch's Spirits, Finger Lakes Distilling, Sorel, Atsby Vermouth, Bootlegger 21, and Greenhook Ginsmiths.
After a quick check on Instagram -- what's that -- there's a concert in the basement's gorgeous glass atrium, and it's none other than Big Boi followed by ?uestlove? Onward, to the elevator! Instead of the usual ragtime, hip hop legends graced the stage, and party goers danced a mirrored floor, wearing laser cut masks and sipping on Grey Goose tipples.
On the way back up to the New York Spirits room, I ran into Dave Pickerell of Hillrock Distillery, who shared a taste of his latest ambrosia, served from his own personal flask. Dave, you're my hero.
The Manhattan Cocktail Classic Gala is greatly defined by the New York Public Library, its winding corridors, ornate reading rooms, and marble archways. An extensive renovation is planned for the Beaux-Arts 1911 building, including an addition by none other than Sir Norman Foster, who is known for his graceful interventions on historical buildings. While some fight against the renovations, others champion for it, which will increase the public areas of the iconic library by 60 percent. So, noodle that: 60 percent more space, 60 percent more cocktails for imbibing!