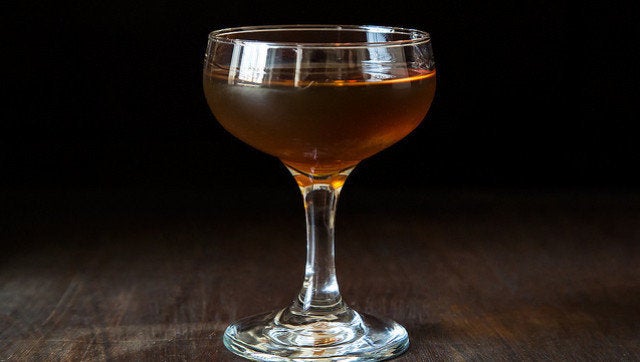 Some things just go together -- and the obvious accompaniment to food is drink. Welcome to Booze52, in which we explore all manner of libations, from A to Z, that do much more than just wash down a meal.
Today: Erika Kotite tears us away from the punch bowl and shows us how to make manhattans for a crowd.
When it comes to favorite cities, I'll take Manhattan. And when it comes to favorite whiskey drinks, ditto.
The classic Manhattan has to be one of the most satisfying of all cocktails. It's like a liquid layer cake -- each ingredient is immensely flavorful and satisfying. Credited to The Manhattan Club, the place where it was prepared for Winston Churchill's Brooklyn-born mum in the 1870s, appreciation for the Manhattan crosses genders, generations, and palates.
This drink is a true treat, whether you're bellying up to the humblest of backwoods bars, networking at a fancy party in Los Feliz, or simply wowing your father-in-law (something I recently did) by stirring one up.
Why has the Manhattan kept its place on the A-list of historic cocktails for 140 years? Let us count the ways:
The name -- it's a classic in and of itself.
The bold, complementary flavors of spicy whiskey and sweet vermouth are a perfect match.
If your drink is chilled properly, it will stand up to ice. (Good news for rocks lovers!)
The cocktail has stayed true to its roots but still plays nice with many different variations. (See below!)
2 dashes Angostura bitters
Brandied cherry (for garnish)
Combine first three ingredients in shaker filled partway with ice and stir until chilled. Strain into a chilled coupe. Garnish with a brandied cherry.
Entertaining a crowd? Try this version and scale up as needed:
1/2 teaspoon Angostura bitters
Brandied cherries (for garnish)
Combine first three ingredients in glass pitcher filled partway with ice and stir until
chilled. Strain into six chilled coupes. Garnish each with a brandied cherry.
Want to play a little? Here's a starter list, complete with variations, so you can have more Manhattan happiness this holiday season:
• To go old-school, make it with rye. And, If you want to be a locavore about it, this will get you there.
• Bourbon will add a smooth, Southern sweetness to the drink. I use this one.
• It takes a robust, confident cocktail to work both on the rocks and up -- for a lovely twist, serve your Manhattan over ice in a lowball glass.
• Switch up your vermouth -- for a tiny bit of bitterness and herbal flavor try stirring this in.