In an attempt to end inequality in the justice system, Manhattan's district attorney has vowed to stop prosecuting minor marijuana cases.
"The dual mission of the Manhattan D.A.'s Office is a safer New York and a more equal justice system," Vance said in a press release. "The ongoing arrest and criminal prosecution of predominantly black and brown New Yorkers for smoking marijuana serves neither of these goals."
The Manhattan DA's office is working with Mayor Bill de Blasio and the New York police commissioner to establish when exceptions to the new policy might be necessary.
De Blasio hinted at the policy change during a conference earlier Tuesday, announcing that the New York Police Department would "overhaul" its policies on enforcing marijuana cases in the next 30 days.
Brooklyn District Attorney Eric Gonzalez also asserted his stance on marijuana cases Tuesday by highlighting a pilot program launched three months ago by his office.
As a part of the pilot program, the Brooklyn DA's office, according to Gonzalez, has already been declining to prosecute "some instances of smoking marijuana in public where a public nuisance was not created."
"I believe that low-level marijuana cases should be responded to with summonses rather than arrests," Gonzalez said. "Since 2014, the Brooklyn DA's Office has led the way in declining to prosecute marijuana possession cases, resulting in a 75 percent decline in arrests citywide and confirming that such policy does not adversely affect public safety."
Tuesday's announcements suggest that New York ― a state currently exploring the possibility of legalizing marijuana altogether, as other states have ― is starting to more forcefully tackle the disproportionate rates at which black people get arrested for marijuana, even though black and white people use marijuana at almost the same rates, according to the 2016 National Survey on Drug Use and Health.
A New York Times analysis published Sunday revealed that in New York City, black people were arrested on low-level marijuana charges at eight times the rate of white people over the past three years.
The rates were even worse in Manhattan, where black people were arrested on marijuana charges at 15 times the rate of white people.
The Manhattan DA's office findings echoed the Times' research. 
Noting the racial disparity of marijuana arrests, the Manhattan DA's office said Tuesday that "large numbers of New Yorkers become further alienated from law enforcement and removed from community participation at an enormous cost to the criminal justice system, for virtually no punitive, rehabilitative or deterrent purpose."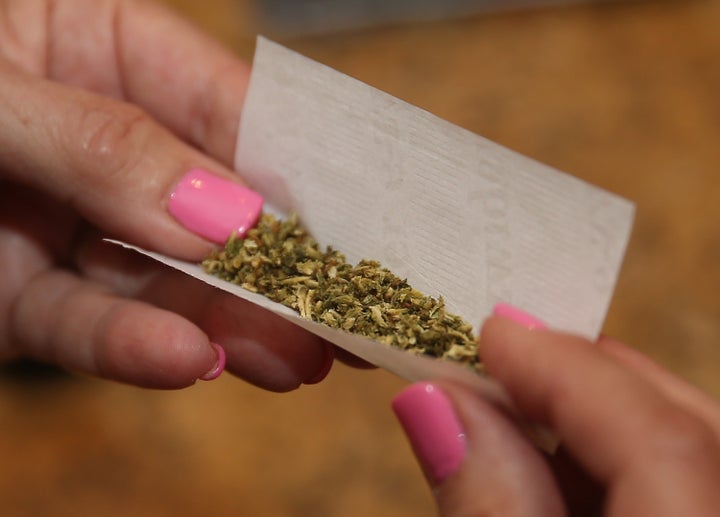 REAL LIFE. REAL NEWS. REAL VOICES.
Help us tell more of the stories that matter from voices that too often remain unheard.