As every human experience under the sun transitions to digital, the need for stores and shopping trips becomes obsolete. But what about major purchases that seem to require an in-store visit to make the decision? What would it take for the average consumer to trust a website enough to buy an expensive piece of jewelry without seeing and touching it first? Is it possible to create an online marketplace for jewelry, where sellers and shoppers are mutually confident and without risk of counterfeit? While this seems like a risky business, Tirath Kamdar, co-founder of the e-commerce site TrueFacet, believes that the secret to buying and selling pre-owned jewelry online is transparency.
TrueFacet is an e-commerce platform that connects jewelry buyers with high quality, pre-owned pieces. It is the brainchild of Kamdar and his former classmate and friend, Chris Chan, a hedge fund guru who spent years developing pricing algorithms. Kamdar has always been an idea man. Prior to launching TrueFacet, he worked at Groupon as an incubator for new projects, and then spent some time at New York City e-retailer, Fab.com. He cites failure as the best tool for learning and stresses the importance of having an innate understanding of the industry you decide to pursue.
"Jewelry has been my family's business for over 45 years," says Kamdar. "When I was a kid, my Dad and uncle quit their engineering jobs and went into the wholesale jewelry business, hustling gemstones. I always had an interest in the industry, and later helped them with their strategy and overall growth. After being immersed in the jewelry industry, I began to realize that it lacked transparency. You can walk up and down 47th Street in New York City and go to ten different places and get ten different prices for the same piece. It's all very opaque. So I started wondering why there weren't better pricing standards in place."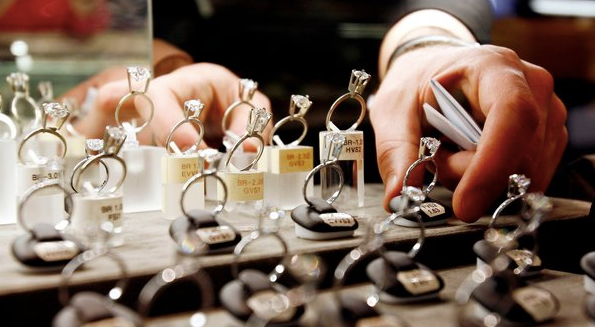 In January of 2014, Kamdar and Chan launched the first version of TrueFacet out of Kamdar's living room. Sellers have two options: place the piece on consignment or list the item directly to the buyers. TrueFacet also launched a digital trade-in program, where folks can trade their pieces in for a credit towards another piece listed on the platform. Their licensed appraisal process ensures authenticity, and each piece is shipped to the buyer after being successfully appraised and a TrueFacet certificate of authenticity has been issued.
"We currently have 28 appraisers around the country, and this number will be doubling within the next year," Kamdar shares. Their recruiting strategy is based on brand-based expertise over general knowledge or the mere possession of a degree in gemology. "It's also important for sellers too. Perhaps you're sitting on a Tiffany's limited edition piece from decades ago. If the appraiser is not acutely aware of the brand and its history, they may end up devaluing your item."

Let's talk about the elephant in the room of any e-commerce platform: counterfeiting. Kamdar is not shy about sharing the fact that counterfeit attempts are a regular thing in his world. "Just three weeks ago, a counterfeit operation tried to sell 8 Cartier Love Bracelets through our system that were all fake," he says. These were caught during the appraisal process and TrueFacet traced the original sellers and shared that information with the police as well as the Fraud team at Cartier. "We also work with advocacy groups like the Jewelry Vigilance Association and other groups who work to stop fraud and smuggling," says Kamdar. "This happened a lot more in our first couple of years of business, but it has slowed down greatly and I believe that is because the counterfeiters are realizing that we catch everything. The odd time, especially during the holiday season, we find attempts to sell a fake piece through our system, but we don't let anything reach the customer until it has been verified by our appraisers, who always catch the fakes."
In spite of TrueFacet's multilayered verification process, there have been three occasions on record of customers returning items they purchased on TrueFacet, claiming they were fake. Kamdar and his team snapped into action, refunded the customer immediately and launched an investigation. Their experts found each piece to be authentic, so Kamdar approached appraisers from the brands themselves for further confirmation of authenticity. Every piece was deemed authentic by their manufacturers, and to date, TrueFacet has not sold a single counterfeit piece through their platform.
Related
Popular in the Community