I remember my mother telling me that no matter how old I got, she would always see two images: me in present day and me as a baby. At the time, I was a teenager with pink highlights, wearing a Sex Pistols T-shirt.
"I still see you as my little baby girl."
I never had children, but in a lot of ways, Manhattan is my baby, and now I know what Mom meant.
When I walk through Tompkins Square Park past the baby strollers and the dog run, I also see "Tent City," where the homeless lived, and gangs of punk rock kids in mohawks and spiked leather jackets.
"When did Alphabet City get so family-friendly?" I asked a pal.
"Nobody calls it Alphabet City anymore," she said.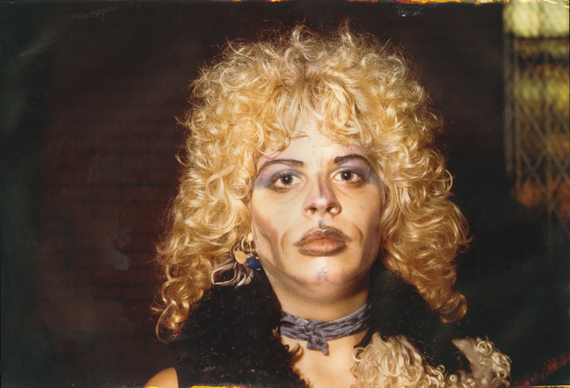 I long for the old 2nd Avenue Deli, where an 80-year-old woman in a bouffant would serve you pastrami and a joke. "You know what they say, where there's a will there are relatives." It's a Chase now, but I swear I smell pastrami near the teller windows.
On 14th Street, Union Square Park is packed with locals and tourists munching on artisanal bread, cheese, and fruit from the farmer's market. The first time I went there, a man on a bench was shooting up heroin. It was 11 a.m.
In the Meat Market, an Apple store was once Western Beef, a fantastic low-budget grocery with a walk-in meat section where you could buy huge slabs of beef and cartons of pre-made coleslaw and potato salad for half the price of posh grocery stores. I walk past designer boutiques and expensive eateries, blink and see instead trans hookers, and leather bars. People have brunch on a corner that used to house "The Vault."
Most of my friends have moved to Brooklyn because "Manhattan is dead; the edge is gone."
I hop the train to 42nd Street. On the relatively clean 2 train filled with people who look as though they are going to work, I see graffiti and red-bereted Guardian Angels walking the cars to make us all feel safe for a moment.
At 42nd Street, I climb the stairs. The scene that looks as much Disneyland as Tokyo. Videos play on the sides of skyscrapers, illuminated ads everywhere. There is almost too much to take in. I blink and see XXX theatres, peeps shows, dive bars, and hookers. The marquees read "GO-GO" "ALL NUDE REVIEW" and "LIVE GIRLS!"
I look at all the taxicabs racing by and remember the Checker Cabs I always waited for. They were bigger and roomier than the more modern Yellows. One of every four cabs would be a Checker, but the last time I saw one was in the late '80s... I think.
I take the elevator to the top floor for my appointment, and while I am waiting, take in the view. My old friend the Empire State building is there to greet me. Hello, grand lady! But she is surrounded by glass skyscrapers.
"What is that skinny, tall glass building?" I ask.
"Which one? That sounds like all of them."
I walk to the window and look out.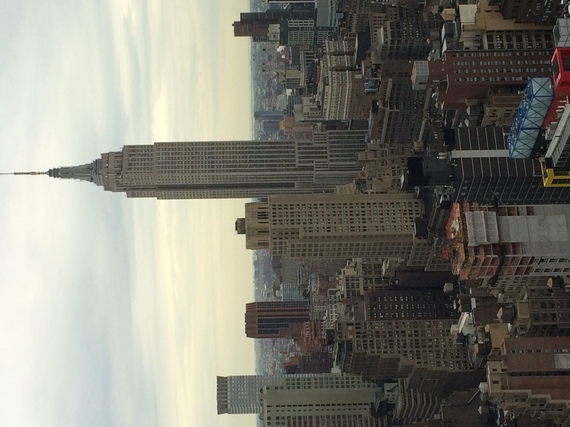 My mother is not with me anymore. My father has joined her. There is no one left to see me as I am now and as a toddler.
I meet fewer and fewer people who remember when Manhattan was wild, when it was Andy Warhol's town, a dangerous, gritty place. You had to watch your ass for sure, but it was also a haven for dreamers, outsiders and artists. There were real neighborhoods filled with mom-and-pop stores. Old women sat on folding chairs in front of tenements. The Bowery had flophouses and homeless drunks, but it also had CBGBs. It had Blondie and The Ramones.
When I got back home, I crossed back through Tompkins Square park. On a bench was a man in a motorcycle jacket, eating a Snickers bar. The sleeves were cut off. His hair was a Mohawk, dyed pink. There were about a dozen piercings in his right ear.
I swear I almost kissed him.
Calling all HuffPost superfans!
Sign up for membership to become a founding member and help shape HuffPost's next chapter