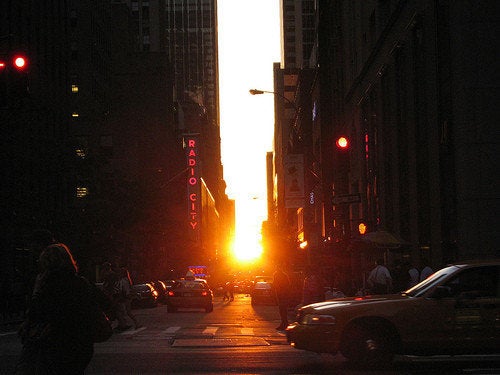 Also known as the Manhattan Solstice, Manhattanhenge is the biennial phenomenon when the sun is aligned perfectly with New York City's 200 year-old street grid, creating magnificent views of the sunrise or sunset across every East-West street.
It happened last night but was only a half-sun. Tonight however, a full sun will nestle itself between skyscrapers starting at 8:17PM, according to CBS.
Neil deGrasse Tyson, director of the Hayden Planetarium and a longtime champion of the world's "greatest urban phenomenon" has some good advice:
For best effect, position yourself as far east in Manhattan as possible. But ensure that when you look west across the avenues you can still see New Jersey. Clear cross streets include 14th, 23rd, 34th. 42nd, 57th, and several streets adjacent to them. The Empire State building and the Chrysler building render 34th street and 42nd streets especially striking vistas.
Popular in the Community