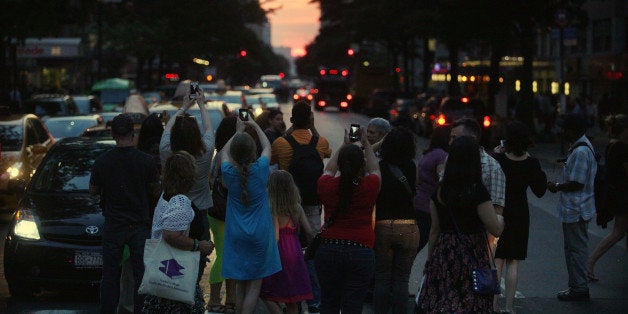 Get ready for some summer magic.
The second and final Manhattanhenge of 2014 will fall on July 11. At 8:24 p.m. EDT on that Friday, the sun will align almost perfectly with Manhattan's street grid as it sets in the west.
Weather permitting, the full sun will be visible at that time between buildings along the city's major east-west cross streets, including 14th, 23rd, 34th, 42nd, and 57th. A second show, featuring a half-sun, will occur at 8:25 p.m. EDT on Saturday, July 12.

Popularized by astrophysicist Neil deGrasse Tyson, the term Manhattanhenge is a nod to Stonehenge, where the sun rises in line with several of the prehistoric stones on the summer solstice. But, unlike the solstice at Stonehenge, Manhattanhenge does not fall on the same day of a celestial event because of the design of Manhattan's street grid, which is offset from the true east-west line by about 30 degrees.
Though seeing the sunset from Manhattan is part of the phenomenon's namesake, Manhattanhenge may also be visible for well-placed viewers in other boroughs.
And, if you're still not in range, there will be surely be hundreds of photos from eager Instagrammers.
Send us your Manhattanhenge photos! You can tweet them using hashtag #HPManhattanhenge, or submit them directly to our gallery. We'll be collecting user photos from all over, and yours may be featured on HuffPost Science.
Check out these breathtaking images of Manhattanhenge 2013 to see what you can expect this week.
PHOTO GALLERY
Manhattanhenge Photos
Calling all HuffPost superfans!
Sign up for membership to become a founding member and help shape HuffPost's next chapter