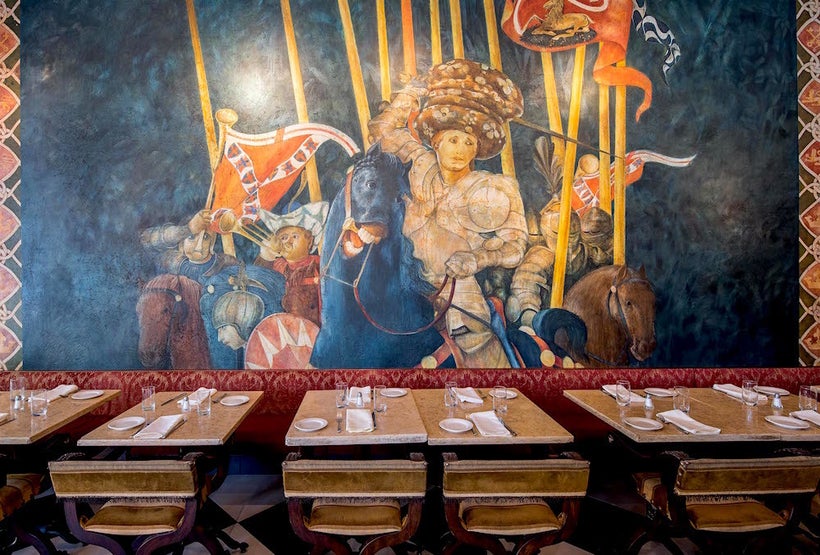 Let's talk about Machiavelli—and while we're at it, Lorenzo de' Medici. Of the two great Renaissance figures, only one of them so coveted a pair of much-admired Florentine paintings that he had them forcibly removed from their commissioned home and installed in his own palazzo.
Sounds like a case of "the end justifies the means"—and yet in this case, it was not Machiavelli but rather de' Medici who couldn't restrain himself when contemplating The Battle of San Romano, the great 15th-century triptych by the Florentine painter Paolo Uccello. Having already purchased one of the massive paintings (each of which is nearly 10 feet long), de' Medici must have been unable to sleep until he'd secured the other two panels as well.
Fortunately, today, you don't have to be de' Medici to witness the grandeur of Uccello's masterpiece. Although, that said, you will have to visit the Uffizi in Florence, the National Gallery in London, and the Louvre in Paris—for each of those museums holds only one of Uccello's three panels.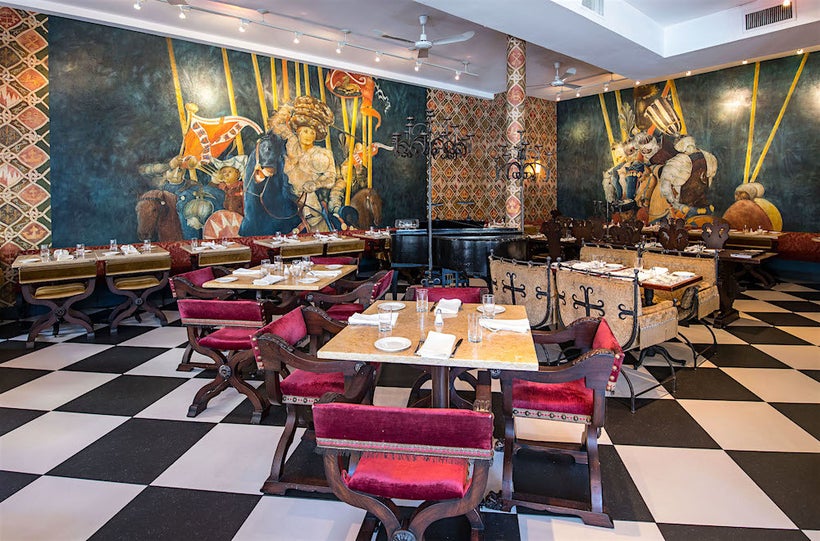 Or you could walk into Machiavelli on Manhattan's Upper West Side where restaurateur Nathalie de la Fontaine commissioned a wall-size reproduction of Uccello's 15th-century triptych.
At some point in life, almost everyone falls in love with Italy and, especially, Italian cuisine. And, for some people, there's no other choice but a life in Italy—followed by the opening of an Italian restaurant. With deep roots in both Italy and New York, de la Fontaine spent nearly 20 years as the owner of the West Village's beloved La Focaccia before opening her second restaurant.
Channeling her love for the Italian Renaissance, de la Fontaine has created a restaurant that reflects the era's patronage of the arts. Furnished not unlike a Florentine palazzo with tessellated floors and the wall-size mural renderings of The Battle of San Romano (painted, in this case, by artist Pierre Przysiezniak), the high-ceilinged room shimmers in the glow of wrought-iron candelabra.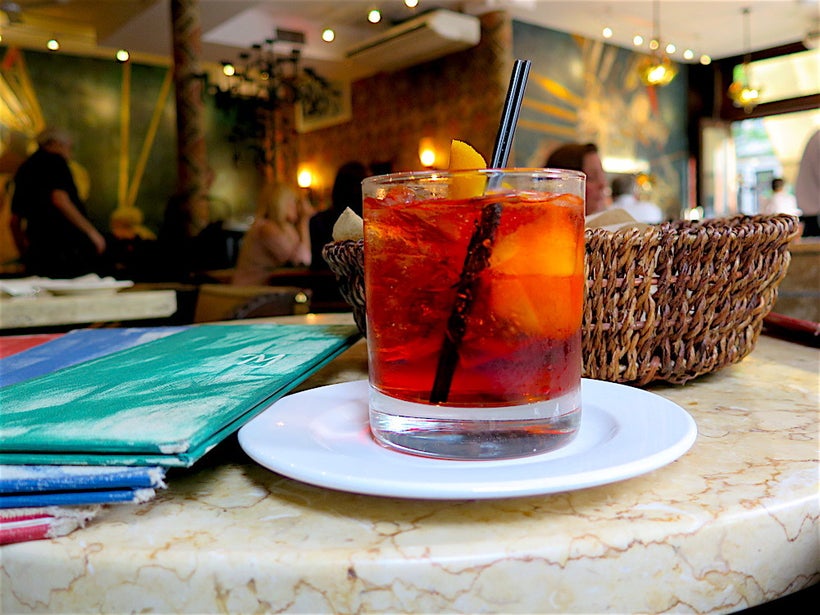 Start with an order of Schiacciata al Rosmarino, an oven-roasted flatbread dusted and drizzled with olive oil, sea salt, and fresh rosemary. Something so simple, yet so savory and delicious—and particularly when paired with a perfectly-balanced Negroni from the bar.
Sip and sink back into the hand-carved, cross-frame armchairs with burgundy velvet cushions that complement marble-topped tables. With a gimlet-eyed gaze around the Renaissance-infused restaurant, it's possible to imagine that everyone seated is a member of the Florentine court.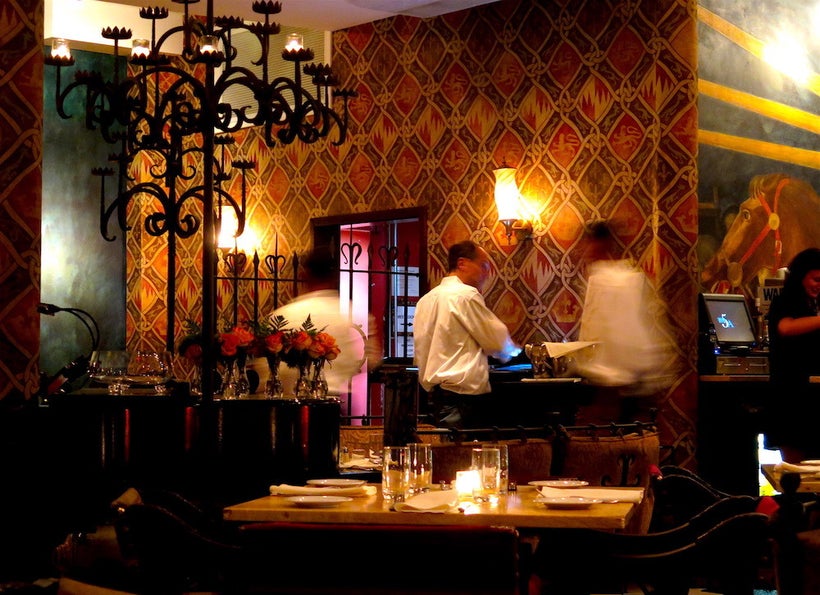 To execute her vision, de la Fontaine worked with numerous artisans, woodworkers, ceramists, sculptors, and blacksmiths, as well as musicians and students from Juilliard and Lincoln Center who perform live music nightly. Selections from the "Great American Songbook" and Italian opera fuel the romantic atmosphere.
Recruited in Italy by Forte Hotel Group, Chef Gian Pietro Ferro has spent the past three decades helming noteworthy kitchens throughout Manhattan, including Osteria al Doge and Trattoria Dell'Arte. As the former head chef of Fiorello's, Ferro repopularized the Lincoln Center standard with his passion for Italian cuisine.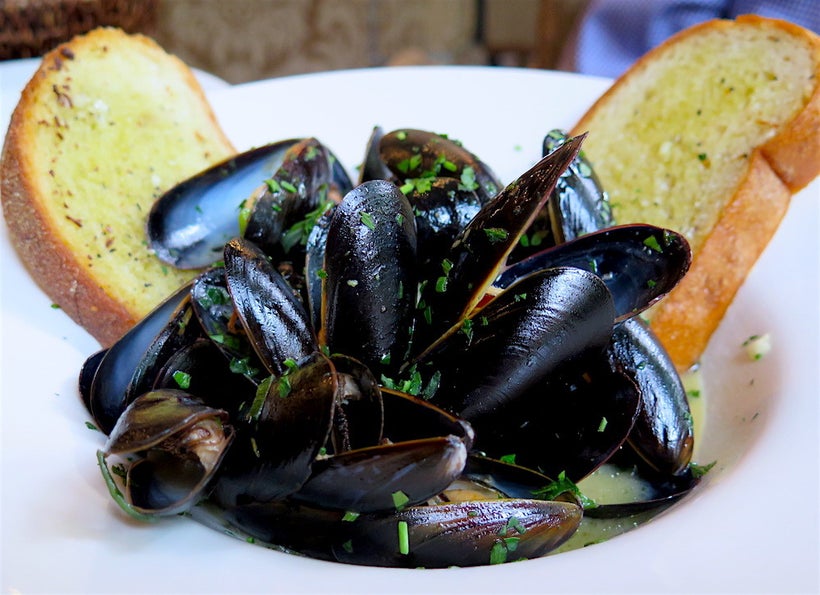 An antipasto of Cozze in Bianco was fragrant with garlic and parsley, the succulent mussels from Prince Edward Island soaking in a broth of white wine and olive oil alongside buttery garlic toast. Equally delicious—and equally classic—was a primo of Spaghetti Chitarra al Pomodoro e Basilico, the handmade pasta delightfully toothsome in a sauce of freshly-chopped San Marzano plum tomatoes and basil. Again, a regard for the simplicity of preparation and the purity of ingredients results in the best of Northern Italian cuisine.
A daily special of soft shell crabs dotted with fresh garlic was a lovely harbinger of spring. Another entrée of Gamberi con "Fregola" Sarda highlights the restaurant's careful touch with hand-rolled pasta paired with pan-seared shrimp served butterfly-style.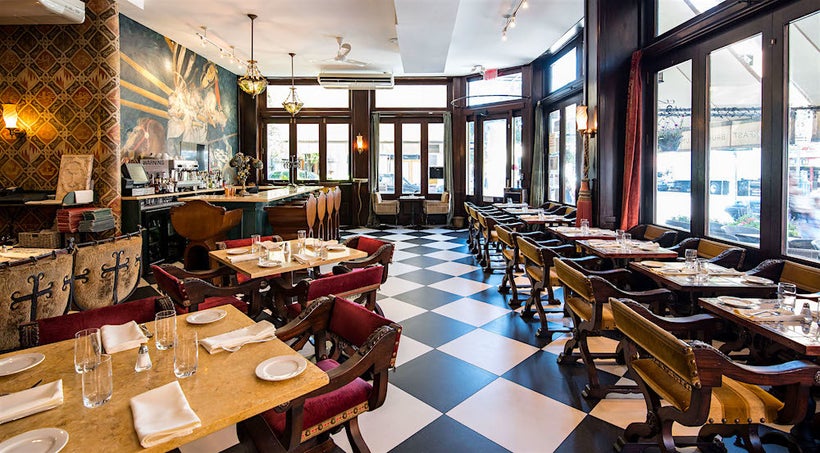 Pizzas at Machiavelli are made with extra virgin olive oil, San Marzano tomatoes, and fresh mozzarella. Other signature dishes include Casunzei "Ampezzani" made from red beet and ricotta mezzaluna coated in a light butter and poppy seed sauce. Brunch is served on the weekends throughout most of the day—and the restaurant's website has a monthly listing of the upcoming live musical performances.
At meal's end, you'll want to toast to the owner who has brought Uccello's triptych together with some of the best of Italian cuisine—and all this on Manhattan's Upper West Side.
REAL LIFE. REAL NEWS. REAL VOICES.
Help us tell more of the stories that matter from voices that too often remain unheard.
This post was published on the now-closed HuffPost Contributor platform. Contributors control their own work and posted freely to our site. If you need to flag this entry as abusive,
send us an email
.