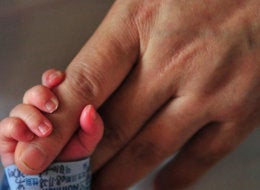 The first time I donated blood, it was an excuse to get out of a house full of clamoring diaper-clad needy children. It's true. It was an escape for me. A couple hours away from home where I could rest and relax, talk to adults, have a snack without kids crawling onto my lap and snatching cookies from me. I'd come home rejuvenated, and if I was lucky, my husband would have gotten the three kids bathed and into bed.
My kids are older now, and I'm a bit less selfish. No longer needing that escape, I've discovered the real reason behind donating blood. It saves lives. In fact, one pint of blood saves up to three adult lives or five babies' lives, but as my mother says, it does more than that: a pint saves whole families.
There is currently a huge blood shortage in our country, and specifically, there's an urgent need for O negative and B negative donors. Severe winter weather has caused many blood drives to be canceled and hospitals are in desperate need for your life-saving gift. You might be thinking, I'm only one person, how is that going to help?
Every little bit helps. And it's not scary. Come on, we're all adults. If you're a mom, you've given birth. Nothing is as painful as that. Unfortunately, everyone's experienced some sort of pain in life. Fortunately, giving blood is not painful. It's exactly the opposite. You'll come away from this experience feeling like you've just given someone the greatest most expensive gift you could have chosen. For absolutely free.
A year ago, on a whim, I took my three kids and three of their friends with me to a local blood bank while I donated blood. Since it was such a cinch with six kids in tow, I decided to see if I could get others to donate by spreading the word on my blog. I convinced 35 blog readers to donate blood (some had never donated blood in their lives). I gave away gift cards and prizes; anonymous bloggers donated cash for the cause, and now people whom had never donated blood donate regularly every eight weeks.
I thought about this mini-blog blood drive I held and decided I would do this every year. But I wanted to make an impact. I wanted to make it bigger and better. This is where I need your help. This is where I need your blood.
This is where someone else is depending on your blood for their very life.
And for your life-saving efforts?
You roll up your sleeve, you'll be entered into a contest to win luxury accommodations in Florida for six days, five nights at Sandestin Golf & Beach Resort, and other great prizes.