 That's what I feel about the news and politics. We are mired in divisive rhetoric, slanderous attack campaign ads and negative news. We tune it out. We fall victim to soundbites. We are bombarded by media and Madison Avenue.
And I, for one, am having none of it. I turn off the TV, switch on my stereo and go to the kitchen. I think about the foods that make me happy -- they are the ones that connect me to my past. Breaded pan-fried chicken cutlets, spaghetti and meatballs, cheesecake, and even biscotti. Whether it's true or some sort of reinvented reality of my childhood, I have only heartwarming happy memories and I like it that way.
Telling stories about our connection to our family food memories has become my life's work. The palpable emotional connection experienced each time I interview someone on the radio or as a guest on my TV specials can turn even the toughest person into a blathering tearful mess.
But what is it about food and memory? And moreover, why is the connection to our ancestral foods so powerful? We long to find our connection to our past as a way to define who we are and find our place in society. Which brings me back to the election, and by association, to the concept of the great experiment of the United States of America. We are a melting pot of cultures. Food and recipes are the clearest link to our ancestors. Food is the thread that newly minted citizens cling to as they embrace their badge of U.S. citizenship. They cherish what is familiar in an unfamiliar land. And with each new and passing generation it's our food that most frequently connects us to our past and is the bridge to our future.
Take Thanksgiving, for example. My family still serves a pasta course as a nod to our Italian heritage. In fact, Thanksgiving would not be Thanksgiving without my Nana's manicotti. Brazilian-born Ellie Markovitch, who now lives in Troy, NY, makes her Brazilian cheese bread, Pao de Queijo, on Thanksgiving to keep her food roots alive. She told me, "We celebrate the Thanksgiving meal with recipes and stories from around the world. That is because all the members in our family were born in a different country. Ellie was born in Brazil, Dmitri in Estonia, Lina,who is 5 was born in France, and Lara, 2, was born in the U.S." And Loring Barnes, a 10th direct descendent of William Bradford, the first governor of Massachusetts and the person to declare the first Thanksgiving, makes her family acorn squash recipe and the Barnes Family Baked Chocolate Pudding -- both recipes can be linked to her pilgrim ancestors. This list goes on and on...
Cooking brings us together. In fact, it's the best place to celebrate and embrace our differences. It's also where we fuse our cultures -- taking the best from the past and blending it with new tastes, and in some ways making it better. My lentil soup is a perfect example -- I took the basic ingredients and techniques from my Nana and married it with far eastern spices to create an addictive sensory experience for all those who eat it.
So while the politicians are trying to split us into groups based on religion, ethnicity and economics, I say go to the kitchen. Find a favorite family recipe and trace it back to your ancestral roots. Think about why your relatives made their way here to the United States. Was it to flee persecution, dictators or worse?
Now reflect on the tenets of our Constitution.
Start making that family recipe. Think about the optimism our ancestors had for coming to the United States, the land of the free, with equality for all. Diversity may not have been their objective, but it's the product of an open and free society.
Stir the pot and bask in the glory and the optimism we have in this country. Set the table. Invite friends and family. Tell some stories, reflect on the provenance of the recipe and then share the love. I don't know about you but I feel better.
Now, who's running for president?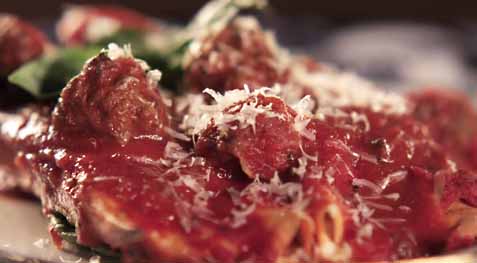 When I think of our quintessential family heirloom recipe, this is the one that comes to mind. It has been handed down from my great grandmother to my grandmother to my mother to me. This is the essence of heirloom meals -- savoring yesterday's traditions today.
This recipe makes 80 crepes but can easily be halved or quartered.
8 Tablespoons of melted butter (cooled)
Beat eggs, flour and water until smooth, then add the melted butter. Cover batter and refrigerate overnight.
In a well-seasoned crepe pan or non-stick 5-6" frying pan, heat on low-medium flame, brush pan with melted butter. Ladle the batter into the pan and swirl it so it spreads into the entire surface. Cook until the edges start browning and top seems dry. Flip the crepe and let it cook for a few seconds. Continue until done. You can make these up to three days ahead.
Romano cheese, salt, pepper and parsley to taste
Milk (to adjust the consistency)
Mix all ingredients except milk. We want it to be thick, not runny.
You can use any sauce - your own, or a jar of store-bought.
Take a crepe, spread ricotta mixture in center, fold one edge over the other and place in baking dish that has some sauce spread lightly over bottom. Repeat. We recommend only one layer as it is easier to serve. Finish with sauce and some grated cheese.
Bake at 325 degrees for 20-30 minutes. Set for 5 minutes before serving.
Popular in the Community