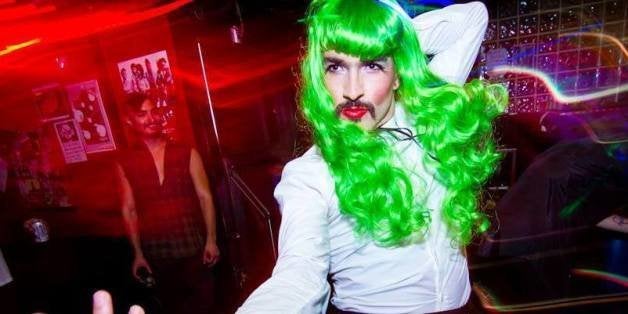 This is the seventeenth installment in an ongoing series that explores drag culture and the nightlife scene in Brooklyn, N.Y. Over the past several years, following the large-scale exodus of artists across the East River and into northern Brooklyn, those engaged in drag culture in this outer borough have created a new, queer world entirely their own. Accompanied by a larger movement to understand drag culture outside of the pageant circuit, many individuals engaged in the drag community in this borough approach drag culture through a nontraditional lens of "alternative" drag or performance art, enabled largely by the malleable and queer nature of this part of New York. Visit HuffPost Gay Voices regularly to learn not only about the individuals involved in Brooklyn's drag community, but more about the culture of the community itself.
The Huffington Post: How did you get your start in the drag world?
Manifestany Squirtz: One year ago two things happened at the same time: my 30th birthday and an overwhelming push from within to start performing again. When I moved to New York I had been working as a professional dancer since the age of 21, and I really needed a break. So after a two-year break I started to feel the pull back onto the stage. Simultaneously my 30th birthday was approaching and I thought it would be fun to go out in full drag -- something I had never really done before. So when I showed up to the party in full drag, friends kept asking me throughout the night, "Are you performing?" Though I was not, I had been in the studio working on movement and performance ideas and after being asked for about the third time whether I was performing -- it clicked -- and I realized this was going to be my new platform for presenting work.
What role do you see drag culture playing in the trajectory of the changing landscape of Brooklyn?
Whether Manhattan or the rest of the world wants to admit it, Brooklyn is creating the avant-garde culture right now. Things that happen today in Brooklyn will happen in the rest of America two years from now. Our drag scene is hopefully the beginning of a whole nation of kids/performers/artists/drag-whatevers who don't want to subscribe to a certain gender, nor let something like money get in the way of their ideas. I can't predict the future (only manifest it) but I think it's safe to say that everyone in our Brooklyn drag community hopes for something like that...
All I can say is it's a new era of drag and performance and the Brooklyn scene is coming in like a bunch of game changers. Manifesting art and trash as one, beauty with poor taste, and mixing the gender binary black and white with a technicolor spectrum that is unlike anything I've ever seen.
PHOTO GALLERY
Manifestany Squirtz
Why do you go by Manifestany Squirtz?
Manifestany is a play on "Manifest Destiny," which I'm trying to ridicule by the fact that a large part of my heritage is Cherokee Native American. What could be more demeaning than having a drag queen butcher your name and take it? (That story sound familiar... Hmmm?) And Squirtz is just because I needed something dirty to even out the heaviness of Manifestany.
How would you characterize the kind of drag that you do?
Sometimes I would not even call what I do drag... sure it draws from a skeleton structure of drag but really my performances are beasts of their own. Using three adjectives I'd say: cohesive, humorous and sex.
Do you find empowerment through drag?
I find empowerment whenever I dress up, whether I take it to the full femme effect or strip it down to nothing but a jockstrap. Manifestany is not simply a persona -- she is, by extension, me. I have a tendency to flip-flop between gender roles in how I feel. For example, this month I'm feeling particularly butch, very masculine and I'm finding myself becoming a bit of a "reluctant drag queen." I'm having more fun being a boy, but I know in a few weeks (probably when it's a bit warmer) I'll switch back and want to wear my platform wedges with EVERYTHING.
What aspect of your style of drag is characteristically and uniquely "Manifestany Squirtz"?
Well as far as her look goes... she is constantly missing her esthetician appointment to get her upper lip waxed. She also likes to work out so usually she can be seen wearing anything body conscience or see through. As far as performances, I always like to bring a third element to each performance, whether it be dance or some ridiculous prop to help tell a narrative. I call these third elements because the first two are always the look and the lip-sync and/or choreography.
Where can you be found throughout the week?
I throw a monthly party with my very talented drag sisters called RI†UAL at Tandem Bar in Bushwick. It's the third Tuesday of every month and there is always some sort of loose theme we all choose, as well as an opening dance number we all do together. It's very family and... well... ritualistic. Other than that, I'm extremely grateful to all the other girls who have booked me and continue to book me for their parties and shows, like Merrie Cherry, Horrorchata, Lady Simon, Gage ofthe Boone, Macy Rodman and Trey LaTrash.

Any parting words?
When you manifest-ate yourself all over that stage, with full passion and abandoned recklessness, no one can judge you, honey.
Missed the previously featured drag performers and installments in this series? Check out the slideshow below.
REAL LIFE. REAL NEWS. REAL VOICES.
Help us tell more of the stories that matter from voices that too often remain unheard.
BEFORE YOU GO
PHOTO GALLERY
Queer New World: Brooklyn Drag Culture