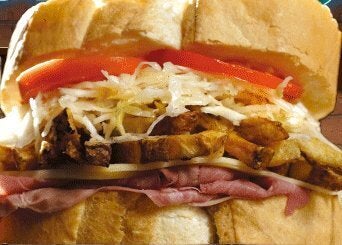 What constitutes a "manly" restaurant? Is it an establishment that serves red meat? Big portions? A really thick sandwich? It may be a little 1953 to classify certain foods as "manly," but Men's Health has rounded up a variety of establishments that it deemed worthy of the honor. The magazine crowned Primanti Bros. of Pittsburgh, Pa. the winner of the first annual "Manliest Restaurant In America" competition, from among 45 nominees. The shop is best known for serving big, meat-filled sandwiches that come with French fries inside the sandwich, rather than on the side. In a press release e-mailed to The Huffington Post, the magazine describes Primanti's:
Because sit-down restaurants are for sissies. At Primanti Bros., you order your sandwich with the side dishes stuffed inside it, so you can perform some sort of manual labor with your right hand and eat with your left. The result: a bicep-buster of a sandwich so good you'll (try to) eat the whole thing.
Anyone else hearing phantom cavemen grunts?
The magazine has teamed up with the Travel Channel show, Food Paradise, to air an hour-long episode of "America's Manliest Restaurants" on November 30, at 10pm. In addition to focusing on Primanti Bros., the show will also highlight regional winners:
Mid-Atlantic: Primanti Bros. (Pittsburgh, Pa.)
Los Angeles: Salt's Cure (Los Angeles, Ca.)
Gulf Coast: Alabama Jack's (Key Largo, Fl.)
San Francisco: Original Joe's (San Jose, Ca.)
Northeast: Keens Steakhouse (New York City, Ny.)
Southwest: Salt Lick BBQ (Austin, Tx.)
Southeast: Gus's World Famous Hot & Spicy Chicken (Memphis, Tn.)
Northwest: Couloir (Jackson Hole, Wy.)
Midwest: Jethro's BBQ (Des Moines, Ia.)
Pass us the beer pitcher -- male or female, we can totally get down with this list.

Popular in the Community