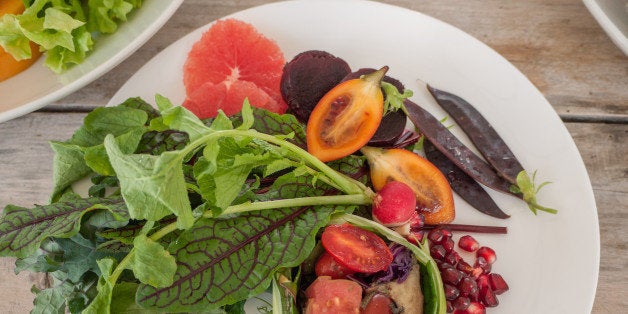 The rules of wedding etiquette are constantly changing, making it difficult for modern brides, grooms and guests to find up-to-date and correct information. But here at HuffPost Weddings, we're all about making your life easier. That's why we've launched #MannersMondays, a weekly series in which we ask our followers on Twitter and Facebook to submit their most burning etiquette-related questions. Then, with the help of our team of etiquette experts, we get you the right answers to your biggest Big Day dilemmas. You can send yours via Facebook or tweet it to us @HuffPostWedding with the hashtag #MannersMondays. Check out this week's question below!
Xochitl Gonzalez -- etiquette expert, wedding planner and HuffPost Weddings blogger -- is here to tell us the most polite way to make sure you don't leave the wedding hungry. Find out what she had to say below:
The answer to Cassie's question really depends on the RSVP card she was sent. If the RSVP card asks her to select an entree and offered her a meat and a fish option, but not a veggie option, then it's OK to write in veggie. If the card didn't ask for an entree selection, Cassie shouldn't take it upon herself to declare her meal choice on her RSVP. She can, however, rest assured that the caterer or venue will be prepared for a small portion of vegetarians, regardless of whether she declares herself in advance. She will just need to alert the waiter when she arrives! Vegetarians should also note that just because it isn't offered upfront, doesn't mean that there isn't something for you -- it's just that caterers often charge based on the number of selections offered to guests. Most couples opt to prepare for two animal proteins and a "silent," or unadvertised, vegetarian option available upon request. This is usually cheaper for them than to have an offering of three official choices.

In a related issue, if you have a severe food allergy, you should definitely reach out to the hosts in advance to alert them -- ideally an email or phone call -- to profess your excitement about the upcoming nuptials and your deathly allergy to asparagus, for example!
Below, our readers weigh in on the best way to request a vegetarian/vegan meal option if one is not offered on the RSVP.

How To Request A Vegetarian Wedding Meal
Related