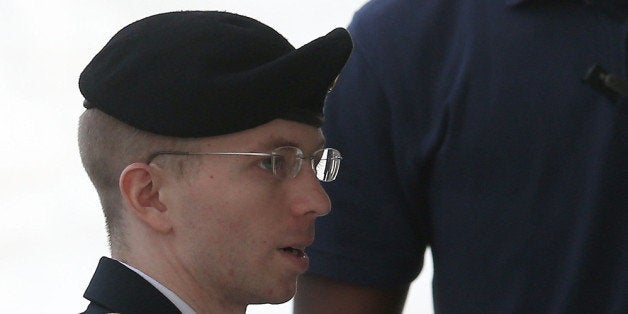 Americans have reached no consensus on the fairness of the prison sentence given to Chelsea Manning, the U.S. soldier who leaked secret military and diplomatic documents to WikiLeaks, according to a new HuffPost/YouGov poll.
Thirty-one percent of respondents said they thought the 35-year prison sentence Manning received Wednesday was about right, while 27 percent said it was too long and another 18 percent said it was too short. Twenty-four percent said they weren't sure.
The survey was put into the field before Manning, who was previously known as Bradley Manning, released a statement Thursday saying that she identified as a woman and that she wished to be called Chelsea.
Few respondents were supportive of Manning's decision to release thousands of documents to WikiLeaks. Twenty-one percent said they approved, while 54 percent said they disapproved.
But younger Americans were far more likely than older ones to side with Manning. Those under age 30 were narrowly divided on the decision to leak documents: 32 percent approved and 28 percent disapproved, while 41 percent were undecided. Young adults were also slightly more likely to say that Manning's sentence was too long (33 percent) than to say that it was too short (4 percent) or about right (24 percent). Americans over age 30 were much more likely to disapprove than approve of Manning's actions and more likely to describe her sentence as about right or too short.
Few Americans have followed the Manning trial closely, the poll suggests. Only 33 percent said they had "heard a lot" about the trial, while 51 percent said they had heard a little and 16 percent said they had heard nothing at all.
The HuffPost/YouGov poll was conducted Aug. 21-22 among 1,000 adults using a sample selected from YouGov's opt-in online panel to match the demographics and other characteristics of the adult U.S. population. Factors considered include age, race, gender, education, employment, income, marital status, number of children, voter registration, time and location of Internet access, interest in politics, religion and church attendance.
The Huffington Post has teamed up with YouGov to conduct daily opinion polls. You can learn more about this project and take part in YouGov's nationally representative opinion polling.
REAL LIFE. REAL NEWS. REAL VOICES.
Help us tell more of the stories that matter from voices that too often remain unheard.