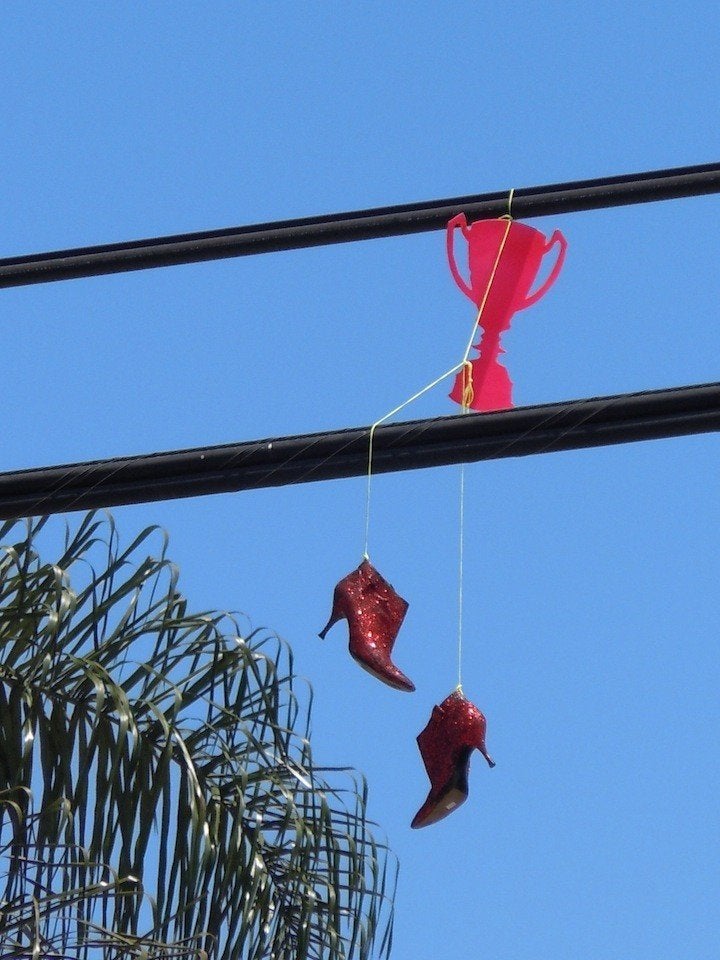 Miami's blue skies and 70 degree weather are probably making you click your heels together and exclaim There's no place like home. Or maybe it's the hundreds of ruby slippers dangling from Miami Beach power lines. That's right, look up.
Although urban legend connects such dangled shoes with drug dealing activity, these sparkly kicks are actually the work of artist Manny Castro.
His rep told HuffPost Miami that the ruby slippers "went up on December 19th. They are an art holiday gift to the people of Miami Beach."
You can find them on 5th Street between Collins Avenue and Ocean Drive, along 17th Street between Washington and James avenues, and on residential streets from 18th to 5th streets.
Castro also tossed a pair in front CIFO- Cisneros Fontanals Art Foundation, resulting in this grateful tweet:
Castro is a Miami a native who is currently living in Los Angeles. A few months back he dispersed his ruby slippers all over the city of angels, making some publications like LA Weekly wonder if the Wicked production had turned to guerilla marketing.
It turns out Castro's L.A. slippers were an artful advertisement for his solo show in Echo Park.
For another project, he enlisted the help of L.A.'s homeless population to underscore the difference between notions of Hollywood glamor and lived reality. See the video below.
Popular in the Community