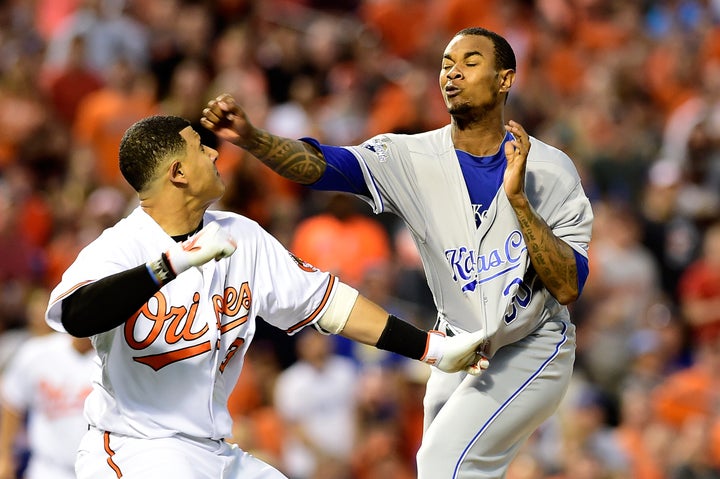 A baseball game at Camden Yards in Baltimore sparked some hockey-fight flare on Tuesday night in a matchup between the Baltimore Orioles and Kansas City Royals. 
With his team down 5-1 in the bottom of the 5th inning, Royals pitcher Yordano Ventura dialed up his fastest pitch of the night for a certain Orioles player whom he had attempted to bean earlier in the game. Ventura's 99 mph fastball landed right on Orioles infielder Manny Machado's right elbow -- and then things escalated very, very quickly. 
As far as MLB fights go, Tuesday night's brawl in Baltimore was rather violent. A batter charging the mound isn't an unusual act of aggression in MLB, but more often than not, nobody really lands a solid knock on each other. After the spark, the "fight" quickly devolves into shoving matches and mild wrestling between the two teams. Not this time. Machado's right hook connected directly on Ventura's face. Both players were ejected, of course. 
The fight was completely premeditated. Earlier in the game, Machado jawed at Ventura after flying out. Between the throwing-ats and the talking-tos, a conflict brewed for half of the game. The beaning and subsequent fight was in the cards with Machado coming up to the plate again for Ventura to throw at. 
In all four incidents and three ejections for Ventura, he picked fights with much stronger, brawnier players. Ventura's weight has been listed as somewhere between 180 and 195 pounds, but as SBNation has noted before, he's not a large person.  
Given Ventura's recent history and the punishing blow he took from Machado, both players can expect suspensions.   
CORRECTION: A previous version of this article misstated the date of the April incidents involving Ventura. They occurred in April 2015, not April 2016. 
REAL LIFE. REAL NEWS. REAL VOICES.
Help us tell more of the stories that matter from voices that too often remain unheard.
BEFORE YOU GO