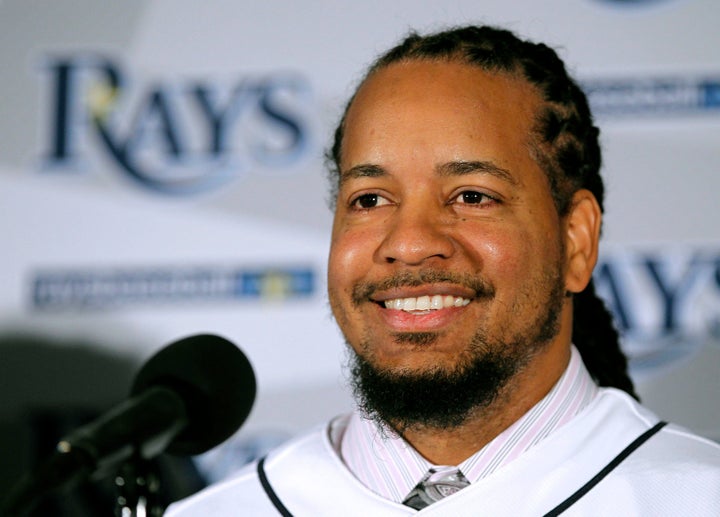 NEW YORK -- Tampa Bay Rays slugger Manny Ramirez told Major League Baseball on Friday that he is retiring after being notified of an issue that arose under MLB's drug policy.
The New York Times reported that Ramirez tested positive for a performance-enhancing drug during spring training.
The commissioner's office announced Ramirez's decision in a statement, but did not say whether he tested positive for a banned substance. Ramirez previously served a 50-game suspension for violating the drug policy while he was with the Los Angeles Dodgers.
"Major League Baseball recently notified Manny Ramirez of an issue under Major League Baseball's Joint Drug Prevention and Treatment Program," the statement said.
"Rather than continue with the process under the Program, Ramirez has informed MLB that he is retiring as an active player. If Ramirez seeks reinstatement in the future, the process under the Drug Program will be completed."
MLB said it would have no further comment. A second positive test under the program results in a 100-game suspension, and a third test results in a lifetime ban.
"The Tampa Bay Rays were informed today by the Commissioner's Office that Manny Ramirez has decided to retire after being informed of an issue under the Drug Program," the Rays said in a statement. "We are obviously surprised and disappointed by this news. We will have no further comment on this matter, and our fans and organization will carry on."
The 38-year-old outfielder-designated hitter left the team earlier this week to attend to what the Rays called a family matter. Manager Joe Maddon said on Thursday that he expected Ramirez to be available for Friday night's game at the Chicago White Sox.
The 12-time All-Star agreed to a $2 million, one-year contract with the defending AL East champions in the offseason, hoping to re-establish himself as one of the game's feared hitters.
Ramirez struggled with injuries but still hit .298 with nine homers and 42 RBIs in 90 games for the Dodgers and White Sox last season. He's a career .312 hitter with 555 home runs in 18-plus seasons, including some of his best with the Cleveland Indians and Boston Red Sox.
It was after signing with the Dodgers, though, that his reputation was sullied.
The erratic Ramirez performed well on the field and became a fan favorite, with "Mannywood" signs popping up around town, and wound up signing a $45 million, two-year contract to remain with the Dodgers. But in May 2009, he was suspended for testing positive for human chorionic gonadotropin, a banned female fertility drug that is often used to help mask steroid use.
According to a report in the New York Times later that summer, Ramirez also tested positive for performance-enhancing substances during Major League Baseball's anonymous survey testing in 2003. Ramirez was a member of the Red Sox during that time.
"I'm shocked," said Colorado's Jason Giambi, who has acknowledged taking steroids during his own career. "He was phenomenal, one of the best right-handed hitters I've ever seen.
"He always kind of portrayed that he was out there but he knew how to hit, man," Giambi said. "He was unbelievable when it came to hitting. He knew what he wanted to hit and what pitch he wanted to hit and what your were going to throw him, and watching him take an at-bat was pretty impressive."
The Rays, winless through their first six games, hoped the Manny they signed this season would be the same Manny who was MVP of the 2004 World Series when he was with the Red Sox.
At his best, Ramirez was one of the game's great hitters, finishing in the top five in MVP voting four times. He led the American League with a .349 batting average in 2002, finished second the following year, and had an AL-best 43 home runs in 2004.
At his worst, Ramirez was criticized for his lackadaisical nature, particularly in the outfield. More than once, managers and teammates complained that Ramirez didn't seem to care about playing defense or wouldn't hustle down the line after a hit.
Still, Giambi said his approach to hitting was never in question.
"It was just impressive to watch," he said. "He always played that he was aloof, but he really knew how to play the game. You could talk hitting with him and his work ethic was pretty unbelievable. He would be in the cage, hitting off breaking-ball machines and I think that's a part of him that people didn't see, that his time and effort into hitting.
"It paid off for him. He's one of the best right-handed hitters I've ever seen."
AP Sports Writer Tom Withers in Pittsburgh contributed to this report.
Popular in the Community