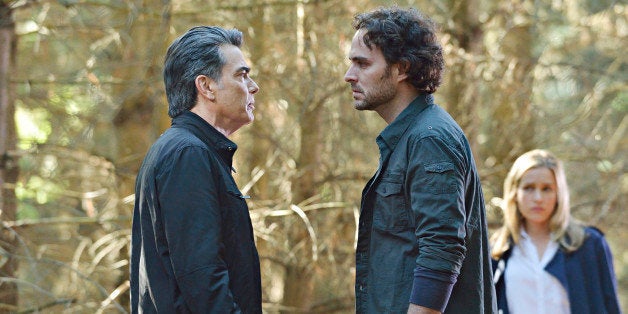 Actor Manolo Cardona paved a widely successful career for himself in his native Colombia, but the 36-year-old star isn't stopping there.
You've come a long way from Colombian telenovelas like ("Padres e Hijos," "¿Por qué diablos?," "El Cartel de los Sapos") reaching great fame in Colombia as an actor. How has crossing over into the U.S. market been different?
Being in the American market and working in the biggest market in the world is something very nice because there's very talented people, very good stories and talented writers and directors. It's nice just to be able to be here and do different stuff. In the end it's just knowing different cultures, different points of seeing and doing things. It's very good for me. The only thing is you have to stay away from home for a long time, so that's the only tricky part. Otherwise, I love to go where there's a good character that is challenging. I love challenges.
What are your thoughts on Latinos on television in the United States. Do you think there is enough diversity on the small screen?
I think it's changing right now. They're just figuring out that we're huge in the States, we're number one right now market size wise and we're very important for the community and there's more important roles in every show, in every movie, in everything. So I think the future is very prominent for us, for all the Latinos. We've opened some doors and the doors keep opening and I think in the future there's going to be more Latinos in movies and TV.
What types of roles do you hope to do in the future?
I just want to be challenged. I like to explore, and where there's a good character I'll be there. I'm very curious and I love challenges, so that's what I pursue.
In "Covert Affairs" you have the chance to portray the Colombian rebel leader and estranged son of the former CIA director. How did you come across the role of Teo?
I know some of the producers at USA Network because we had shot a pilot before, like a year ago, and they were shooting in Colombia and so they called me and said 'we have this character do you want to do it?' And I said 'yes of course.' I loved the character, it's a very interesting character. So I ended up doing it and it was incredible.
Teo is a very complicated character, to say the least. It's difficult to really know whether or not he is a friend or foe to the agency and Annie (Piper Perabo). What can you tell us about what drives Teo?
There's a lot of things going on in his mind. I mean, he lost his mom when he was very young and he hasn't really had a father figure in his life. He's been alone so he's been driven by the idea to avenge his mother. And also he's a very tough guy, a very introspective person. We don't know yet if he's a double agent, who he's working for, but this makes him an interesting character because you never know what's going on in Teo's mind.
For the premiere of Season 4, the entire cast went down to Medellín, Colombia to shoot. Piper and the network even set up a special screening for the locals. What was it like to be working with an American show in your home country?
It was very nice because I was able to take them out to see the city and give them a sense of what Colombia is. And they were very happy, very excited to go to Colombia and shoot there and to eat there and just hang around a little bit. They went there, they loved it and they learned things about Colombia so that was very nice.
So there's only two episodes left in Season 4, what can fans expect to see from Teo and the rest of the cast?
We're going to have a lot of action. We're going to be involved in a lot of things. It's going to be a lot of fun.
Will Teo be back for Season 5?
I don't know, to tell you the truth. You have to watch the show to see what's going on because there are a lot of things that are going to happen very soon with the character.
You can watch "Covert Affairs" Tuesdays at 9 p.m. ET on USA Network.
Calling all HuffPost superfans!
Sign up for membership to become a founding member and help shape HuffPost's next chapter
BEFORE YOU GO