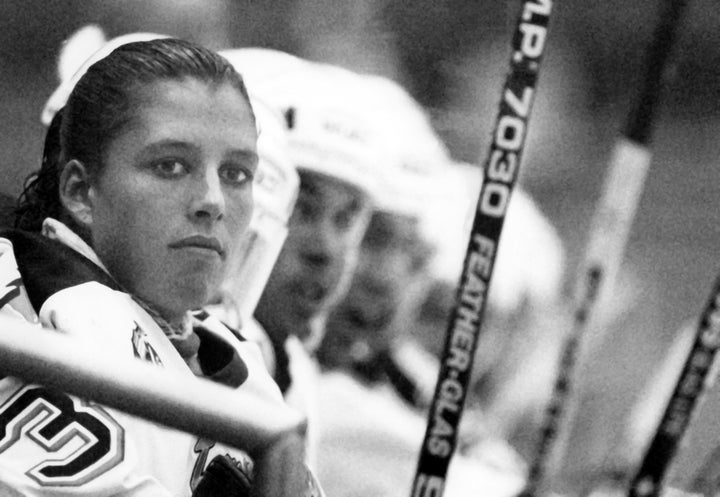 When then 20-year-old Manon Rhéaume stepped onto the ice 23 years ago this Wednesday, she felt the anxiety that she had experienced all afternoon lift from her shoulders. She felt her heartbeat slow until her nerves were quashed, skating her way into the goal and taking her place as the last line of defense for the Tampa Bay Lightning.
When the puck dropped moments later, Rhéaume was thinking only of the play at hand. Not of what she would say to the ever-growing media circus that would surround her after the game. Not of her future with the team. And certainly not of being the first woman to set foot in the National Hockey League, and what that honor -- and burden -- would later entail.
She played one period that night, facing nine shots and saving seven of them. But when those 20 minutes were over, when she took off her padding and her helmet and left the ice, she was left with a story that she would be asked to tell over and over again in the following years, about how she broke one of the seemingly countless glass ceilings that exist for women in sports.
Rhéaume ended up playing only one exhibition game for the Lightning in the 1992-1993 campaign and in just one more the subsequent season. But in the years since she hung up her skates, she has discovered that crossing that particular barrier has positioned her as a figurehead of sorts for female athletics, as girls and young women look to her for both advice on and anecdotes about -- as she phrased it -- following one's dreams.
The Huffington Post caught up with Rhéaume on the 23rd anniversary of her famous skate on NHL ice, talking with the former goalie about the biggest moments of her past, the autobiographical biopic she's working on in the present, and what she sees in the future for female sports.
Can you describe what the emotional lead-up to playing in your first game with the Lightning was like?
I was under a lot of pressure. Any player that goes to a training camp like this, playing their first NHL game, would be under a lot of pressure. But you can only imagine that being the only female there, being French, being a rookie -- I had everything against me.
I remember the walk from my locker room to the ice. It was probably the most stressed I've ever felt in my life. I felt like my heart was beating out of my chest. But the most amazing thing is that when I stepped onto the ice, the whole pressure went away, and I didn't realize [the significance of] what I was about to do -- I was just out there on the ice ready to play a hockey game. It was later in life that I realized how big of a deal it was to have played in an NHL game and to be the only female to do that. It's been 23 years now, and no other female has been there yet.
You say that you weren't aware of the significance at the time -- when did you realize how big of a deal it was to be the only female player at that level?
Throughout training camp, the fact that I was getting a ton of fan mail, a lot of attention and stuff like that, I knew it was a big deal, but I just didn't realize how I would affect people, how much I would impact people. Later in life, when I got older, people were telling me, "You were such an inspiration for my daughter," or "my son has a poster of you in his bedroom" or "my daughter did a project on you at school." That's when it really sunk in that what I did did impact people in a positive way.
The dynamic in the Lightning locker room prior to that game must've been unique, to say the least. What were your interactions with the other players on the team like?
You know, to be honest, I think most of the players were very, very supportive. It was more like they looked at me as their little sister. So it was cool to see that. You always have one or two players that didn't like the fact that I was female, and throughout the years have made it hard on me, but I would say that most of the players were really supportive. And when I retired and later in life met [other] retired NHL players at different events … to hear them say, "This is cool what you did," and to see the perspective on my whole experience from guys that actually played in the NHL for years, it was very cool. Because I never knew how they had felt about seeing a woman doing this!
In past interviews, you've discussed the media circus that surrounded your time with the Lightning. In the moment, did that presence have an impact on you or the rest of the team?
It was crazy, it was overwhelming, it was something I didn't expect. It went beyond anything I had ever experienced before … and a lot of people blamed me for [it], but it's not my fault that people came up to me to ask me questions! I think the media created the [crowd], because if they come and ask you a question [more people are going to follow]. I was just playing hockey, that's all I was doing.
The National Women's Hockey League was established this year and had its first draft this past summer. What are your thoughts on the league and how it may resonate with sports fans in the coming years?
I really hope that they're doing well. I think it's great to finally see a place for girls to play after they're done with college, because that was one of the [challenges in the past] -- all those girls that play on the national team, if they played in college for four years, they could train everyday and practice everyday, but then when they're done, they have no place to go. So [the NWHL] is going to be a great place for them to continue their training, to continue to play on their national teams … and I'm really hoping that it's going to do well.
If you were playing today, would you have taken the NWHL path that's now available or would you have still tried everything possible to reach the NHL?
You know, in today's world there are so many more opportunities for girls, [so] there would be no question [that I would] follow the path on the women's side, just because the opportunities are now there.
And, frankly, size-wise, I see the hockey players in today's world compared even to when I played pro, and the pros today have changed so much -- the guys today are so much bigger, so much stronger. I remember back then, people were going to training camp almost to get into shape, but today everybody trains yearlong, because it is so competitive, and the level of play -- what the guys do right now, what goalies do, how they play -- it's just higher. The equipment is better, the training is better, the players are bigger, so it's just a different time in hockey now. And that's why it's awesome for the girls to have a national team, to have college hockey, and now to have the NWHL.
Do you think there's a possibility that one day another woman will get the opportunity to play in the NHL?
You never know. Nobody thought I would be able to do it, and I did it years ago.
What do you see as the public role of today's more prominent female athletes?
I think [women] that are able to be such great athletes, so competitive, so successful, getting such attention -- they help all female athletes in general … Any woman that does something amazing, and I think the Williams sisters are amazing that way, just help young girls who have dreams and want to follow their dreams. And, especially in athletics, that's so important in today's world, with everything that's going on. It's so important for both boys and girls.
Do you think the gender disparity, if you will, in sports has improved since you took the ice?
Absolutely, it's definitely gotten better. When I played, I was the only girl playing with the boys, and there were no opportunities for girls. Now it's so much more accepted … Ex-NHL hockey players are now getting involved with women's hockey; they have daughters, and they want their daughters to play and get involved with the sport. Back then you wouldn't have seen as much of that because there wouldn't have been [a place] for the girls to play. So it's definitely changed, especially with Title IX and more [female] sports in college. I think there is still a lot of room to improve, but it's gotten a lot better, for sure.
What would you tell female athletes who are hoping to follow a path similar to yours, aiming to break the glass ceiling in sports?
To believe in themselves. The way I looked at my experience is I didn't want to have any regrets. I didn't want it to be years from now and to say, "Why didn't I try it?" So I think [I would tell them to] live life without regrets, and try things, and make things happen -- people aren't going to hand things to you in life, not only in sports but also in work, in school. You need to make things happen, and not be afraid to go for it.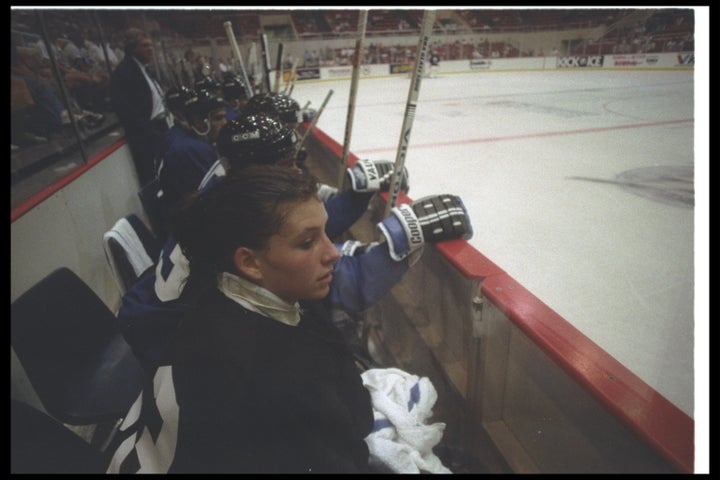 What has your experience been like thus far with "Between the Pipes," the biopic being filmed that is based on your life story?
When I met [the film's producer, writer and lead actress Angie Bullaro] for the first time … when she presented the project to me, her first thing was, "I want a strong female lead movie, and I want a story that inspires people." And when she said "inspires people," she [had me sold], because I got to do a lot of cool things after Tampa Bay, experienced a lot of different things that I wouldn't have if I hadn't played hockey.
I have to say the most satisfying thing is to have a mom come up to me and say, "You inspired my daughter." That's the coolest thing -- just to be an inspiration for young people. You cannot buy that. It is so amazing to have that feeling and to know that. And that is [Bullaro's] goal with this movie -- to inspire people, to inspire the next generation of young people who weren't born when I played, and hopefully make them want to do something with their lives.
This interview has been edited and condensed.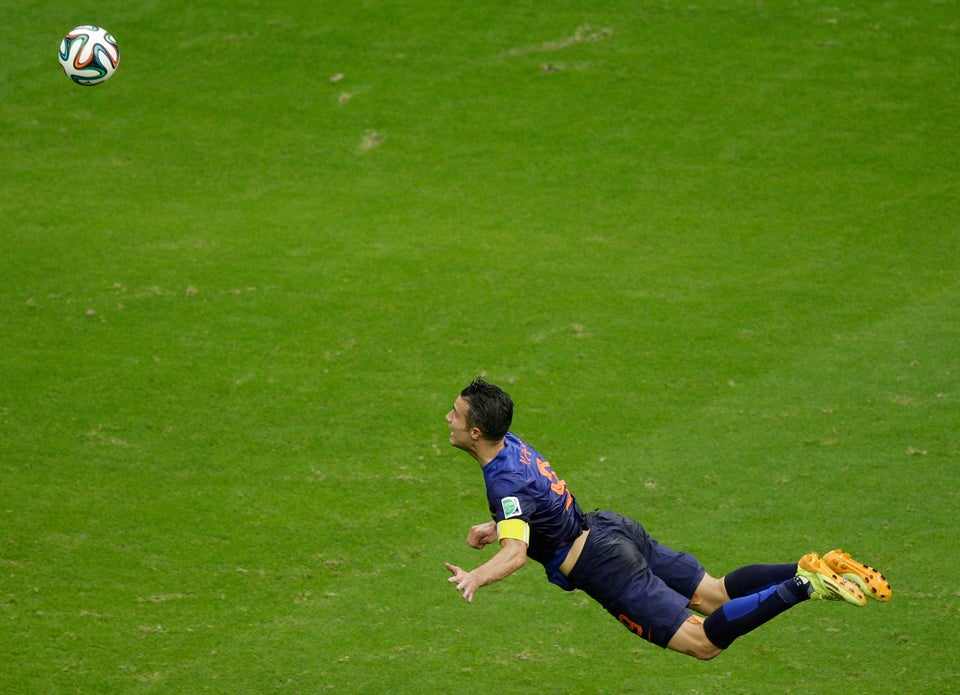 Amazing Sports Photos
Related
Popular in the Community