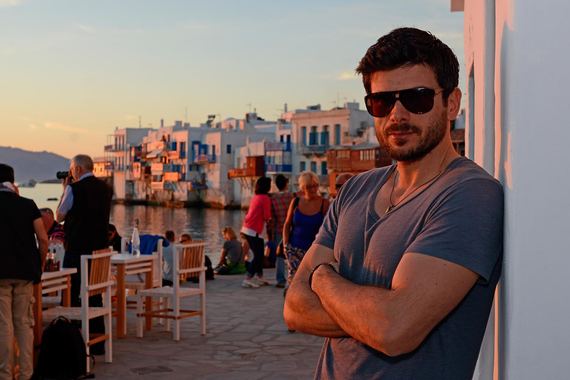 Some people are easy to introduce. You can say things like, "This is so-and-so; he's a chef." But how can you introduce somebody who doesn't have only one professional title? Such is my dilemma in introducing, Manos Gavras. Most know him for his 2 decade long acting career in Greece and the U.S. He's currently starring in, Brousko, the most popular TV series in Greece (also shown in 18 other countries) and has a number of U.S. produced movies coming out this year such as Swing Away, co-starring Shannon Elizabeth and John O' Hurley. But Manos is also a screenwriter, movie producer (including associate producer of award winning, Lee Daniels' The Butler), musician, dancer, choreographer, brand ambassador (of Johnnie Walker Gold Label Reserve) restaurateur (partner in nice n easy Mykonos and set to open two new locations, one being in the U.S.) and children's book author.
"When I first went to N.Y.C. in '97 I was confused because I loved many different art forms," he tells me from his sunny penthouse apartment in Athens, with views of the Parthenon to the left and Lycabetus Hill to the right. "Contrarily to what I'd always wanted, which was to just do one thing and excel at it, I feared I was never going to be really good at anything." He says that the answer finally came years later. "I realized that I had to stop fighting myself. It's all a wonderful journey so I decided to start enjoying it; somehow it all comes together and makes sense."
As a child, one of his favorite things was to talk to people about their stories. "I guess curiosity brought out productivity in me," he says. That and great drive. He shares that when he was 13, he was sitting in the audience listening to his school band playing for Greece's Independence Day festival. "I realized that I needed to be on stage. I told the music teacher that I wanted to be part of the band for the Christmas show in 2 months time. He asked me what instrument I played." At the time, Manos didn't play any instrument. "I told him that I was going to learn how to play the guitar. I sat and taught myself within a month."
"I've always believed in following the voice of the heart; God's voice. I never use my brain when it comes to making serious decisions," he says. He realizes that this involves a huge risk since following one's heart doesn't normally answer "why" immediately. "Every major decision I've made in my life has never made any logical sense. But that voice inside of me is always so strong, I can't refuse it." Not that there haven't been setbacks in his life. "In the bad times - like when my basement apartment in Queens was flooding - I remember wondering, what was I doing? But even then I preferred to look on the positive. I'm definitely a glass-half-full kind of guy!"
This "voice of the heart" is also what led Manos to write what is now an increasingly popular children's book series, Fistikios the Aeginetan. "Kids are like a different cast of people who I admire," he says. Manos tapped into his memories of a child's world viewpoint to write the series. "The more we develop the more we absorb what society tells us we should and shouldn't do. But kids don't have those filters." The hero, Fistikios, is one such filter-less kid and in writing him (actually, Manos says that Fistikios is so real to him that he almost "writes himself" and some days Manos' fingers can hardly keep up with the stories Fistikios' puts in his head!) real questions are brought to the forefront and he seeks true answers; not just what society has deemed to be true. The answers Manos (via Fistikios) comes up with in this channeling seem to be right on the mark. "An award winning child psychologist recently asked me how many child psychology books I've read. But I've never read any! I believe it's because it all comes from my memories of being a kid." It seems to be working. "Fistikios says and does what he wants, when he wants. He doesn't even need me. But we have a good relationship," Manos says with an easy laugh.
Ingeniously, the series envelops real historical characters and/or known mythological "events" within the context of the fiction. "I wrote the books with no strategy. I use mythology because I love it. But the way I ended up using it, the educational aspect that came out, wasn't planned," he says. Neither was the original cast of characters. "Fistikios was always there, but everybody else, his love for Aphrodite and his two best friends, they all appeared as I was writing. Fistikios told me that they existed."
Manos is currently working on the third book in the series. The English translation (retitled, Goober the Greek) is in the final stages of development while a French translation is also being prepared. "I've had many offers to take it further, as a stage play or a comic strip. But I want to go slowly and develop a really strong foundation with the books," Manos says. And it's definitely gotten thumbs up from Manos' most ardent fans; "My nephews like it. My parents love it! My mom told me that she's read the second book four times and she's still discovering new aspects to it!" Manos recently took Fistikios to a charity event for Elpida, the Association of Friends of Children with Cancer, which was founded by UNESCO Goodwill Ambassador, Marianna Vardinoyiannis. "I think that Fistikios is an anti-hero with a never-give-up attitude. Everything he does in his life might go wrong, but he never gives up. When he falls, he just gets up and keeps walking," Manos says.
Fistikios is definitely an optimistic, enthusiastic and inspiring character. Kind of like the actor/screenwriter/movie producer/musician/dancer/choreographer/brand ambassador/ restaurateur/ children's book author who writes his stories...
Calling all HuffPost superfans!
Sign up for membership to become a founding member and help shape HuffPost's next chapter