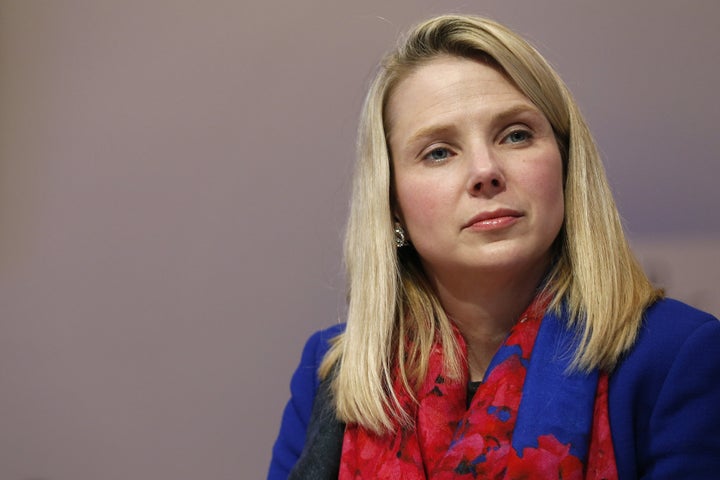 A man is suing Yahoo for gender discrimination -- and his claim might not be as absurd as it sounds.
Discriminating against men just because they're male is as illegal as discrimination against women for being female. That's not this lawsuit's only point: it also drags out some dirty laundry regarding Yahoo's controversial quarterly performance reviews. This is just the latest in a barrage of bad news for the beleaguered tech giant.
Gregory Anderson, who was employed in Yahoo's media division until he was fired in November 2014, filed a lawsuit against the tech giant, alleging the company's performance management system was arbitrary and unfair. Yahoo used a numeric ranking system to evaluate employees' quarterly performance and often fired those with the lowest scores, according to the suit. The complaint also says female managers at the company discriminated against men in their hiring and firing practices.
In this case, Anderson "alleges that Mayer encouraged and fostered the use of the QPR Program to accommodate management's subjective biases and personal opinions, to the detriment of Yahoo's male employees." For example, in the Media division, where Anderson was an editor, the complaint says that when male and female employees got equally low scores (anything under 3 was not good), the women were favored and the men were fired:
...a female employee in the Media Org received the same 1.8 "Occasionally Misses" Employee Score as a male, after which the male was immediately terminated and the same female assumed the terminated male employee's position. Moreover, this female employee was allowed to appeal her rating whereas the terminated male was denied an opportunity to appeal."
The complaint also says that one executive, former Chief Marketing Officer Kathy Savitt, almost exclusively hired women into management positions in Yahoo's media division.
...when Savitt began at Yahoo the top managers reporting to her in the Media Org, including the chief editors of the 12 magazines (many of which were formerly called "verticals"), were less than 20% female. Three years later those top managers were more than 80% female. At the time that this percentage of female managers reporting to Savitt increased so dramatically, the number of female reporters and presenters in the industry generally declined by 10 percentage points.
The lawsuit also alleges that in addition to discriminating against men, Yahoo fires people without just cause and did not give 60 days' notice to staff fired in mass layoffs, defined as terminating more than 50 people at one time, in violation of California law.
In the complaint, Anderson says he was one of 600 people laid off in November 2014. He received the news while on official leave to complete a Knight-Wallace Journalism Fellowship at the University of Michigan. He was attending the program as a journalist representing Yahoo, according to the filing.
It may seem silly that a man is suing Yahoo for discriminating against him, given the widespread belief that men generally have enormous advantages finding and keeping employment in the tech industry, but as a matter of law it's not crazy. Under Title VII of the 1964 Civil Rights Act and also California's Fair Employment and Housing Act, discrimination on the basis of sex is illegal. It doesn't matter which gender the person happens to be.
"Generally anti-discrimination law protects everyone based on protected characteristics," Joanna Grossman, a professor of family law at Hofstra University, told The Huffington Post. "It protects men just as much as it protects women. The question is did the employment action occur because of sex?"
For big tech firms to go about righting the gender balance in their workforce is actually pretty technical. If companies start adding mostly or only women without an official affirmative action plan, men might actually have a case that they are being discriminated against. But just because men might have a case doesn't mean they'll win.
"It's just more believable when women come forward and say, 'I didn't get this job because I'm a woman,'" Grossman said. "The burden is the same legally, but the truth is that it's harder to get the factfinder to draw the inference of discrimination."
"The Anderson lawsuit raises the question of how to correct lingering gender discrimination against women and suggests that the answer is not yet more illegal discrimination," wrote Anderson's attorney Jon Parsons in a statement emailed to HuffPost.
Cases that men brought have actually played a large role in the history of getting the courts to recognize sex discrimination. When the ACLU was trying to get the courts to recognize that discrimination because of sex should be unconstitutional n the 1970s (yes, it was that late) it brought several cases where the plaintiff was a man.
The strategy was to prove that gender discrimination isn't just a woman thing, which was incredibly important back when the Supreme Court was completely male and "women's lib" was considered radical. In Weinberger versus Wiesenfeld (1975), young litigator Ruth Bader Ginsburg successfully argued that a widower whose wife had died in childbirth should get survivor's Social Security benefits, which at the time were only given to female widows.
Now that Congress and the courts have ensured that sex discrimination is definitely illegal, men's cases don't get much recognition. They happen occasionally, according to Grossman, but "they're not splashy."
Why is this one splashy? It's actually about Yahoo's ranking system.
Yahoo's performance management system, the quarterly performance review, is compared in the lawsuit to the widely reviled "stack ranking" system. Former GE CEO Jack Welch devised the system, more crudely known as "rank and yank." Employees are sorted into buckets based on performance. The top bucket is promoted or given raises and the bottom is fired. While Mayer has denied that the QPR is a stack ranking system, many people disagree.
This isn't the first discrimination lawsuit to be tied to a stack ranking system. In the early 2000s, a cascade of cases against Ford, Goodyear, and Capital One, alleged that such systems led to age discrimination against older employees.
In September 2015, several former (female) Microsoft employees brought a class-action lawsuit against the company alleging that a similar stack ranking system led to managers discriminating against women. Microsoft abandoned stack ranking in 2013. That lawsuit alleges that "female technical employees tended to receive lower scores than their male peers, despite having had equal or better performance during the same performance period."
This is just one more bad day in the news for Yahoo. In addition to this lawsuit, the company announced this week it is looking to sell off its core businesses. Rumors are swirling that the board will fire CEO Marissa Mayer soon, though people have said that basically since she started her job. And the company fired several people by accident last week.
Yahoo issued a statement to HuffPost defending its record in regards to how it treats employees.
"As noted in our Diversity Report, fairness is a guiding principle of our annual review and reward process," it said. "Our performance review process was developed to allow employees at all levels of the company to receive meaningful, regular, and actionable feedback from others. We believe this process allows our team to develop and do their best work. Our performance review process also allows for high performers to engage in increasingly larger opportunities at our company, as well as for low performers to be transitioned out."
This article was updated after publication to include a comment from Yahoo and more information from the complaint, which can be found in full here.
Related
Popular in the Community